I came. I saw. I went green on St. Patrick's Day. Smack dab in the center of Dublin to be exact. Tri-colored Viking helmet and all.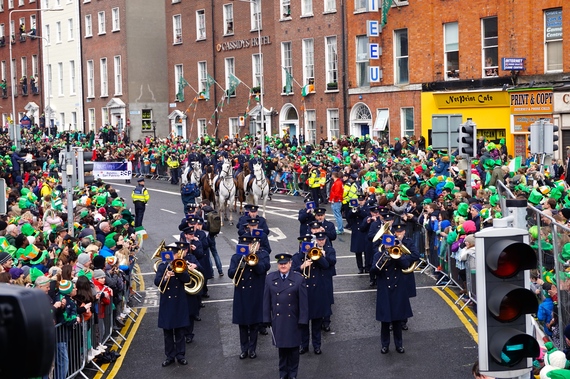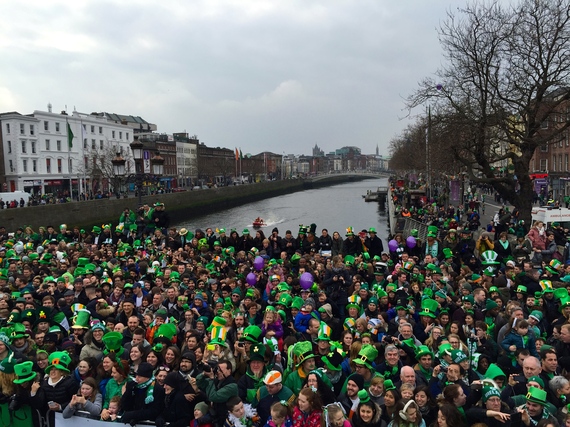 Lively, colorful and rich -- with a hodgepodge of culture, heritage and heaps of Irish stew -- these are just three of my preferred words to illustrate Dublin and the St. Patrick's Fest, the four days of activities leading up to the globally celebrated St. Patrick's Day.
After what seemed like a never ending 10-hour transatlantic journey from Houston on Aer Lingus, I finally landed jet lagged, yet full of anticipation for my jam-packed itinerary and what I'd experience on the majestic Emerald Isle, donned with noble castles and picturesque scenery -- an island swarming with both Irish locals and tourists alike, eager to partake in the festivities that mark the celebration of the patron saint of Ireland.
My introduction to Dublin during the first few days of my visit left a portion of my cultural thirst quenched, while the other half of my palate is still hankering for more. In other words, four days simply wasn't enough and a future rendezvous awaits us Dublin. Just you and me. With a city that is exceptionally easy on the eyes, the taste buds and the feet (this Georgian city is totally walkable); I found myself being whisked away with my group, led by Fáilte Ireland, to indulge in the best of Dublin and its surrounding parts.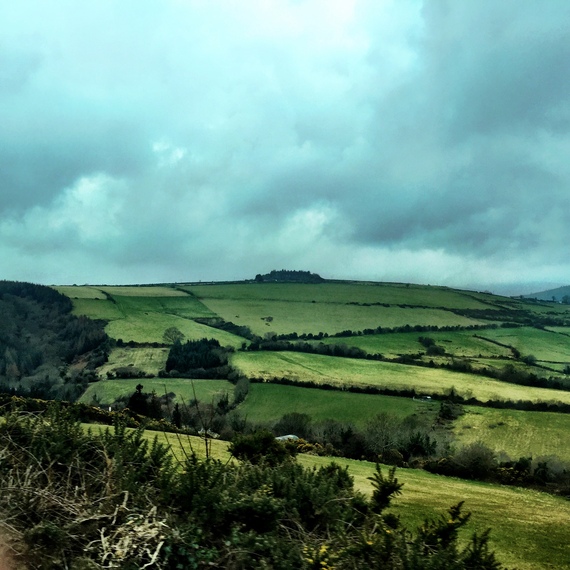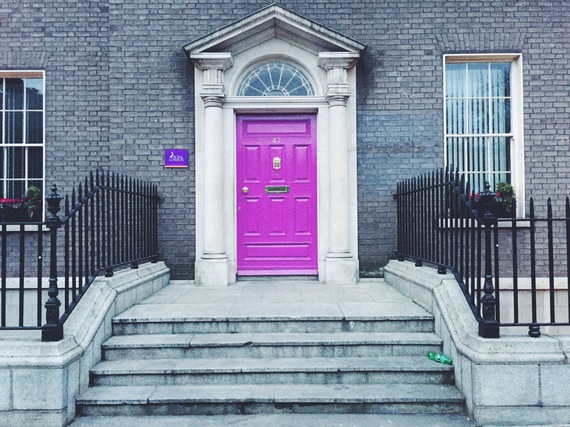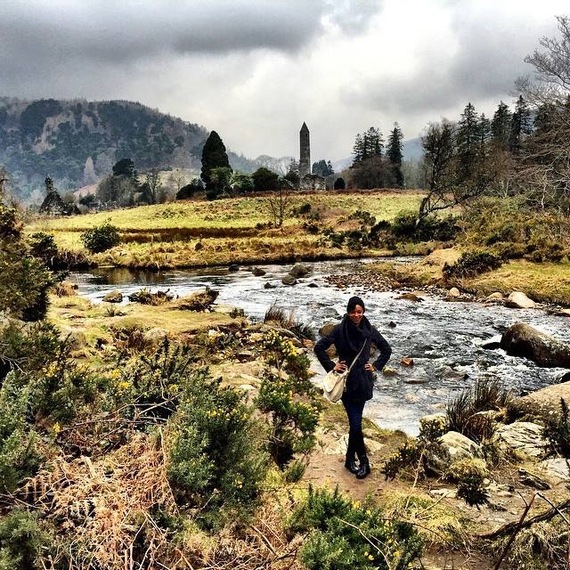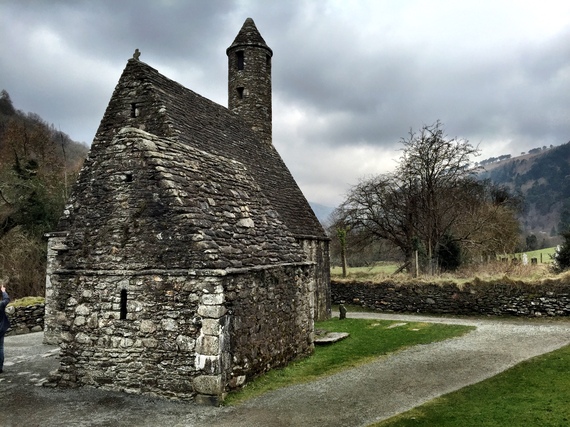 Our days included guided tours of historic landmarks dating as far back as 1221, day trips meandering through windy roads to the enchanting coastal region of Wicklow, noshing to our heart's content on fresh local fare (hearty helpings of buttered breads, tender meats, hake and bulky potatoes!) and robust sips from Teeling Whiskey -- the first new distillery in Dublin in over 125 years and a modern revival of the spirit of the city.
Sláinte! (Irish Gaelic word used as a drinking toast, pronounced "Slahn-cha" and means 'health'!)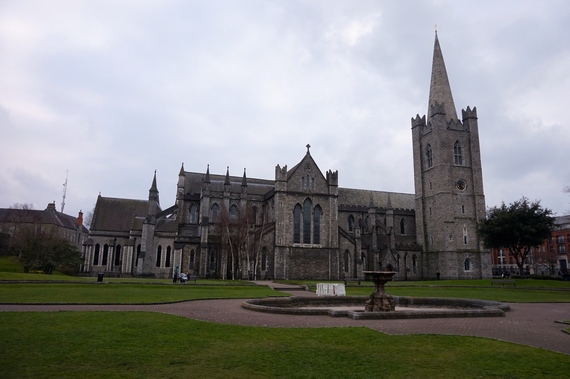 The theme of this year's festivities celebrated the present moment of all things Irish while giving a nod to the country's current innovations and achievements in design, architecture, food, music and fashion. And rightfully so. European design has always fascinated me but there's just something about those brightly colored Georgian doors of Dublin and the intricately designed St. Patrick's Cathedral. Heart melt.
During the evenings, the city transformed into a unified bright green glow stick as prominent buildings on every corner lit up in the perfect shade of emerald -- setting the ideal backdrop for the occasion.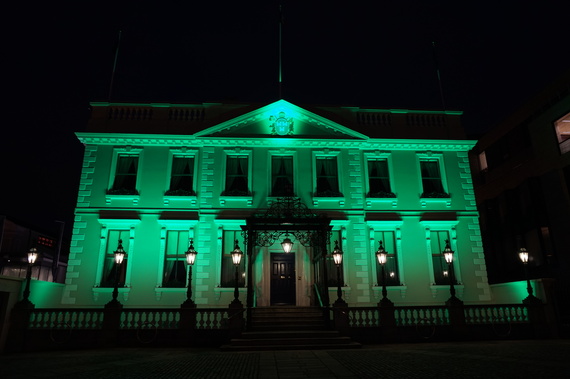 On the fourth and final day of the festival -- St. Patrick's Day to be exact -- more than half a million tourists and locals swarmed the streets of Dublin for the parade in a homogenous mix of green, orange and white -- the colors of the Irish flag -- symbolizing Ireland's Gaelic tradition and its primarily Roman Catholic native people, Protestant supporters of William of Orange and the peace between the two groups, respectively.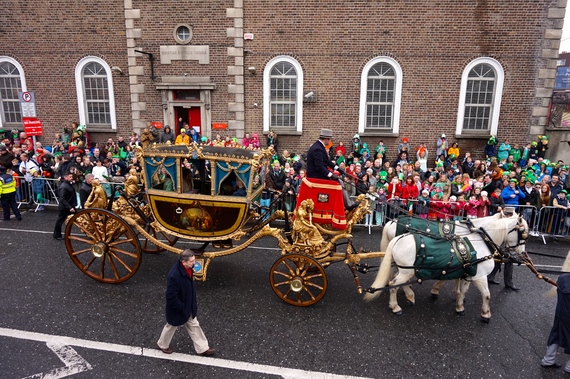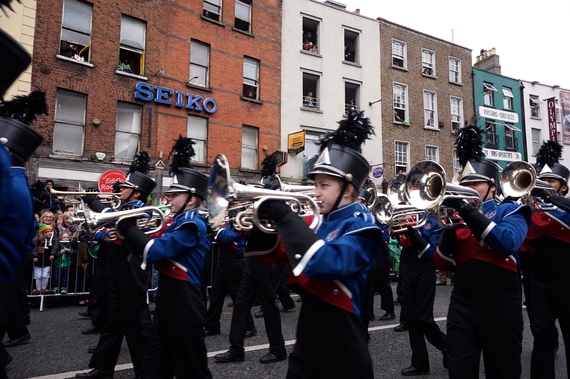 The St. Patrick's Day parade brought out a high-energy procession of unique performers, clad in bold, oversized costumes, kilt-wearing marching bands and some of the most creative floats I've ever seen.
From the top of a double decker bus, and in great company with other bloggers spanning the globe, I waved and "woo'ed!" right along with the crowd as our bus revved its engine and began coasting along in the parade throughout the streets of Dublin's dynamic city center. The melodic sounds of bagpipes intertwined with the beating of drums and cheers from the crowd were heard for miles. For about an hour we cruised, slowed and paused in this fashion passing a sea of celebrators wearing a mix of tri-colored hats, neon green wigs, orange beards, shamrock patterned suits, painted faces and more. Any and everything goes on St. Patrick's Day and it's all for the love of Ireland!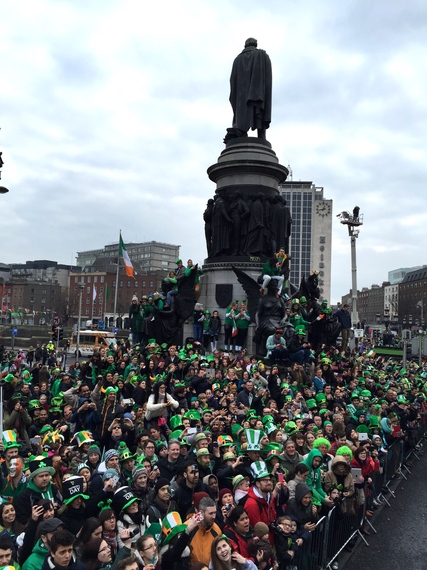 Parade onlookers flooded places and spaces everywhere. On the streets, on the tops of buildings and statues and the lucky ones who just so happened to live along the parade's route were spotted poking their heads out of building windows joining us in the celebration.
Midway through the parade, we exchanged our bird's eye view atop the double-decker and went ground level to revel in the final moments of the parade up close and personal.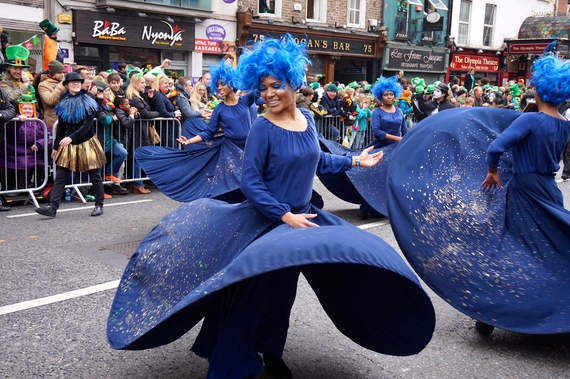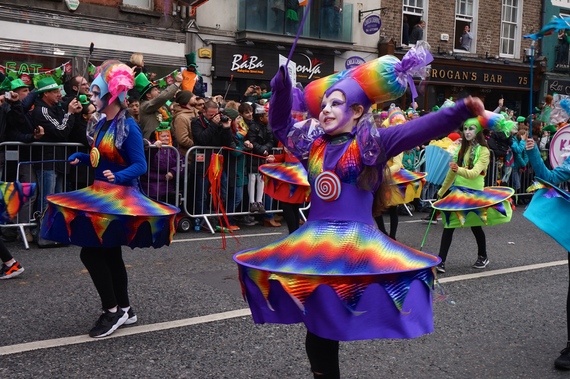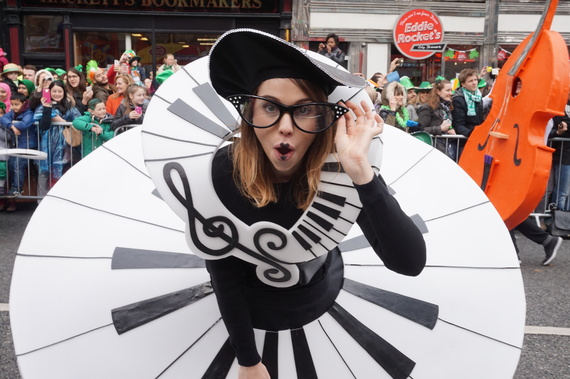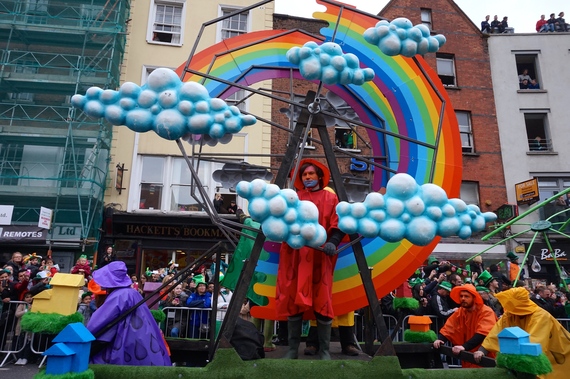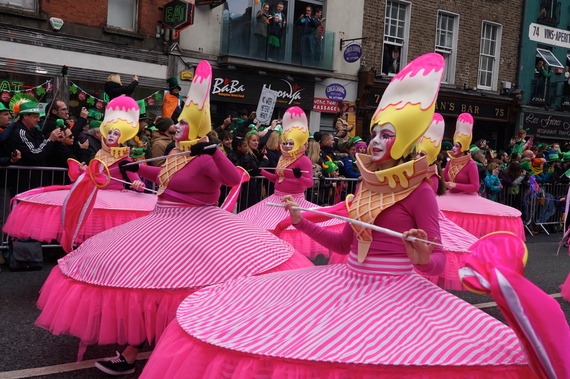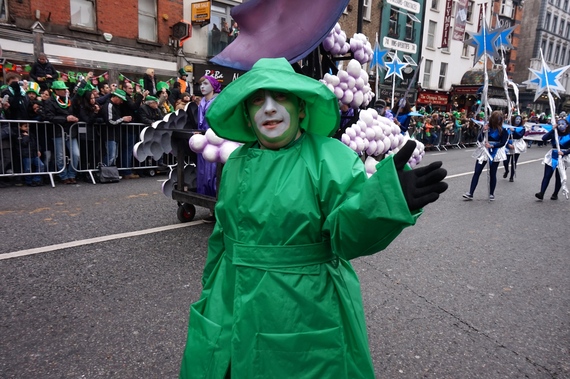 Trumpets blaring. People applauding. Flags waving. Pints toasting. It was a great day to be Irish in spirit for sure.
_____
Photo Credit: Jaimee Ratliff
This post originally appeared on Jaimee's blog, This Way North
For more travel stories check out:
That Time I Slept In A Tree House and Went Zip Lining (Video)
3 Reasons Why You Should Plan a Staycation in Houston
9 Things That Make Maui Irresistible (In Photos)