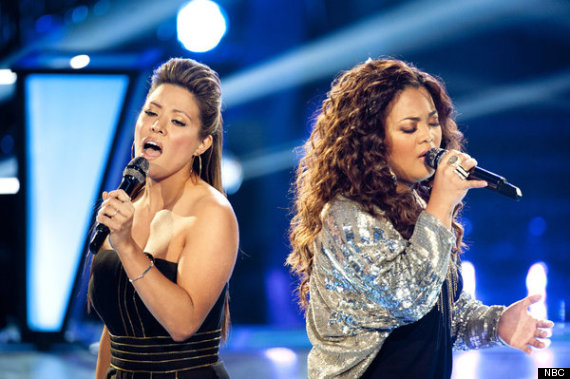 Although we were eager to move onto the Battle Rounds on "The Voice" to allow the judges to have a change of clothes for the first time in more than a TV month, we kind of wish Christina Aguilera had changed into something other than a bedazzled plate. Alas, you can never have it all, which is the theme of tonight's episode.
In the Battle Round episodes -- the first of four of which aired on Mon., March 5 -- the judges are forced to pit two members of their own team against each other. The two hopefuls will then duet -- after some coaching and advising from their mentor and his/her friends -- and the judge will have to decide who moves on and who heads home.
It's an emotional ride for all parties involved and produces some amazing tracks (i.e. Vicci Martinez and Niki Dawson's rendition of Pink's "F-----' Perfect" on Season 1), but the first installment of Season 2's battle rounds was a little bit disappointing.
And here's why ...
‪BATTLE: Tony Lucca vs. Chris Cauley‬
Team: Adam
Song: "Beautiful Day" by U2
The first battle of the night belonged to Christina's former fellow Mickey Mouse Clubber Tony Lucca and grandma's boy Chris Cauley and they seemed excited to tackle U2's "Beautiful Day." Tony met with Alanis Morisette, who weirded us out within the first few minutes of meeting him with phrases like "wee lad" and "juicy time." Chris meets with Adam's other mentor, Robin Thicke. We also quickly realize, they're pairing contestants -- either intentionally or unintentionally -- by race, gender and hairstyle?
‪Chelsey‬: "Robin's hair defies gravity ... As does Adam's. Twinning!"
Jaimie: "I was unaware this hairstyle was coming back."
Me: "Yeah, this spike situation?" 
‪Jaimie‬: "T'm glad 'The Voice' is there to remind me that Mark McGrath's look is still in."
Both boys pull off the song well -- and coincidentally (or not), have gotten themselves the Adam Levine. "When I was putting the pairings together, i had no idea it was going to be this close" Adam said. After picking his winner, he explained, "People step up, dude. They surprise the s--- out of you."
WINNER: Tony
BBATTLE: Adley Stump Vs. RaeLynn
Team: Blake
Song: "Free Fallin'" by Tom Petty
It's the battle of the blond country bumpkins on Blake's team as they all sit outside a big red barn, of course. "I ‪guess that means team Cee Lo will be at a brothel‬," Chelsey jokes of the perverted pop singer. Seventeen-year-old "stylist" RaeLynn says she is going to have a hard time keeping up with belting sorority girl Ardley. Both girls are extremely excited to meet their mentors behind barn doors: RaeLynn gets Miranda and Adley is also thrilled to be paired with Kelly Clarkson. And worry not, people ... Adley's hair is in full effect.
Chelsey: "‪Talk about hair defying gravity though‬."
Jaimie: ‪"It looks flatter in the confessional‬. Something happened in the barn?"
Chelsey: ‪"Humidity? IDK."‬
Jaimie: ‪"I think Blake's chin‬."
Chelsey: ‪"I imagine Adley's hair would've been like Neil's in 'Wet Hot‬ American Summer.'"
Chelsey: ‪"It would've gotten bigger and bigger‬."
Unfortunately, we'll never know. Although the audience and panel seemed very pro-Adley, who clearly sound more polished on stage, Blake followed his heart, which was saying weird things.
WINNER: RaeLynn
BATTLE: Chris Mann vs. Monique Benabou
Team: Christina
Song: "Power of Love" by Celine Dion
Team Christina gathers in what looks like Tila Tequila's former home where "A Shot At Love" on MTV and the group awaits their dances. Monique is immediately intimated by the classically-trained Tony's voice. But both seem to be struggling a bit. Chris meets with Lionel Richie and Monique chats it up with Jewel, yet they seem uncertain going into their performance. Seemingly, they're going for some Disney-like duet and I'm scared we have another make-out session on their hands. Luckily, they only do some face grazing, but Monique really sounds great.
Jaimie:  ‪"Benabooboobooboo. So‬rry, I got excited."
Chelsey:  "Cause she's a benaboo. a benaboo."
Jaimie: "I‪ am so sad to never hear 'Benabou' again‬"
Chelsey: "We gon' ‪put her number on the call block‬ ... H‪ave AOL make her email stop‬"
WINNER: Chris
BATTLE: Cheesa vs. Angie Johnson
Team: Cee Lo
Song: "Total Eclipse of the Heart" by Bonnie Tyler
For Cee Lo's first battle round, he chooses the incredibly diverse (a.k.a. not at all) match-up of Hawaii-native Cheesa and Staff Sergeant Angie Johnson. When the two girls are in their first rehearsal together, the claws come out, and Angie reveals in confessional that she thinks that Cheesa was trying to show off and sing louder than her. Haters gon' hate. Angie responds by taking their song even higher in order to push Cheesa to her limits, and Cheesa is onto Angie's games and nervous that the high notes will make her voice break.
Jaimie: "Angie has taken a weird turn."
Chelsey: "Yeah, a bitch turn. MEEEEOW!! CAT FIGHT!!"
Jaimie: "PURRRFECT FIGHT!"
Then the girls have their individual rehearsals and are introduced to Cee Lo's music friends. Cheesa goes natch and lets her hair run free as she is introduced to Kenneth "Babyface" Edmonds. Angie gets to practice with Ne-Yo (along with the de-spectacled Cee Lo), and she makes sure that we know she was in the military, because she compares her performance to firing a gun. And then the girls are ready for their performance. We are both surprised by Cheesa's strong voice, as we were not all that impressed during her blind audition.
Chelsey: "I think Cheesa actually sounds better than her blind audition."
Jaimie: "I agree. Teamcheez."
Chelsey: "Well, let's not go that far. For this battle, sure. She's also more enjoyable to look at when she's not wearing overalls with a belly shirt."
Jaimie: "I can safely say that I'm excited for her ensembles."
After the performance, the coaches give their feedback, though they seem to be impressed by both ladies. Either that, or they're getting worse at giving constructive criticism. Adam even says at one point, "There is no loser here." Well, actually, you're wrong, Adam. As so many reality shows before this have taught us, "THIS IS A COMPETITION," so there is, in fact, a loser. Unfortunately for Angie, she is the loser of this battle round, as Coach Cee Lo chooses Cheesa to move onto the battle rounds. Carson thanks Angie for both her service and her talent, and we say goodbye to the YouTube star for good.
WINNER: Cheesa
BATTLE: Jordis Unga vs. Brian Fuente
Team: Blake
Song: "Ironic" by Alanis Morissette
The second Team Blake battle is underway after Blake chooses two of his rockers, Jordis and Brian, to go head to head on some Alanis. At their first practice, Brian is intimidated by the song's originally female vocals and Jordis just seems to be freaking out completely, as evidenced by numerous bleeped out outbursts. The stress is getting to her, guys. She's swearing. Jordis continues her meltdown while being mentored by Miranda Lambert, but Brian seemed to holding it together a little better during his practice with Kelly Clarkson.
Jaimie: "Bri's eyes looks a little red."
Chelsey: "Well, yeah. He's probably high."
Jaimie: "WHAT DRUGS!?"
Chelsey: "ALL OF THEM! HE'S A ROCKER!"
It's now the night of the battle (thanks, Carson, for informing us in a voiceover. We couldn't tell.) and Jordis is still losing it. lake is concerned that her emotions will get the best of her during her performance, and that they do. "The performance is definitely shaky on both sides, though "national graphic artist Brian," as he is introduced, does brighten it up with some killer dance moves.
The judges are not all that impressed seemingly, though they say they know that both are talented artists and this just wasn't their best performance (keeping in mind that there has only been one prior performance from each of them. Hey, it was a 50-50 shot, right?). Papa Bear Blake seems the most disappointed of all, telling the two that neither of them are as good as Adam Levine on the "Rocker" scale, which is just presh. He ultimately goes with Jordis, however, because he appreciated how emotional she was and said that that's what being a rocker is all about. So, bye-bye Brian.
WINNER: Jordis
BATTLE: Jesse Campbell vs. Anthony Evans
Team: Christina
Song: "If I Ain't Got You" by Alicia Keys
For the last battle of the night, Christina gives us an epic match-up of Jesse and Anthony, two huge powerhouse singers. At their first rehearsal, Jesse is really bringin' it, and Anthony definitely seems a bit intimidated. And he's not the only one.
Jaimie: "I'm scared of Jesse in this moment."
During their individual rehearsals, Jesse gets to work with the legendary Lionel Richie, and he is both honored and thrilled. Anthony works with Jewel.
Chelsey: "I feel like the people getting Jewel are getting the short end of the stick big time."
Jaimie: "Remember when Jewel got slutty?"
Chelsey: "Tried* to get slutty."
Battle time is now upon us, and both of these guys really blow us away. We are almost more blown away by Anthony, because we really weren't expecting him to give Jesse such a run for his money.
Jaimie: "WHOAAAAAAAAA. Anthony."
Chelsey: "Wow. Did not think he had that in him. He really brought it."
Christina is seemingly just as blown away as we are, as she takes to fanning herself at the end of the performance with a pad of paper that appears to be full of notes When she has been taking those notes is beyond us, but nonetheless, it is clear that this battle is going to be a tough one. Most of the other coaches, while incredibly impressed with Anthony, still lean towards Jesse, and Christina does the same, thus sending Anthony home. We are sad, but happy. Oh, battle rounds. So many emotions. Good thing we have another three weeks of them to go!
WINNER: Jesse