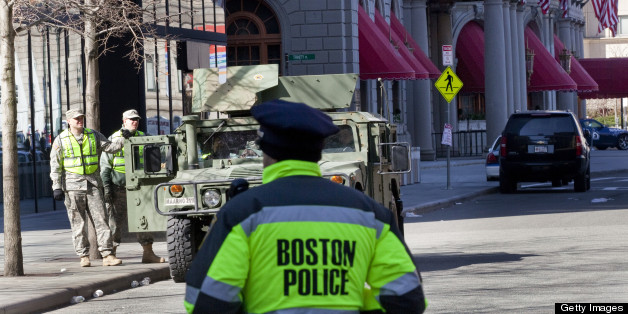 I've been instructed to stay locked in my residence hall at Northeastern University for eight hours now. I have a television. I have full Internet access. Dozens of friends and loved ones have contacted me all day. Compared to the vast ranges of hysteria that has flood the minds of many Boston college students, I could be considered a stoic rock. But, the turmoil of this week's tragic events has certainly infiltrated every small crevice of my dormitory.
To know that the sweet, homely and green Copley Square has been unjustly morphed into a crime scene is unfathomable. The fresh cut grass of the Trinity Church lawn is supposed to remind us that Spring is here. Instead, yellow tape and endless rows of National Guard vehicles are preventing anyone from even setting foot in one of the greatest features of the most populated college town in America.
I walked the short 1.1 miles from the heart of Northeastern's campus down to Copley on Tuesday afternoon. And, under the shining sun that assured our resiliency, I could only watch as the liveliest area of the city acted as a ghost town. Yet, hundreds of Bostonians still walked the Back Bay streets with cheery smiles and warm hearts. Many young men and women were taking their lunch break to enjoy a jog.
Now, just three days later, I'm prohibited from even setting foot outside. My iPhone just shrieked with an alert from MEMA that read, "EMERGENCY WARNING: Shelter in Place still effective." I'm looking out my window at the barren streets of this city and imagining what this beautiful 73 degrees and sunny Friday afternoon would look like if it were any normal day.
As college students, we're supposed to add an exuberant and fresh energy to this city. Instead, we're glued to our televisions not knowing what "breaking news" is accurate or not. Social media and cellphones have evolved this phenomenon into an unheralded affair. The refresh button has never been clicked on web browsers at a more torrid pace.
I have several friends, who are students here, who went to high school with Dzhokar Tsarnaev. I have several friends who went into Cambridge just a few days ago for dinner. My fraternity's formal is supposed to be held at the Sheraton Commander Hotel in the Boston suburb tomorrow evening.
However, amidst all this tragedy, the plethora of casualties and numerous deaths, I've sensed a feeling of love and camaraderie wash over this campus and this city. Students and people have bonded together. This age of technological advancement and cyberspace has never made me feel closer to family and friends from my hometown in Cherry Hill, NJ and all across the country and world despite being hundreds of miles apart.
Since the first bomb exploded at the Boston Marathon finish line at 2:50 p.m. on Monday, I've received an incredible 193 phone calls from compassionate, worried and altruistic people in my life. I've been texted by 43 different people, asking how I'm doing. And, of course, my Facebook chat has rarely stopped popping up.
While thousands of people in Boston are being kept inside from the beautiful Spring that is upon us, while the number of lives that have inexplicably been damaged by two angry young men is utterly heartbreaking, while the nation is staring at the news with their jaws to the floor, we have felt endless support and compassion in Boston. We know we are not alone.
We have all heard how the city of Boston is strong and its people are even stronger. And, in a city like this, it is not too difficult to feel like its abundance of good and kindness far outweighs the evil that lurks in this world.
Thus, as I do not know how much longer I will be stuck here just staring somberly out of my window, I am certain that the glimmer of hope that I see dancing on these deserted streets will never disappear.