Israel-Gaza Border- Day 10 and only the numbers have changed; more than 530 dead and 2,500 injured. Heavy fighting is still raging in the Gaza Strip between Israeli forces and Palestinian fighters after Israel launched its ground offensive on the territory. Al Shifa' Hospital has run out of beds to accommodate the injured as a result of the intense Israeli shelling. Many of them with less severe wounds lie on stretchers in hallways and near stairwells. According to the Palestinian Red Crescent, a large number of the victims are civilians, women and children included. An entire family was wiped out by Israeli shelling from the sea; a father, a mother and their five children. Another woman who lost 7 members of her family was shown on a live feed provided by Ramattan News Agency, frantically searching for her only surviving daughter.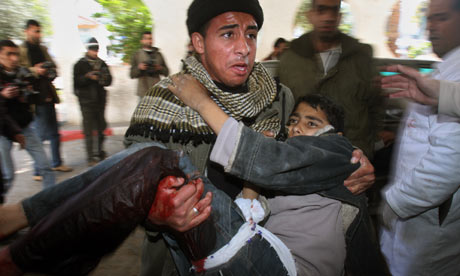 Forty-eight hours ago, Israeli planes dropped thousands of leaflets on Southern and Central Gaza asking residents to vacate the area. They also dropped leaflets asking them to call a special phone number to inform on locations of Hamas operatives launching rockets at Israeli towns. In short the Israeli government wants Gazans to rat out their neighbors, brothers and cousins...to become collaborators! The Israeli military has also captured the Hamas-affiliated Al Aqsa TV and has been broadcasting messages telling Hamas leaders to give themselves up. However, Gazans have not vacated their homes, and Hamas remains defiant continuing to fire rockets at Israeli towns, "we will not surrender or be defeated, even if Israel drops a nuclear bomb on Gaza," says Ramadan Shalah from Hamas.
In 1967, in six days Israel defeated the armies of several Arab countries and overran the West Bank, Gaza, Sinai and the Golan Heights. It's been ten days, and Gaza has not yet fallen. Many in the Arab media have started to compare Israel's assault on Gaza, codenamed "Operation Cast Lead", to the Second War on Lebanon in 2006 when Israel failed to defeat Hezbollah and sustained heavy losses in one month of fierce fighting. However, this is not a rerun of that battle. The Israeli army has been less adventurous with its ground troops, and the risk Hamas poses to Israel is far less than the one posed by Hezbollah.
Thousands of Israeli troops entered the Gaza Strip overnight with tanks and helicopters, accompanied by naval support and air strikes. They are mostly in the former settlement of Nitzerim, an open area which enables them to cut off the northern part from the southern part of Gaza. Some soldiers have taken up positions on the rooftops of homes and buildings sniping at anything that moves. A frantic woman reported by cell phone that she along with forty members of her extended family were rounded up in one room of her home while Israeli soldiers took to the roof top. From her window she was able to see several dead people in the street below.
Along the Israeli-Gaza border, numerous reporters have been racing from one position to the other, straining to see events through binoculars and television camera lenses. Exploding shells can be heard, and plumes of smoke are visible in different places. The nightfall is more dramatic as bursts of fire illuminate tank gun barrels after each round of firing into Gaza. Fighter jets screech from above and helicopters and drones come and go. Once in while you could see the smoke trail of Qassam rockets leaving Gaza towards Israel.
Israeli and Western media persist in presenting the Israeli offensive as "surgical strikes"; as surgical as shooting chickens in a coop with a shot gun. Israel cannot miss in mankind's largest prison. Gaza is burning.
Jamal Dajani produces the Mosaic Intelligence Report on Link TV