Democratic presidential hopeful Barack Obama has met President Hamid Karzai while on a visit to Afghanistan. He will soon be heading to Iraq, Jordan, Israel, and the Palestinian territories. Here are seven recommendations that his team of 300 advisors might have missed:
1. Don' t keep insisting to the Arabs that you're not a Muslim...they already know that, and they don't care.
2. Don't be shy about using your middle name. You and King Abdullah of Jordan share the same one.
3. Avoid wearing local traditional garb. However sword dancing is okay since Bush has done that.
4. Kissing on the cheek is okay but not knuckle-bumping.
5. Don't ask them to recognize Israel's right to exist. It already exists!
6. Don't take sides between Fateh and Hamas...it will only cause you headaches.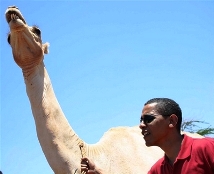 Jamal Dajani produces the Mosaic Intelligence Report on Link TV