The more than 400 mayors descended upon Paris' Hôtel de Ville to send a strong message during this month's climate talks: Cities have emerged as major drivers of innovation and action in global efforts to confront climate change.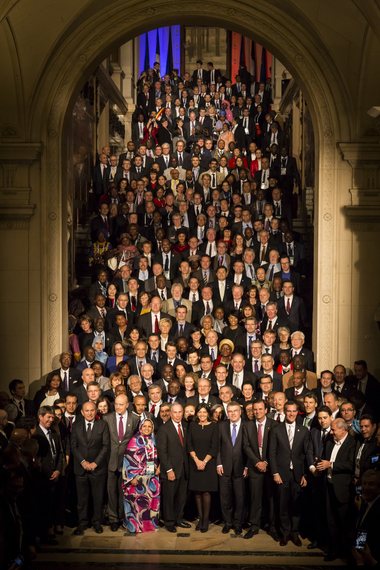 It was a remarkable moment that demonstrated clearly that mayors are in the business of solving problems -- and to tackling them in new and powerful ways. In Paris, we saw them come together on climate change. But on a daily basis, mayors are acting as problem solvers around a wide range of critical issues. This presents important opportunities for the growing global community of foundations, universities, and civil society organizations seeking to increase public sector innovation and impact.
Innovation at its core is about effective problem solving. It's about having the ability to find the best possible response to a given challenge and then to deliver that solution to improve residents' lives with safer streets, better schools, or healthier communities.
The good news is that we know what it takes for cities to solve problems. Local leaders have to be able to accurately assess what's happening on the ground, enable the best set of actors to respond in the best possible way, and leverage their unique assets to bring solutions to scale.
To do these things, and move effectively from one major problem to the next, cities need to be able to draw upon a particular set of capabilities. They need to be able to:

Clearly define problems
Consistently collect, analyze, and draw inferences from data;
Understand what has worked or is working in other places;
Articulate a compelling vision and generate urgency for action;
Plan and work across silos and develop robust partnerships around shared goals;
Engage with residents, "end users" and others to generate and even launch innovative ideas;
Test, learn from the experience, and adapt - hardwiring the things that work and quickly jettisoning things that don't; and
Deliver at scale with continuous monitoring of performance and progress.
It is a pretty intuitive list, if you stop to think about it. At Bloomberg Philanthropies, our public sector innovation programs have worked with over 80 cities worldwide in various stages of developing these problem-solving capabilities. Some City Halls are good at a couple of these things; a smaller set are good at them all.
Importantly, cities are beginning to think more holistically about enhancing their problem solving potential. Take New Orleans, which over the course of Mayor Mitch Landrieu's first term in office made very significant gains in developing a set of skills and abilities that did not exist when he arrived at City Hall.
The Mayor dramatically beefed up the city's ability to use data. The "BlightStat" program, to name just one example, has been a powerful driver of reducing the number of abandoned homes and vacant lots. He imported models that enabled his team to plan and work across silos to drive bold innovation - like our Innovation Teams program and Rockefeller Foundation's 100 Resilient Cities. And he nurtured his internal capacity to create and sustain long-term partnerships with external organizations, by bringing in staff with the right professional backgrounds and skills for the job. Throughout it all, Mayor Landrieu and his team excelled at articulating a powerful vision that brought people along, maintaining urgency over an extended period of time.
Now in his second term, Mayor Landrieu would be the first to tell you that he didn't work some sort of urban magic to bring New Orleans back. He, like many of his peers in cities around the globe, spent real time and energy developing these skills and abilities. Similarly, Seoul Mayor Park spent his first term developing robust infrastructure to engage citizens in policy making, while Chicago Mayor Emanuel's City Hall is now amongst the most advanced anywhere in using data to improve performance.
With complex urban challenges facing cities everywhere, Bloomberg Philanthropies is focused on helping local leaders build their capacity to solve problems and seize opportunities that improve quality of life. Our Innovation Team initiative offers mayors a model to work across silos to drive innovation and impact. What Works Cities help cities develop the capacity to use data to improve decision making. The Mayors Challenge competitions create powerful incentives that get mayors to generate bold new solutions working closely with citizens and other nontraditional partners. Cities of Service is expanding the ways in which city governments engage citizens to prioritize problems and solve them collaboratively.
Many people are calling the 21st century "the century of cities" -- and are looking to mayors and local governments to incubate next generation solutions in one critical policy area after the next. We need these cities to succeed. In 2016, let's redouble our efforts to connect cities with the problem solving capacity they need to get the job done.