This post was co-authored by Donald Macdonald, MD./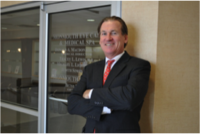 Dr. Donald Macdonald is an Ophthalmologist at Monmouth Eyecare in New Jersey. As part of Right to Sight and Health, he has participated in many humanitarian missions to the Philippines, Nicaragua, Ghana, Cameroon, Rwanda, Senegal, and Tanzania, restoring vision to thousands of blind people who have no access to health care, as well as performing many eye plastic surgeries.
"Primum Non Nocere" (first do no harm)

- Dr. Thomas Sydenham, 1624-1689
Every doctor learns in their early education the cardinal rule of medicine: to do no harm. But sometimes, preaching is much simpler than practice. Sometimes situations where safe solutions remain out of reach compel doctors to try their best and forget the age-old directive. These occurrences highlight the need for innovation and new solutions.
Two recent tragedies in India call for a re-examination of surgical procedures that have long been considered simple and relatively low-risk. In two unrelated incidents, patients in India died or became permanently disabled as a result of surgical care that did not meet basic standards of quality and safety. It is clear that the delivery of essential surgeries poses a challenge in resource-strapped regions of the world. Yet the ability to provide surgery is critical to the treatment and prevention of a wide range of medical conditions, so we must find ways to do it safely even under difficult circumstances. We asked a member of our advisory board, an ophthalmologist with extensive experience performing an essential surgery in under-resourced settings, to recount his efforts to make cataract surgery safer in these environments. Without electricity, traditional methods of sterilization are out of the picture, calling for the consideration of different approaches to mitigate the risk of dangerous infection. Although there is no true substitute for sterilization, surgeons must pursue every avenue available to protect their patients.
In Dr. Macdonald's words...
One of the most important things I learned in medical school was to do no harm.
Sometimes it is better to do nothing than risk everything. Under ideal circumstances, operating on two eyes at the same time is safe. But in places where sterilization is impossible, the contraction of an infection in either eye puts the patient at risk of total blindness. If a patient is able to function at a reasonable level on their own, the risk of performing cataract surgery under less than ideal conditions may not be necessary, even if by some legal standards the patient could be considered blind.

History repeats itself time and time again. At the Guru Nanak Charitable Hospital in central India, a surgical mission group spent four days in October working hard to bring the gift of vision to the blind. Tragically, they caused blindness in at least a dozen people and probably more. With the implementation of proven innovations in patient care, this could have been prevented.

Several years ago I went to an eye camp in the mountains of Nicaragua. We organized a team of doctors, nurses, and volunteers to join us. After considerable expense and time, we arrived in Managua only to find that we would not be permitted to carry out our mission. A recent tragedy involving an ophthalmologist who had been sent by a charity from abroad and botched sterilization procedures led to the blindness of over a dozen people. The government responded appropriately by restricting all eye missions until they could find a way to prevent this disaster from occurring again.

After participating in many cataract missions in Africa, I became familiar with a method to reduce the risk of infections from cataract surgery if the standard of sterilization for surgical instruments cannot be achieved. The method is not well established in North America, where sterilization procedures successfully keep infection rates very low. However, in places where a lack of electricity makes operation of an autoclave impossible, other approaches to infection prevention must be sought. The use of topical povidone-iodine before surgery and topical antibiotics is the standard of care, and well known to reduce the incidence of eye infection. When operating in areas of the world where post-operative care is poor, injecting these antibiotics directly into the eye can further reduce the risks. Not only is the injection of antibiotics into the eye during surgery safe and effective, it is amazingly inexpensive.
The experience of Dr. Macdonald highlights the urgent need for simple, portable, power-free sterilization. His solution, effective today, may well not be tomorrow with the aggressive and relentless emergence of antibiotic resistance. His experience is duplicated in all areas where mission groups and NGO's run "camps" to provide essential surgical services. That most of the adverse events resulting from poor sterilization do not make the news does not minimize the acute need. And it continues to reinforce the fact that disinfection is not the same as sterilization, nor does disinfection protect against surgery related infections.