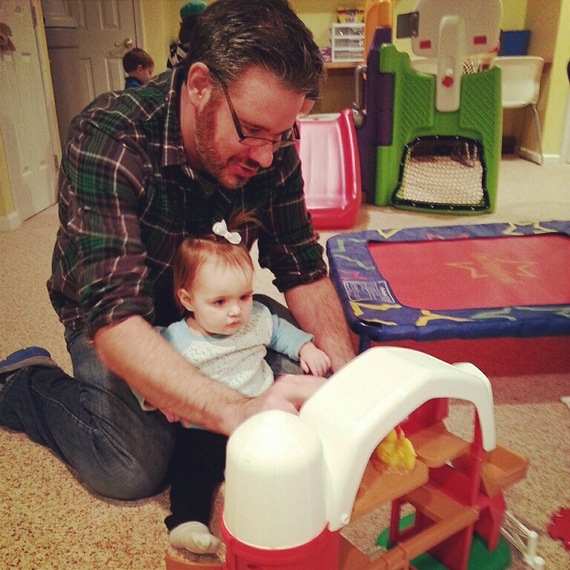 I really enjoy working. I love everything about the work week, including my morning coffee. The times in my career when I have been out of work were excruciatingly painful for me. So much so that I believe it drives me to somewhat overwork to this day. I have a full time job and have a small marketing consulting business that I own with my wife. Because marketing is now a constant stream of information profession, I am available pretty much every day of the week at some point or another. Of course, I try to scale things back on the weekends when I can.
Did I mention that my wife and I have a 14-month-old daughter?
She is the reason that I now have some sacred hours. During weekdays, I really only get to spend about 2 hours of quality time with her after daycare, from 6pm-8pm.
This is now family time! You should rarely find me doing work during those hours.
I realize that I am extremely lucky to be able to do that. Here is how I do it.
Step 1
Find an employer that values their employees. Parents with young children in daycare know that getting home on time is crucial when your child's bedtime is 7:30 pm.
Step 2
Consider a job where you telecommute. Cutting out my two hour a day commute was one of the best things I ever did in my career. If you think those jobs are too rare to find, an article in the New York Times stated that "telecommuting has risen 79 percent between 2005 and 2012 and now makes up 2.6 percent of the American work force, or 3.2 million workers, according to statistics from the American Community Survey."
The same article said that if you factor in the self-employed that number is closer to 30 percent.
Step 3
If you are telecommuting don't try to keep the 9-5 hours. Anyone who works remotely will tell you that they are working far more than 40 hours a week. This usually means not taking lunches and logging on after dinner.
Step 4
Force yourself to shut down as much as possible during those hours. Close the laptop, and turn your phone off. I work for a company based in California and live in Philadelphia. On paper this would look like a huge challenge. However, due to our awesome management team it is not. We use technology unlike any company that I have worked for in the past. With the exception of maybe a couple of meetings, I have been able to successfully log off during my carved out family time.
Step 5
Enjoy the playtime with your children. Business will be there at 8:05 pm when you log back in. The time with your kids is something that you will never get back.