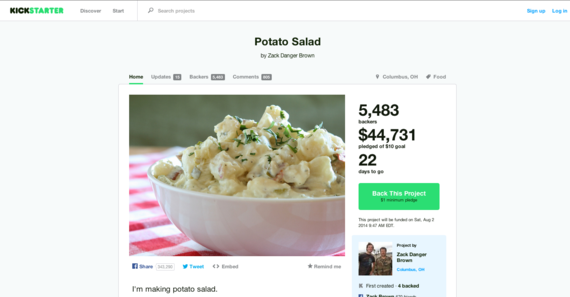 The Internet has failed us as a society... again. Or is it that society is failing the Internet? If you haven't heard, a man named Zack Brown recently set a crowd fundraising goal on Kickstarter of $10 to make potato salad. Currently, people have donated more than $40,000 (and counting) for him to make a batch of potato salad. Listen, I get it, it's funny to pile on more money than could possibly be needed to make some potato salad.
I have nothing against Zack Brown and his Kickstarter campaign, because I am a capitalist and believe in the freedom to make money using technology. But I can't help but think how much of a waste it is throwing money at something like this, compared to donating to charities. Perhaps part of the problem is that non-profits are not run like capitalist companies and shammed if they have overhead but produce great charity.
I recently discovered some revolutionary views on this topic by Dan Pallotta in his TED talk.
Still, the participation in the potato salad Kickstarter is intriguing to me. It is a sign of the times, people jump on trends that go viral and the mass media only helps those trends get more exposure. But it should also serve as a chance to remind people that there are some really amazing causes that they can help, instead of just crowd funding potato salad making on an individual level. So I am going to attempt to ride the potato salad-making headline of the moment to bring awareness to 5 charities that I am personally passionate about and emotionally invested.
1. The TearDrop Project
www.Teardropproject.com
The Teardrop Project is a new non-profit, which uses small gestures to make a big difference in the lives of people fighting for their lives. Many others and myself volunteer their time to this charity. Richard Peck, a Californian fighting multiple forms of cancer was the first recipient of the non-profits fundraising efforts. Richard had a goal to build a teardrop trailer from scratch with his son Nick, and the group provided him with the funds to get started. Unfortunately, last week we lost Richard when he passed away from the disease.The Crowd funding site was recently reopened to cover his funeral costs, a memorial and a donation to his family.
2. The American Diabetes Association
http://www.diabetes.org/donate/?loc=wtg-slabnav
Diabetes research is a cause that is important to me both personally and professionally. The American Diabetes Association's mission is to prevent and cure diabetes and to improve the lives of all people affected by diabetes. The organization has done tremendous work not only improving diabetes awareness but researching the cause and impact of the disease.
3. The Lung Cancer Foundation
http://www.lungcancerfoundation.org/contribute/
Lung cancer is a subject that I am personally connected to as well. Last year I had a parent who was diagnosed with the disease. Lung cancer funding is drastically lower than funding of most other types of cancer.
4. The Cystic Fibrosis Foundation
http://www.cff.org/GetInvolved/ManyWaysToGive/
Cystic Fibrosis is a horrible disease, which is drastically underfunded. My sister in law Sarah McCloskey lost her battle with CF at a young age, before I even met my wife. However, I have witnessed first hand the impact this disease can leave on a loving family.
5. The Wounded Warrior Project
http://www.woundedwarriorproject.org/donate.aspx
As written on their site, "The Wounded Warrior Project is a non-profit with the mission to honor and empower wounded warriors." Working in the wound care industry, I have witnessed the impact of non-healing trauma wounds on our patients.
WWP serves to raise awareness and enlist the public's aid for the needs of severely injured service men and women; help severely injured service members aid and assist each other; and provide unique, direct programs and services to meet their needs.
Thank you sincerely for even considering donating to one of these amazing five charities right now or the next time an Internet crowd-funding trend pops up.