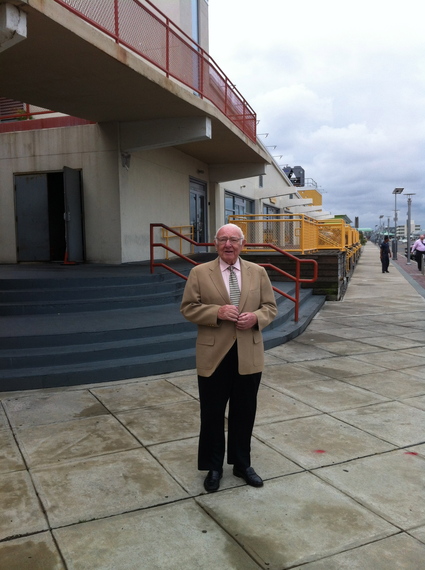 As the world celebrates Saint Patrick's Day, I wanted to tell the story about the greatest Irishman I ever knew and the qualities that made him excellent. This holiday is not just about pub-crawls, shamrock shakes, green beer and wearing green. It is about celebrating the loving and passionate people of Ireland and the powerful principles they live by each day.
Last month our family lost a great leader and the world lost an amazing man. His name was James Duggan and besides being my uncle, godfather, and confirmation sponsor he was an immigrant from Ballymahon, Ireland.
He was a loving husband, father, grandfather, brother, brother-in-law, and uncle and he left extreme impact on those lucky enough to ever have a conversation with him. He was the eldest child in his family of many siblings and was the first to go to work in Shrule Mill, Ballymahon at the age of 16 years. Uncle Jim came to America in 1954.
Last evening I was making corned beef and cabbage for dinner and I couldn't help but think fondly of Uncle Jim making it many times. While I am not the best person to tell his story, I have a lot of memories about him that I would like to share on this Saint Patrick's Day. When I think of him today, I think about the many values and principles that he taught me.
Loyal
Upon reaching America he got a job at The Brooklyn Gas Company and didn't stop working there until he retired at the age of 65. That is something you don't see very often these days and it will be even more rare in the future. He was a loyal and honest man and I suspect that he was grateful for the opportunity to move up in the company and returned his loyalty to the company by working hard every day. My dad (his brother-in-law) briefly worked with Uncle Jim at the gas company and tells a great story about how he would always go over my dad's expense reports questioning every line item.
Genuine
Every single time you would see Uncle Jim he would stand up, say your name and reach out his hand. He always seemed genuinely excited to see everyone. You can't fake that kind of charisma. He always wanted to know what you have been up to and how things were going. He had a laugh that would fill the room and it made you feel good when you were around it.
Honest
I have an early memory of going to dinner with the Duggan family as a kid. I remember our parents coming out after settling the check. From a distance I could see Uncle Jim shaking his head and going back into the restaurant. I assumed that we were charged too much. Later I learned that they had undercharged us and he went back to pay what we owed. To this day, I have not witnessed another act of honesty that pure.
Passionate
Uncle Jim had great stories of the old country, the fairies, ghosts, and the banshee. We would often sit around at family events and ask him to tell the stories again and again. They were even more enjoyable when I was older and able to share in the scotch and cigars.
In later years, I really began to notice how passionate he was for his family, especially his wife, two children and two grandchildren. He spoke of them with great pride and you could tell that they were his greatest accomplishments in life.
Generous
For years Uncle Jim used to slip me cash. Sometimes it was $5, $10, or $20. It was always passed to me secretly when he found a moment alone. I always assumed it was because he was my Godfather. He would always tell me to buy something nice. It was so kind and generous and I will always remember it. He also gave his time to the Catholic Church, helping out with mass whenever he could.
Strong-willed
Uncle Jim had opinions on everything from religion, the economy, England, and politics. He wasn't afraid to speak his mind and put his beliefs out there. But he never did it in a mean spirited way. He respected the beliefs of others even when they weren't his own.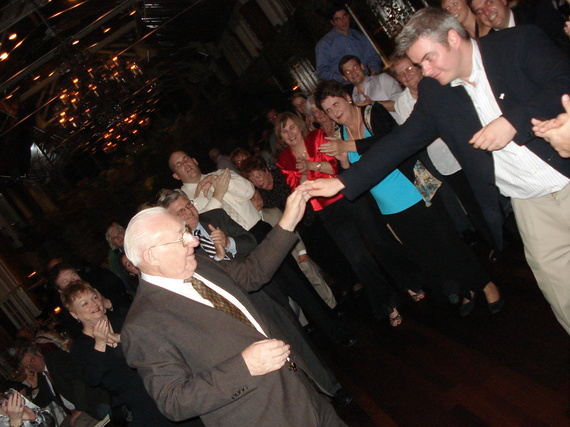 Thankful
When I think of Uncle Jim, I am left with the feeling of being thankful.
When he passed away last month he was 87. He was fortunate to live a long and fulfilling life. I feel thankful that seven years ago our cousins threw him an 80th birthday party that was bigger than some weddings. It was an amazing time. His relatives from Ireland were here and he danced the night away to a live Irish band.
I am thankful that I got to visit his family farm with him in 1987 and see where he grew up. I am thankful that he spoke at my wedding.
But most of all I am thankful for the strong and important values that he showed us all by example while growing up.