As modern society evolves and the global population swells from 7 billion to more than 9 billion by 2050, the density of people and sprawl is shifting toward cities and coastlines. That change will have a profound impact on natural resources.
Finding solutions for problems tied to runaway growth will be paramount in how we live, work, and sustain. Water, food, and the energy we consume and pollute, as a byproduct of industrialization, are not limitless. They resource networks are fragile. When we talk about resiliency in Hurricane Sandy terms, we need to think beyond facilities and infrastructure and make the natural resources we use more resilient, as well.
Sustainability is one reason why "Europe plans to decarbonize by 2050," Connie Hedegaard stated at the Bloomberg New Energy Finance (BNEF) Summit held in New York City this month. The Danish politician is the European Commissioner for Climate Action in the European Commission.
The panel discussion she sat on, Geopolitics of Phase Change, covered the challenges of moving from fossil fuels -- oil, gas, coal -- which makes up 87 percent of the global energy pie today to a cleaner, greener renewable energy. With the clean source of nuclear power being taken off grid in places like Japan and Germany, the aim to decarbonize might need new technologies to achieve that goal.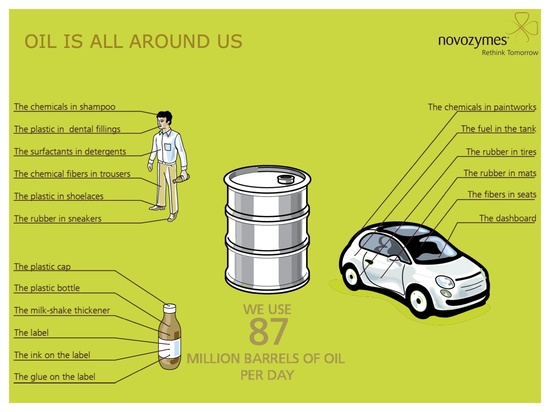 Infographic: Oil Products [Credit: Novozymes]
'Enzyming' the Future
At the BNEF summit, I sat down with Adam Monroe, President the Americas (NASDEQ: NZYM B) of Novozymes, a fourteen-year old spinoff of Novo Nordisk.
Headquartered in one of the greener cities in the world, Copenhagen, Denmark, Novozymes is part of OMX Copenhagen A/S, which employs more than 6,000 people. The workforce consists of biologists, chemists, engineers, and an array of scientists with a single-minded focus on research and development. The company has rolled out more than 700 products, which today are used in 130 countries around the world with a large sustainability impact.
"Last year the use of our products resulted in a 52 million ton reduction in CO2 emissions. That's like taking 20 million cars off the road," Adam Monroe said in explaining the super efficiency of nature's technology.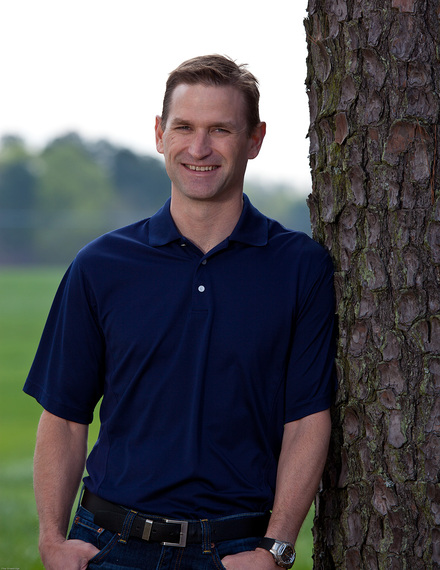 Photo: Adam Monroe, President the Americas, Novozymes. [Credit: Novozymes]
Like the corporate name suggests, Novozymes is in the enzyme business. What are enzymes? They are proteins that catalyze change. They are naturally occurring in humans and all living organisms, acting as "catalysts to efficiently speed up specific biochemical reactions."
For the innovation company, enzymes are the building blocks of their product line, serving five major groups: Household care, agriculture and feed, food and beverages, bioenergy and biofuels, and technical and pharma.
"When you leave your house in the morning, you probably touched at least seven Novozymes-embedded products on the way to work," Adam Monroe said, pointing out the quality of the bread, the look and feel of your clothing, and the detergents to clean them are just some of those enzyme enhanced products.
"And when you drink a light beer, well, many of them aren't light without our enzymes," Monroe added in a measured southern accent, "
Born and raised in Arkansas, but spending the better part of the past couple of decades in Raleigh, North Carolina, where Novozymes North America is headquartered, Adam Monroe has previously served as director of supply chain operations for the Danish concern. He has a Bachelor of Science degree in Chemical Engineering from the University of Arkansas. He's more than a business manager; he understands what the R&D and sciences of enzymes are about at the biochemical reaction level.
Getting into the Roots of Farming
Farming, which changed through mechanization in the 19th century and fertilization and pesticides use last century, is changing yet again. Critical to plant, animal, and human growth is phosphorous. It's a nutrient vital to life. And yet the mining of phosphates is concentrated in certain regions of the world, and one in particular -- Morocco -- holding 80 percent of the world phosphate reserves.
Phosphates are used in everything from dishwashing detergent to fertilizers. And for the latter, actually getting the phosphates efficiently into the roots of the plants and crops has been difficult, which has contributed to farm runoff into streams and rivers, and even has created a dead zone at the Mississippi Delta in the Gulf of Mexico.
Seeing the problem of poor fertilization, which can get "bound or banked in the soil," Adam Monroe said, combined with the toxic effects of pesticides used to combat bugs, Novozymes has focused its R&D efforts on bioag innovation with a focus on the soil microorganisms, the dirt side of farming.
"Technology like GPS guidance systems have made fertilization much more accurate and efficient in delivering fertilizer to plants and crops above the ground. Under the soil, knowing that symbiotic microorganisms live off the roots of plants and do the work of providing the nutrients at the same time, we sought to cultivate that exact same organisms and put them on the outside of the seed so they are ready to go to work during the critical and sensitive early stages of a plants life," Monroe stated, pausing for effect. "We found we could establish the roots of the plants much earlier, make them bushier, more robust. The more early growth, the better farmers can endure adverse weather conditions and seasonal changes. The yield potential is enormous with a long-term promise on sustainability."
In other words, instead of the blanketed effect that fertilizer spraying and runoff has had on crops, they can now be more readily adsorbed at the microbe level in the roots of the plants. This will not only reduce the waste of fertilizers, but the "kick in yield with improved uptake of phosphate and nitrogen will mean a lot to a farmer's bottom line" he said. "It's about making the microorganisms and their enzyme processes work in an exact small space of soil."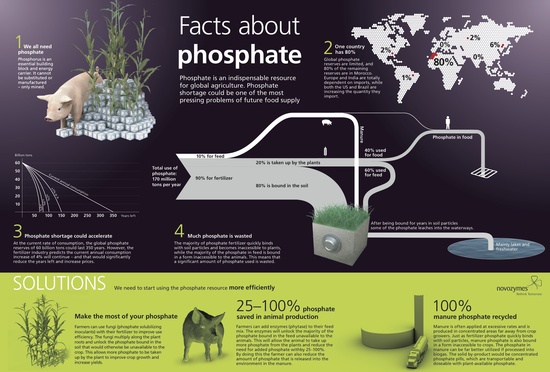 Infographic: Facts About Phosphates. [Credit: Novozymes]
Beyond Wind and Solar
Novozymes thinks of products in the way that BASF does: Novozymes doesn't make products that come off the shelf, but they do 'make the products we use better,' more efficient and sustainable. "We take old and new enzymes and make them better in new economical ways. Many can find an interesting biologic-based solution, but few can develop them to a scale where it makes commercial sense," Adam Monroe explained.
"In the bioag space Novozymes develops and produces the organisms and then licenses them to global partners to put into the marketplace," he added.
Novozymes enzyme products are critical in producing biofuels from corn, and multiple sources of biomass or cellulosic sources including sugar cane residues, wheat straw, corn stalks, wood chips, and the trash found in the garbage truck. There are "914 million tonnes of crop residues sustainably available in eight selected global regions that can replace roughly half of the global gasoline needs," according to a Novozymes infographic with nearly half of that coming from North and South America.
Novozymes focus on bioenergy includes starch-based and cellulosic ethanol. These bioenergy alternatives will help reduce CO2 emissions on scale, while improving energy security. With progress being made on these fronts, the R&D team is now delving deeper into biogas and biodiesel to help fulfill the promise of renewable energy.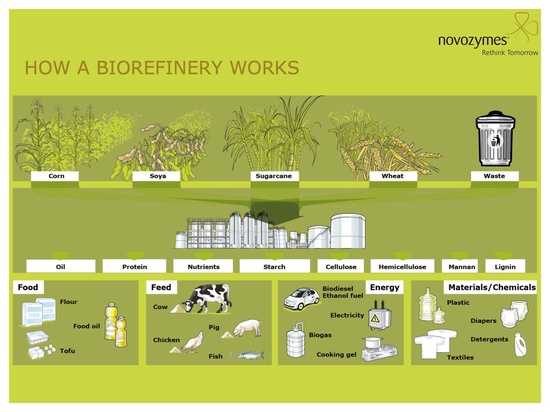 Infographic: How Biorefinery Works. [Credit: Novozymes]
What will make Novozymes come into the public view will be its ability to partner with companies to see what problems and challenges they can solve together. Food, energy, and agriculture are great places to continue to explore with their global R&D team of scientists.
"Historically at Novozymes we were a little to introverted... a company full of scientists and engineers looking at each other's shoes" Adam Monroe said, "But today we are more extroverted and want to change the world with our customers. We are getting better at partnering and looking for new ones... so we can look at their shoes, too."
[Disclosure: I have no financial or strategic interest in Novozymes; I am neither a shareholder or investor in the company.]