Fashion Weeks in New York and Los Angeles will keep any designer busy. Add to that, it's spring, and with it comes the annual rite of fashion shows from London and France, to Asia and America.
Kicking off this season's event, Black Tie Magazine, a celebrity philanthropy platform that "empowers people worldwide to be active philanthropists," in association with Elite Professional Network, held a fashion show at the Trump World Bar.
The event producer and emcee, Gloria T. Cressler, who is the president of Elite Professional Network Group, had Vaiva Tuckuviene of Vaiva Style conduct a fashion show on her latest elegant dresses and designs with four female models.
In meeting Vaiva at the show, as well as one of the models in Jazmin Ivy Rodriguez, I got the very American international flavor of the U.S. fashion world.
Vaiva hails from Lithuania, while Jazmin from Honduras. Both, I discovered in post-show interviews, were inspired by fashion in their childhoods. Both today are big proponents of the need for the fashion industry to become more sustainable in reducing its global carbon footprint.
Fashion Shows in New York and LA
At an early age, Vaiva had been prepped to put on a fashion show. "Before I became a model, I had organized a creative project called fashion theatre. It allowed me to use all my talents and abilities," she said.
More than a model, Vaiva graduated from a university in Lithuania with a degree in Theatre Direction. "Since childhood, I have been motivated to be different and use my creative personality." A part of that was born out of her mother's influence in knitting, shopping at clothes stores, which "didn't have a lot of variety then." Out of necessity, Vaiva began to create accessories for dresses, knit jewelry to her clothing, and develop her own unique style.
It was a trip to New York a couple of decades ago when she discovered the modeling world.
"I was drawn to it. I learned all I could about modeling, doing photo shoots for editorials and runway fashion shows. When I came back to Lithuania, I opened my own modeling agency, Vaiva Studio. I learned that the modeling-fashion industry is a tough business. I helped local Lithuanian girls, teaching them how to break into the modeling and work successfully," she wrote via email.
"I also opened a boutique in my native town of Siauliai. Unlike the typical clothes found at stores and malls, I made unique one-of-a-kind dresses and accessories. My clients praised me for excellence and precision of my designs and called my collections exceptional," Vaiva explained.
Born with a creative streak, Vaiva isn't done teaching: "Fashion is my life. I love fashion in all its different ways. So I worked as a model, as a designer, as a fashion show producer, and even as a makeup artist, and a fashion photographer. I combined all of my experiences in a book The Road to Modeling Success, which will be out soon with Tate Publishing."
Lithuanian Influence to Fashion
"Lithuania has long set the tone to most of my collections: I knit and saw using traditional Lithuanian materials such as linen, and have produced a few collections influenced by our culture. Beyond traditionalism, I strived to give my collections a modern vibe. Largely, I have been influenced by the luxurious and exquisitely refined fashion collections of Yudashkin and Zaitsev -- a pair of Moscow designers," Vaiva said.
In her early days, she often visited Moscow. She attended shows where they presented Russia's Haute Couture fashion. "I admired their creativity and luxury of their timeless collections. I love classics. Love Chanel and the elusive charm of her simple 'little black dress.' I was inspired by Chanel to create my own unique signature dress," she explained.
Other influences for Vaiva Style have been Ives Yves Saint Laurent and Asia. In Beijing, China, she attended the Metropolitan Model World Contest, where she found that Asian fashion is inside her, waiting for the "right time and inspirational moment to come out and inspire either one of my designs or maybe a whole collection," Vaiva said.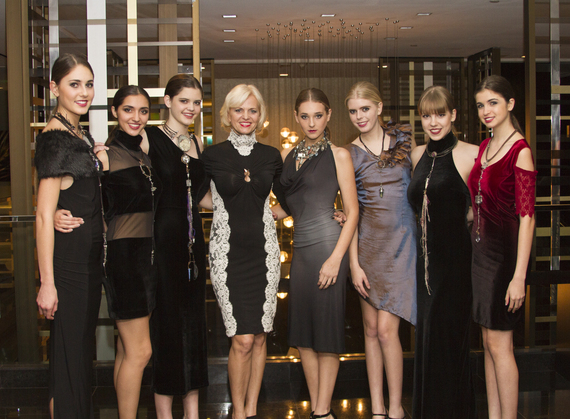 [Vaiva Standing in the Middle with blonde hair and her models wearing Vaiva Style Spring Collection at Beverly Hills Hotel. Brian Saenz. Jewelry designed by Susan Lenart Kazmer
From Technology to Sustainability
In Vaiva Style's view, "New technologies allow us to stay in touch with consumers and create a more personal, targeted shopping experience overall. Social media and feedback allows us to regulate stock levels based on the customer's response to a certain design. In their turn, companies can boost advertising through their bloggers. Mobile technologies are coming more and more in play."
Controlling inventory is one way to minimize impacts on the global supply chain that is the fashion world. "Sustainable fashion, also called eco-fashion, greatly influence the choice of materials and methods of production that we use," Vaiva said.
"The first choice of materials when I make my designs comes down to natural fibers, such as linen, silk and cotton. Sustainable fashion is typically more expensive, but we need to be conscious of the environment and try to utilize socially responsible methods of production," she stated, adding, "I am planning to make a collection using abaka, an eco-friendly material made from a plant grown in Philippines."
The Next Generation of Fashion
For model Jazmin Ivy Rodriguez, she, like Vaiva, had been influenced by fashion's beauty and style. She was also one of the models wearing Vaiva's spring collection dresses.
"I have been modeling on and off for the past four years. I was attracted to the beauty in the photography, the fashion, the makeup, the hair, and the walks. Everything that makes a woman feel beautiful and glamorous," Jazmin said,
Being a woman from Honduras with dark skin was not easy to break into such a hard and competitive industry. Jazmin said many people don't know where Honduras is or what a Honduran looks like. In some ways, she felt the need to put her country on the map and introduce her heritage. "Whenever I get compliments from people, they never guess where I'm from," she said with a bit of pride.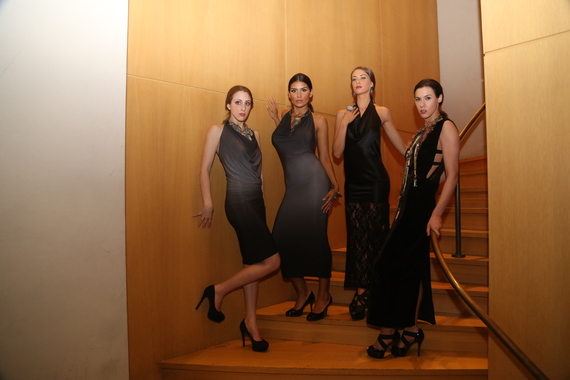 [Jazmin Invy Rodriguez (2nd L) and models wearing Vaiva Style at Trump World Bar. Credit: BarryBrown.com]
"It's an advantage to be tall, tanned and exotic. But I feel like for some commercial work it's hard to breakthrough and land good jobs," she said. "Most people see an exotic Latin woman automatically categorize us as urban models. The modeling industry is not very popular in my homeland. Everyone knows that if you want to be a successful model the places to go to are Europe and the United States."
Like Viava Style, Jazmin Rodriguez one day dreams to become a fashion designer. She doesn't follow trends, as she knows what works on her body type, her type of skin, from cosmetics to clothes. "I don't use full length mirrors at home. I can just look at something and know if it will work or not."
Knowing that New York City is one of the toughest venues to model, she has branched out and travels a lot to Los Angeles, Ibiza, Barcelona, Brazil, Puerto Rico, the Bahamas, Mexico, and other states. "Every time I travel, I learn something new while looking forward to the next location."
A Model's Take on Greener Fashion
As a model, Jazmin said she's "ecstatic to know that major brands are taking initiative in promoting a healthier planet. The fashion industry should try to promote more of green initiatives and promote awareness to educate consumers on ways the they can conserve and recycle."
Jazmin's passion for modeling is matched by her passion to preserve the planet, and to educate future generations to follow the course on sustainability.
After Fashion Week in New York, Vaiva Style's new collection was featured at the Experience event, which took place at the Beverly Hills Hotel in California.
"I can proudly say that both events were great success for Vaiva Style brand, and I am very much motivated to expand my fashion design business in California and worldwide," Vaiva said with panache and a sustainable focus.