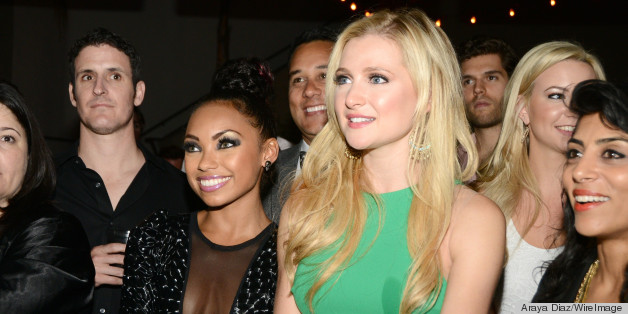 It's a psychic scar that all gay men share from childhood, a universal struggle that shaped us, gave us our first inkling that we were somehow different and opened our eyes to the harsh realities of life and the rules that society had the power to insist that we follow.
We weren't allowed to play with Barbies.
OK, I certainly wasn't.
Growing up in working-class Boston in the late '70s/early '80s, I loved all the things that a good little gay boy would -- jelly bracelets, Lisa Frank stickers, Doug Barr from The Fall Guy -- but I never got to truly let my gay freak flag fly with Barbie. My father was an old-school Italian with a Magnum P.I. mustache and a night job loading trucks for UPS. His son wasn't going to be gay. And he sure as hell wasn't going to be playing with dolls.
But this universal struggle not only opened gay boys' eyes but taught us how to improvise, operate on the down-low to sneak what we so desperately needed. So I had contraband Barbies, acquired Barbies from my older sisters that operated under cover. I either had to play with them when my dad wasn't around or play with them like men would: I could mutilate them, cut off all their hair or just straight-up decapitate them. (Hi, commentary on society.)
Of course, all I really wanted to do was dress them, braid their hair, give their lives purpose. The life's purpose of my contraband Barbies was to borrow a cup of sugar. That's all they did: walk to whichever couch leg I deemed "next door" and borrow a cup of sugar. My storytelling was a bit limited at the time.
When I got older, I finessed my plotting as a TV writer, forging a career specializing in complicated women who could be anything: an astronaut, the president... or a cheerleader.
I don't call my dancers "cheerleaders" on my new scripted VH1 drama Hit the Floor. They are dancers, thank you. Specifically, they're Los Angeles Devil Girls, the premiere dance team in all of professional basketball. They've got fierce outfits, more sequins than you could choke a gay horse with and gloriously long, flowing, braidable hair. That's right: I finally got my own Barbies. And these are fabulous:
"Girl-Next-Door Barbie" Ahsha Hayes is played by newcomer Taylour Paige. Ahsha tries out for the Devil Girls behind the back of a mother who was burned by her own experience dancing for the team back in the day. She comes complete with heaps of optimism and a magnet for attracting drama.
"Haunted Barbie" Sloane Hayes is played by Kimberly Elise. Sloane fled the wild world of pro basketball and is being dragged back into it by her daughter. Her accessories include a comb for her gorgeous natural hair and ghosts from the past.
"Bitch Barbie" Jelena Howard is played by Logan Browning. Jelena is the superstar team captain who sees the threat in Ahsha and promptly sets out to wreck her. She comes with a super-cool red satin jacket with a "J" on it and a thirst for blood.
"Stripper Barbie" Kyle Hart is played by Katherine Bailess. Kyle shook her moneymaker for car salesmen in Carson, Calif., but tries out for the Devils to dance for their A-list front row with way deeper pockets. Be careful when pulling her string; she's likely to say anything. (For ages 21 and up.)
"Telenovela Barbie" Raquel Saldaña is played by Valery Ortiz. A Devil Girl vet, Raquel leads with her heart instead of her head, so she can sometimes be her own worst enemy. She comes with a 4-year-old son, with one of the douchiest guys on the planet as his baby daddy.
"Businesswoman Barbie" Olivia Vincent is played by Charlotte Ross. Olivia is the director of the Devil Girls, a former Devil Girl herself who's part den mother, part exacting taskmaster. Her many designer outfits go for two grand a piece. Collect them all!
Of course, we also have Kens: prickly all-star-turned-coach Pete Davenport, played by Dean Cain; Ahsha's soulful gym-teacher boyfriend German Vega, played by Jonathan McDaniel; the Devils' star baller and king to Jelena's queen Terrence Wall, played by Robert Christopher Riley; and bad-boy shooting guard and rival for Ahsha's affection Derek Roman. Like Ken, their abs are rock-hard. Unlike Ken, they aren't just another one of Barbie's accessories. These Kens have junk down below.
Every week I dress my Barbies in different outfits, do their hair, put on their makeup and have them perform a big dance number. None of them have had an opportunity to go next door and borrow a cup of sugar, but I'm working on it.
People grow up, including gay boys and their fathers who didn't know any better. I get to play with Barbies every week, and my dad couldn't be prouder.
Hit the Floor premieres on Memorial Day, Monday, May 27, at 9 p.m. EDT on VH1.