When Sarah Palin was elected governor in 2006, she turned to Mike Tibbles to head her transition team. Tibbes then became her chief of staff before he abruptly left on May 1, 2008. Tibbles was also one the persons who had pressured Walt Monegan to fire the ex-husband of Sarah Palin's sister.
Palin now says she did not ask Tibbles to make calls to Monegan, but it was apparently not the first time that Tibbles was asked to settle the first family's personal scores. On July 9, 2007, Tibbes had earlier fired the governor's legislative liaison John Bitney, reportedly as a consequence of Bitney dating the estranged wife of a friend of Todd Palin, the Governor's husband. Andrew Halcro calls Todd Palin, who also played a role in the Monegan firing, the "Shadow Governor."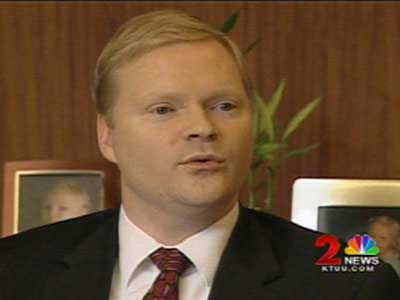 On July 7, 2008, Tibbles was appointed the new head of Senator Ted Stevens re-election campaign.
The investigation into the firing of Monegan will likely involved questioning of both Palin and her former chief of staff Tibbles. If Tibbles is truthful, he will likely provide evidence that Palin is lying about the pressure put on Monegan. If he lies under oath, he opens himself up to a perjury charge. For a republican operative seeped in Alaska politics, it has to be an uncomfortable position.
Below is a 2006 picture of Meghan Stapleton, John Bitney and Mike Tibbles, three key Palin staff members who have left the Governor's staff.