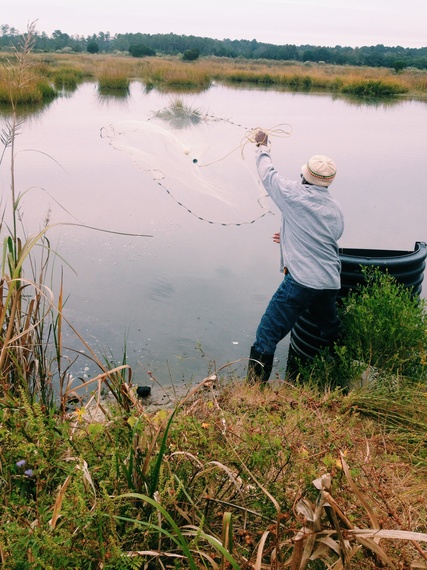 I've been back from Charleston for a couple of weeks now, but to get myself in the mood for writing, I'm tucking in to slices of coppa cured by Craig Diehl (chef at Cypress restaurant, Charleston) that I smuggled back to London, and I've thrown on my Geechie Grits T-shirt, kindly given to me by local legend and owner of Geechie Boy Mill, Greg Johnsman. These were just two of the local people that made the week for me -- their generosity and pride in what they do was truly inspiring.
After years of cooking you sometimes start thinking that you know or understand a great deal about food, but then something simple stumps you -- how do you grow rice? You'll have to forgive my ignorance on this subject, but we don't grow any rice in the UK and I don't cook or eat very much of it. Thinking about it conjures up images of the terraced rice paddies of SE Asia... I couldn't see how that translated to South Carolina.
Carolina Gold rice is the crop that helped make Charleston, and it's very interesting to see how the history of production is viewed depending on who you talk to. No doubt this is a quality crop, but it became famous thanks to slave labour, or west African labour as people phrase it now. We spent a whole morning with Glenn Roberts of Anson Mills at Turnbridge Plantation picking, milling and polishing Carolina Gold rice. It was time consuming and incredibly satisfying. Yeah, sure, gator and deer hunting is fun too but this is the sort of thing that gets us chefs buzzing. The pursuit of knowledge and understanding processes is something that unites us and we were brought to Carolina to see something different, to learn, to get inspired and to cook based on what we'd seen during our lowcountry crash course.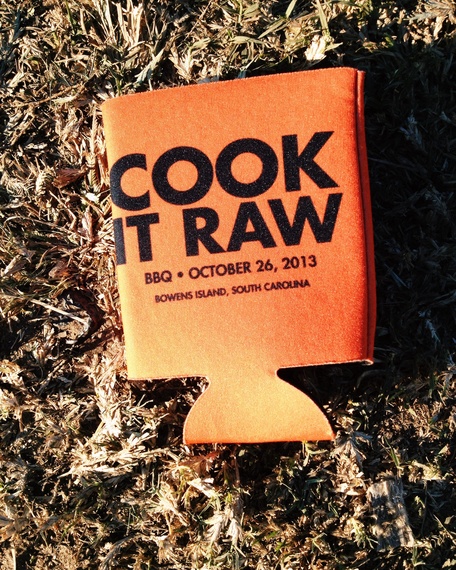 There was a slight departure from the normal Cook It Raw format this year in that there were two events, rather than just the one restaurant-based dinner. The second was a large event which had a group of local restaurants, as well as the visiting chefs, cooking for a paying public. The dinner was obviously incredibly exciting to be a part of. The atmosphere in the kitchen was unlike anything I'd experienced before -- there was an incredible sense of being supported by everyone and none of the competitiveness I thought I might encounter.
What the BBQ allowed us to do though, was cook for a far greater number of people; it made it a more inclusive and democratic event. It was more in line with the food we'd eaten on our trip. There were things like a blue crab boil, an oyster bake or a more traditional low country boil where everyone dives into a pile of clams, shrimp and corn.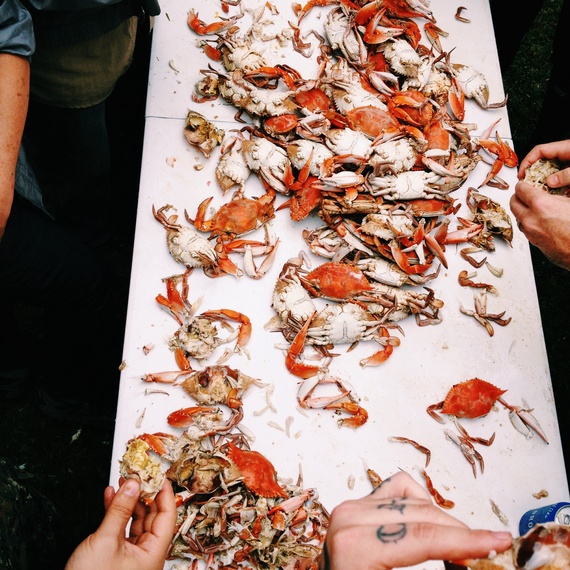 Our team of chefs from Canada, Finland and UK was joined by BJ Dennis, a local Gullah chef who had wowed us with some of his cooking a few days earlier. Together we cooked an interpretation of Hoppin' John. The combination of hog roast and fresh bean stew with fermented bean bread wasn't quite authentic, but we shared our story with those visiting us and if they weren't thrilled, they were at least intrigued, by what we'd done. All you can really hope for when you cook a local dish, for local people, that you've never tasted before, is not to offend anyone I guess!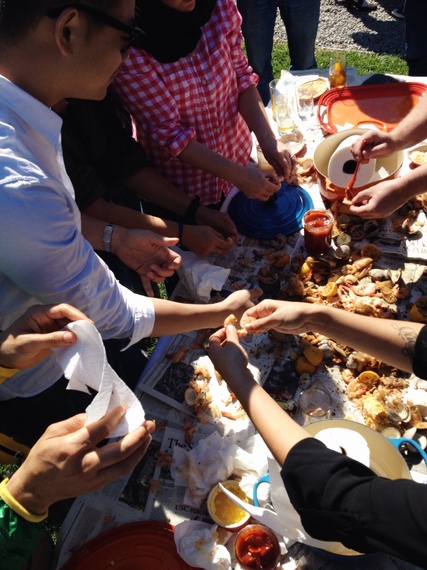 I travel quite a bit in the name of cooking and eating, and it's always such a treat to go somewhere and be surprised by what you see. I was expecting to see some interesting things in Charleston, but I left way happier and more inspired than I expected. I owe a huge thanks to all the Cook It Raw team, especially Alessandro Porcelli and Arlene Stein. Also for the team at Middleton Place for putting up with a bunch of chefs keeping the staff up late every night. Finally, Sean Brock and his head chef Daniel Heinze were brilliant all week -- I'm not sure there's a restaurant team in the UK that could put on such an event so well.