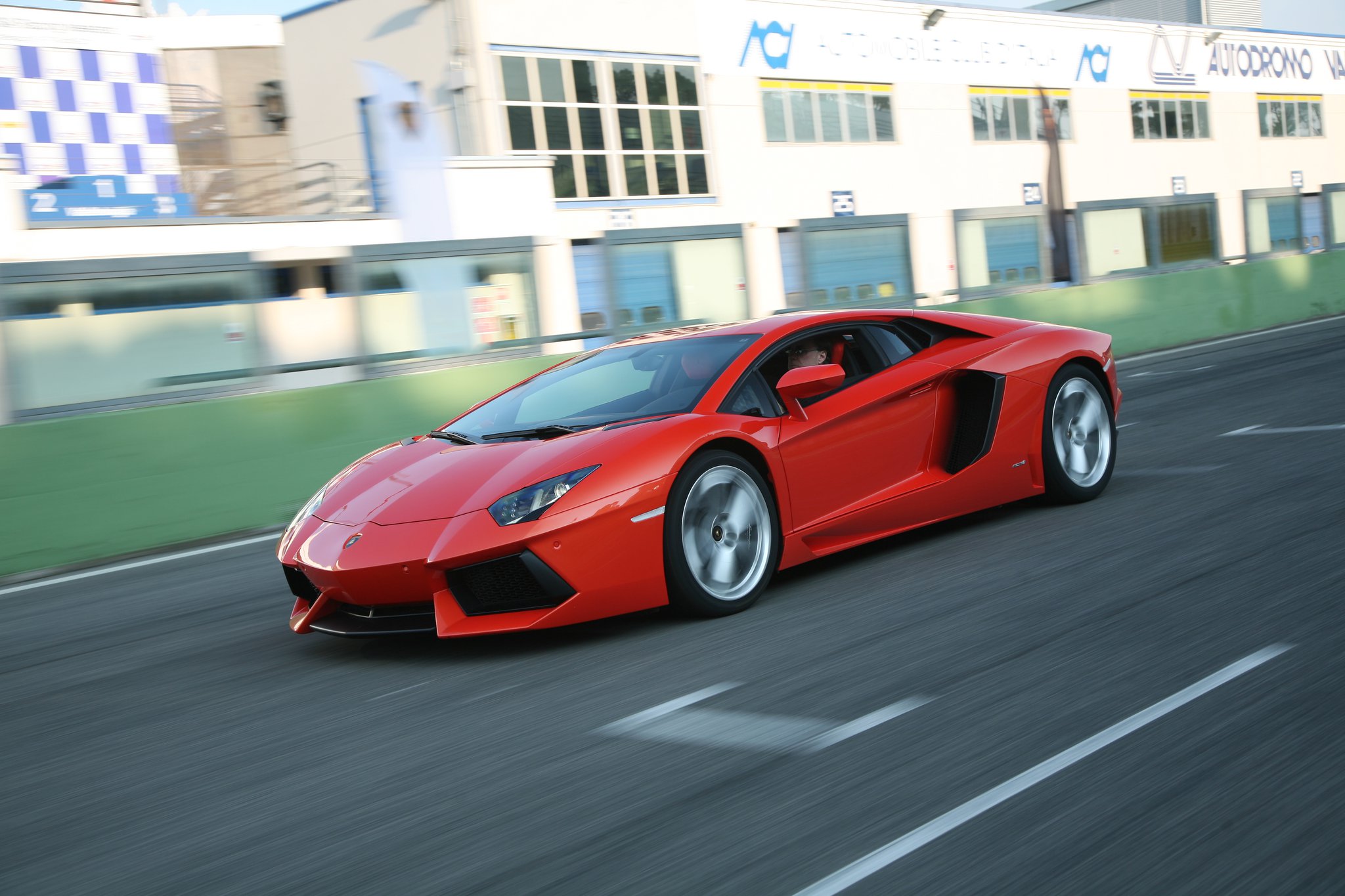 There's a good reason why experts advise against taking the last ski run of the day. Whether from fatigue, carelessness or a sense of invincibility, it often ends in disaster.
In Italy, I found that out for myself. The surface wasn't snow -- it was asphalt -- and the run wasn't on skis, but in the new Lamborghini LP-700 Aventador. While customers won't get the sleek new super car until later this summer, I had a chance to test it in Rome last month.
I'm no stranger to Lamborghinis. I've driven Murcielagos, Gallardos, LP-640s and Super Veloces going back nearly a decade -- even have taken a few above 200 mph on Italy's 7.8-mile test oval Nardo. On two runs there, the automaker had the audacity to put its CEOs in the passenger seat next to me . In 2002, Giuseppe Greco went along for a 205-mph joy ride in the Murcielago 580, then Stephan Winkelmann in 2006 was my passenger at 198 mph in a Gallardo.
With the Aventador, though, my drive would be limited to the tight (2.5-mile) Vallelunga track, with 10 challenging turns. That meant I couldn't get anywhere near the 217-mph top speed, but I would be able to test the car's acceleration, cornering and braking -- things one does on a twisting road course, maybe even a highway.
After breakfast at Rome's Westin Excelsior, our posse headed to the track, 20 miles away. We divided into groups of four. A Lamborghini test driver would lead each group around the circuit, with all of us having a chance to drive directly behind him for a lap to learn the racing line. Then we would shuffle back and let another driver into that spot so everyone got their chance.
The morning went quickly with no incidents, lots of thrills and a growing appreciation for the power and agility of Lamborghini's new car. Seven gears (via F-1 paddle shifts) and a 6.5-liter, V-12 engine push the 690-hp Aventador from a dead start to 124 mph in 8.9 seconds. And 15-in. ceramic disc brakes stop the car even faster; it decelerates from 124 to 0 mph in 140 yards, providing a negative G force that's downright scary.
After lunch we encountered light rain, which made for a more challenging environment. Did Lamborghini pull us off the track, as was the conservative thing to do? No. They just warned us to be careful, which we were. By this point, we pretty much knew the ins and outs of the circuit -- and none of us wanted to be responsible for wrecking a machine that retails for $393,700!
Because of the cramped track, I only had been able to get up to fourth gear comfortably all day. On my final run, I wanted to push the beast to get a decent top-speed number. We were told that 220 kph (137 mph) would be the maximum possible, but I was looking for 150 mph. On the plus side, the track had dried. But the Pirelli tires were worn now, lacking the grip they had earlier and, after 40 laps, we were getting fatigued too.
When it was my turn to shuffle to the back of our pack, I let the other cars get way ahead -- several hundred yards -- in anticipation of the longest straight. After enough distance separated us I waited briefly, then accelerated hard. Before I knew it, I was into fifth gear and 245 kph flashed on the speedometer (152 mph). Whoa!
But then I had to brake, and hard -- and very late. I could see quickly I wasn't going to make the right-hander, so I focused on staying on asphalt in a straight line for as long as possible. Every precious foot of grip on the pavement slows the car appreciably, but once off-track in the slippery gravel you're along just for the ride.
Out of the corner of my left eye, I thought I saw something ahead, but put it out of my mind. Suddenly I was in the gravel sliding. The car stopped quickly, though, because that gravel was a few inches thick. The thickness also meant that, try as I might, I could not drive out. I was stuck, spinning wheels. Shortly after, a tow truck arrived, and I had to do the embarrassing walk of shame back to the pit.
Later a driver from Mexico accused me of clipping his front bumper with my back tire as I careened off the track. I was shocked -- I didn't remember hitting anything, and there was no damage to my car! But there was to his, he said; his front bumper was mangled. Then I thought about that brief vision flash in my left periphery. Was it him? It must have been, but I was so focused on stopping that I didn't even process it.
In any case nobody was hurt, and we all had a fine time previewing Lamborghini's finest new car. But I did learn valuable lessons: (1) No matter how much temptation, avoid that last run of the day and (2) the mind is a powerful thing. Because I had dismissed the idea that a car could be in front of me (ie, I had left so much space I didn't believe it was possible), my mind simply said it wasn't.
Maybe most important, though: When you focus too hard on one thing, it's possible to lose sight of everything else.
Photo courtesy Lamborghini