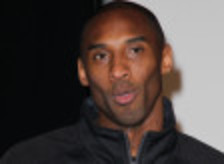 After the Los Angeles Lakers shocked the Golden State Warriors - at 23-4, the NBA's top team -- 115-105 last night at the Staples Center, Lakers Coach Byron Scott was hit with a flurry of questions around a theme: if the Lakers could play this well without Kobe Bryant, why not give the future Hall-of-Famer - who sat out Tuesday's game to nurse his 36-year-old legs - a little more "rest"?
After all, on Tuesday night the Kobe-less Lakers shared the ball (tying their season-best with 28 assists), found the open man (seven Lakers scored in double figures) and played tenacious defense in their first complete performance of the year. It was an early Christmas gift to an appreciative, long-suffering home crowd. And it was capped by former Laker Vlade Divac sinking a halftime half-court shot for charity that sent the notoriously passive Lakers fans into a rare spasm of raucous ecstasy.
And the elephant in the living room, amidst all this holiday cheer, was obvious, as it's been obvious for years: the "Black Mamba" himself.
As the enteraining "Swaggy P" (nee Nick Young) commented after the game: "Some guys just played like Django Unchained ... From the locker room to the court, we felt good. Some guys just played free tonight and did their thing. They had no handcuffs on them."
Hmmm. Wonder why that was.
The forthright Master P, didn't leave anyone guessing: "Pretty much going to have to tell Kobe to pass me the ball, pass us the ball. Tell him to take the backseat for a little bit. He can be 'Driving Miss Daisy' and I can be Miss Daisy and drive."
Bam!
To be fair, the hard-working, intelligent - dude plays classical piano - and talented Mr. Bryant is the league's third-leading scorer. However, he's done so by taking an inordinate number of shots (a league-leading 22.4 per game). Bryant's shooting percentage, currently at 37.2%, reflects as much.
Don't get me wrong. Kobe can still help the 9-19 Lakers. However, he cannot help them consistently if he continues to take so many shots and if the ball regularly dies when it hits his hands.
As soft-spoken, self-effacing guard Jeremy Lin noted when asked how things would change when Kobe returns to the lineup Christmas Day against the Bulls: "Kobe's our best player. When he's in the game, I want to cater to him."
And there's the rub. On a consistently winning NBA team in this era - as the San Antonio Spurs have demonstrated for two decades - there's no catering to superstars. But the message has not gotten through to Mr. Bryant or the Bryant-deferring Lakers organization, which still believes we are in the Michael Jordan era, when one man could single-handedly will his team to victory.
Kobe is too old to make that happen on a consistent basis. Moreover, the nature of today's NBA will not allow it. There are just many faster, more agile players coming in waves off the bench on almost every team almost every night. Passing is in, one guy "trying to get his shot" while four other guys watch, is out. However, that memo has still not gotten through to Bryant, who feels he has to be the savior when the going gets tough.
If Kobe really wanted to be the savior of this Lakers team, he would take 12-15 shots a game, and pick up seven rebounds and eight assists along the way. Instead of looking to shoot first, especially down the stretch when savvy clubs - as the undermanned OKC Thunder showed in beating the Lakers last Friday - count on him ball-hogging in crucial moments, Bryant should look to pass first and let the game come to him more.
And to save Kobe's legs, Coach Scott should mind Bryant's minutes, much like Spurs' coach Gregg Poppovich minds the minutes of this three future Hall-of-Famers (Tim Duncan, Tony Parker and Manul Ginobli). Kobe should average at most 25 minutes a game. That's the formula for how a superstar ages gracefully, and successfully, in this league.
However, if you are looking to Coach Scott to unilaterally make that happen, you are in for a disappointment. In the post-game press conference, all Scott could gurantee is that he can point Kobe to the Lakers victory against the Warriors to "make that case" that he should trust his teammates more, even when their shots aren't falling. Whether that message finally gets through to Bryant is still anyone's guess.