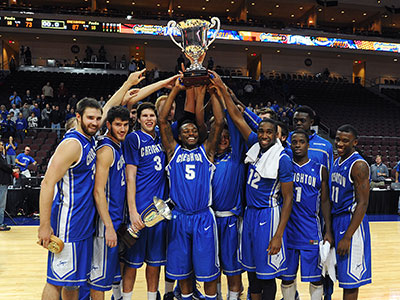 On the wings of 10 of 19 shooting from player-of-the-year candidate Doug McDermott, the Creighton University Bluejays held off the Arizona State Sun Devils Saturday night to win the 12th Annual Continental Tire Las Vegas Invitational. It was a coming out party for McDermott, the tourney MVP, who is rarely seen by West Coast coaches, fans, players, and pro scouts.
However, McDermott couldn't do it alone. Ethan Wragge's right corner trey with 2:22 to go -- after ASU pulled to within six (their closest margin of the night) -- was needed to finally darken the Sun Devils' upset hopes.
However, Creighton could have put the game away much earlier. Only eight minutes into the first half, the Bluejays raced to a 27-9 advantage. ASU was reeling. However, Jay turnovers off the ASU press, uncharacteristic Jay fouls and missed threes allowed ASU back into the contest. It was a dogfight the rest of the night.
ASU's speedy guard, Jahii Carson (which sounded at times like Nebraska's "Johnny Carson" over the Orleans Arena loudspeakers), lead all scorers with 30. Carson was only the fourth freshman in ASU history to score 30 in a game.
However, the balance and cohesion that has been the Bluejays' trademark over the past two seasons overcame Carson's singular effort. Seven Bluejays scored seven or more points. Moreover, ASU didn't have a consistent answer to Creighton's crisp ball movement, rebounding (the Bluejays had a 41-30 advantage) or second-chance points (Creighton won that category 14-0). Nor did the Sun Devils have a remedy for McDermott's deft post-ups, which literally and figuratively helped "seal" the victory for the tournament winners.
Of the roughly 3000 fans in attendance at the Orleans Arena, at least 80% looked like they were clad in blue. It didn't hurt that Creighton University alum Michael Gaughan gave out complimentary hotel rooms at his family-owned South Point Hotel, Casino and Spa to any Creighton fan attending the tournament. I wish I had known of the deal. My 5-star experience at the overrated Aria was hardly worth the hype (see my separate HuffPost review).
The Creighton-ASU game was a homecoming of sorts for yours truly. Not only am I graduate of Omaha Creighton Prep high school, but my late father Richard, sister Julie, and brother Rick are all graduates of Creighton University in one form or another. It was nice to see some friendly, if rowdy, faces from back home.
Next up for the Jays are Boise State (4-1) on Wednesday and the always-tough St. Joe's (3-1) on Saturday. And it won't get easier after that, as the Jays enter Missouri Valley Conference play.
However, beating the Big 12's Wisconsin (4-2) and the PAC-12's ASU (4-1) on successive nights on a neutral floor here in Vegas will prove valuable come NCAA tournament time. Though the 6-0 Jays are no longer below the radar, this smart, fast, and extremely well-coached mid-major remains a tough match-up for any opponent from any conference, regardless of setting.