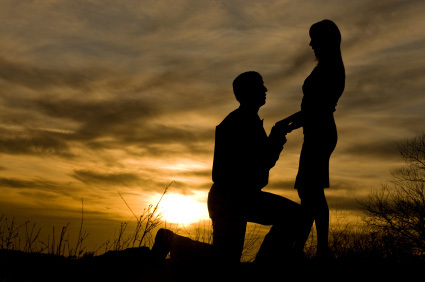 The most popular time of year for weddings is upon us. And when you stop and think about it, "Will You Marry Me?" is a terribly limiting phrase that doesn't begin to describe what a lifetime commitment to another person truly entails.
So, if any of you are thinking of popping the question soon, as you get down on bended knee across from the scenic vista, or reach across the table in the dimly lit restaurant to cup your lover's hand in yours, hit them with one of these refreshingly alternative "will yous."
And don't be surprised if they are even more inclined to say 'yes,' simply because of your honesty.
It's a most attractive quality, honesty.
10 FAR MORE REALISTIC MARRIAGE PROPOSALS
Will you put up with me?
Will you make me the happiest temporarily insane person in the world?
Will you succumb to my Netflix queue?
Will you turn a blind eye to my weight fluctuations?
Will you be the solution to all the problems I already had before we met?
Will you get rid of the cats?
Will you sign this prenuptial agreement?
Will you project your broken dreams onto our children with me?
Will you tell me when to stop driving?
Will you wait a second while I return this text?
P.S.: For extra fun, add the phrase "for the rest of our lives" to the end of each proposal!
More of James Napoli's comedy content for the Web can be found here.