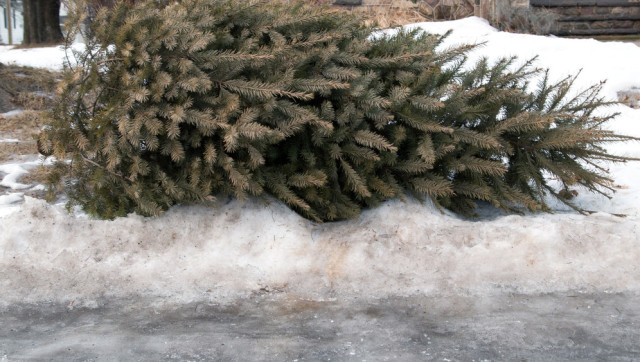 In a move that many neighborhood councils are calling "encouraging," new federal legislation has been rushed through that requires anyone caught simply tossing a used Christmas tree on the sidewalk for someone else to deal with to be forced to eat it.
"As someone who watches these damn things sit there uncollected every year for two, three, four months," said Cincinnati resident Eric Sykes, "I have to say I'm glad there is some kind of deterrent in place to stop the madness."
"The most surprising aspect of the new law is how no one seems particularly troubled by having to drop a dime on their neighbors," said Lansing City Councilwoman Roseanne Peters. "I've seen witnesses to murder, robbery and assault back down on pointing the finger at culprits for fear of retribution. But I guess everyone figures if you're enough of a spineless douche to toss a used Christmas tree onto the pavement, you aren't exactly going to kick ass on the payback."
Even more incentive has been added in some states, where individual lawmakers have the option of inviting citizens to a tree-eating viewing party.
"It was awesome," said Pete Levine of Springfield, Mass. "Everyone who had been putting up with looking at this ugly, shedding, dead thing on their street was able to sit behind one-way glass and watch the culprit eating the tree for, like, two hours. Really sweet."
One side effect of the new legislation is that tree recycling centers have customers lining up around the block, presumably in a last-ditch effort to avoid having rapidly-browning pine needles shoved down their throats.
"We think of it like that movie Jack Reacher," said one unidentified tree task-force member. "If we're coming for you, you deserve it."
James Napoli is an author and humorist. More of his comedy content for the Web can be found here.