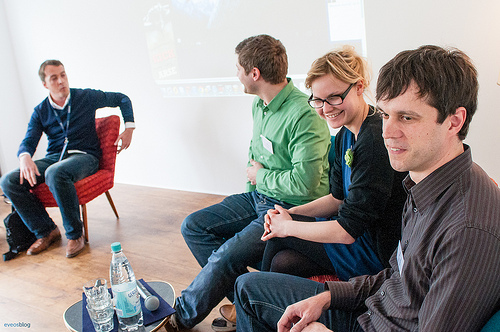 I'm warning you. Keep away from me. Back the eff off. I'm serious. If you come any closer, I'll crowdfund you.
Don't think I won't do it, either. I have plenty of projects I could use some financial backing for. Like, last year, I invented this pen that you can program to sign your name, hands-free. Seriously, we tried it and it worked once. It was like the pen was hovering, all by itself. It was pretty cool. We couldn't get it to work a second time, and it's just in the prototype stage right now, but with enough investor support, we can offer it to the public and you can be part of history.
For reals, I could crowdfund your ass so bad. I'm working on a documentary about Words with Friends. You know, it's like that movie about crossword puzzle fanatics, only it's about people who are addicted to inventing screwed up words and seeing if the Words with Friends dictionary allows them to be used in-game play. We're giving away an official mini-poster for the movie on a lanyard if you donate at the 25 dollar and up level. Besides, there are big stars now doing crowdfunding, and if they can raise a few hundred thousand bucks based on nothing more than an immense fan base of millions who are already familiar with their brand, then anyone can do it.
Seriously, if you don't step off, I will hit you up for cash in a heartbeat. Somebody has to pay for my root canal, and it's sure as hell not going to be me.
Hey, wait a minute. Where are you going? What's that? If one more lifelong friend hits you up for starter funds for some esoteric project you're going to do what? Come on, come back, will ya? Please? Can't we talk this over? Unfriend me? Unfollow me? Aw, man, that's cold! How am I supposed to crowdfund you if I can't let you know about it on Facebook and Twit--oh, oh, nice, that's real nice, thanks a lot pal. No, go ahead, just go, see if I care. That's right, walk away!
Well, this is just great. I guess when it comes to crowdfunding, two's a crowd.
More of James Napoli's comedy content for the Web can be found here.