If you crave art that elicits contemplation and incites a call to arms; art that can articulate the zeitgeist of the period in which it was made and continue its relevance (same issues, different circumstances) to the present time; and, perhaps, most significant, art made by a woman in the dark ages of the middle part of the 20th century that has the cojones to stir things up, then you will gorge yourself on Sociales: Débora Arango Arrives Today at the Museum of Latin American Art. Pulled from an ages ago Colombian newspaper headline, it's an apt title. Not only can museum pilgrims can see this work for the first time, they can view work that resonates as much now as it did when it was made. Organized by the Museo de Arte Moderno de Medellin, curated by Oscar Roldán-Alzate, the exhibition presents the Colombian artist's (1907 - 2005) first U.S. retrospective.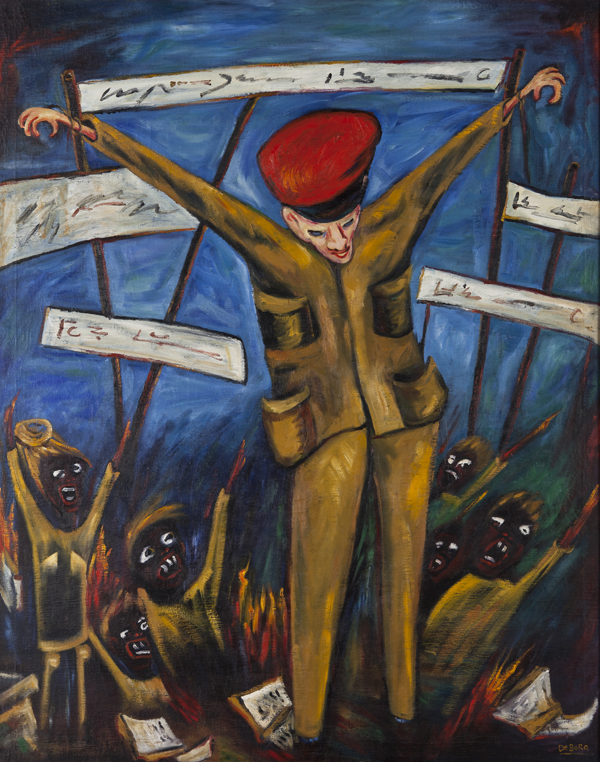 Huelga de estudiantes
The exhibition's well organized and sensibly installed. It begins with a series of portraits (friends, acquaintances) that greet the visitor outside the main gallery. Short on detail but long on expression, they feel like studies for murals, which makes sense, given the influence Pedro Nel Gomez had on her early work. Except for the fact that she's female, an artist, and Catholic, working in a country about to be torn apart by political, social, religious and economic struggle (Think America, mid-sixties; think of a society ripe for caricature and exaggeration), there's nothing controversial about them, which is precisely the point. Arango signs her work with a simple, schoolgirl-like signature, "Debora," as if somewhere in the soul of this woman who documented a particularly brutal period of South American history there still resides a young, innocent girl whose world's been turned upside down.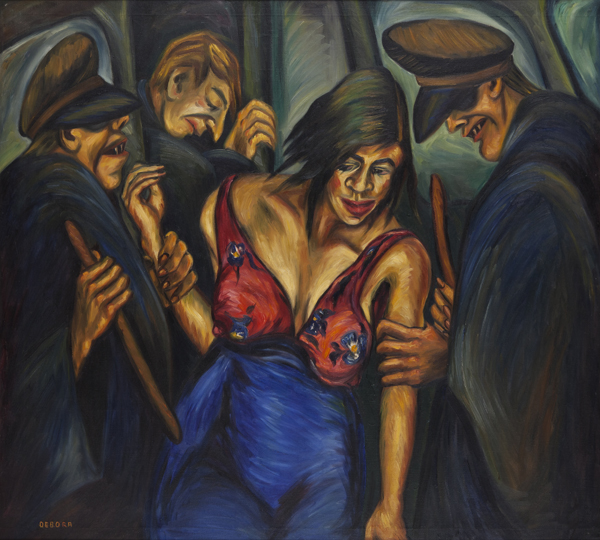 Justicia
Subsequent work shows the stylistic and iconographic influence of Jose Orozco. The show wends its way through oils on canvas and watercolors that capture the plight of women (her female nudes' explicit, coarse reality caused considerable scandal at the time) and other oppressed groups (prostitutes, prisoners, Colombia's 99%). Both the oppressed and the oppressors are depicted as feral. The only difference is that the oppressors have weapons (vampire fangs, clubs, and guns), and the oppressed don't. The pieces show skeletons with living eyes, which suggests that the dead don't forget. The work is characterized by fluid, hypnotic brushstrokes. These lulling tango-like brushstrokes make the action shown the violent pieces (the assassination of a up-and-coming political leader, the massacre of 3,000 workers) feel as if it's happening in slow motion, which is an accurate way to describe our perception of something violent.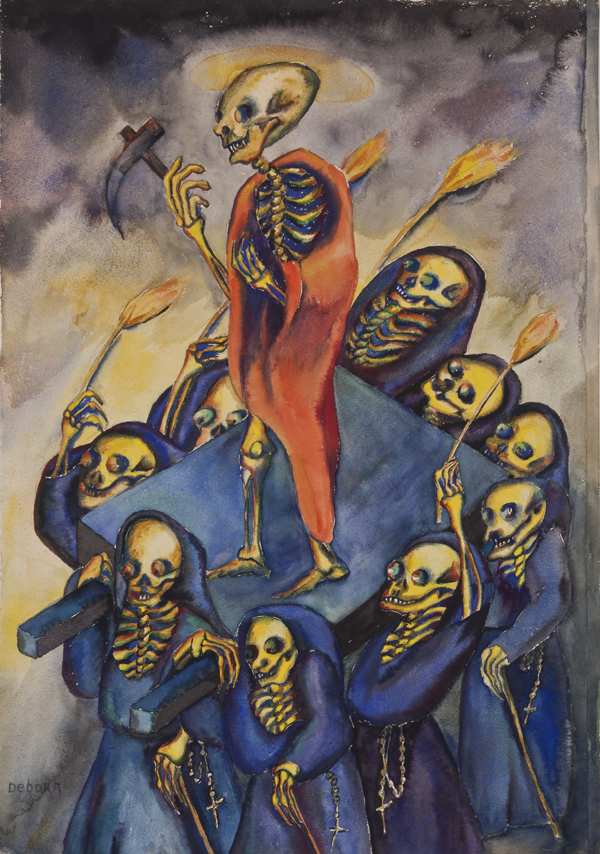 La danza
There's nothing utopian about the work. No promised land, no pot of gold at the end of a rainbow. The work begins with struggle and against struggle it will continue. That's why we need Arango's work, if for no other reason than to testify that art can document and, by documenting, engage in frays and fracases, be they religious, political, economic, or anything else that impounds basic human rights.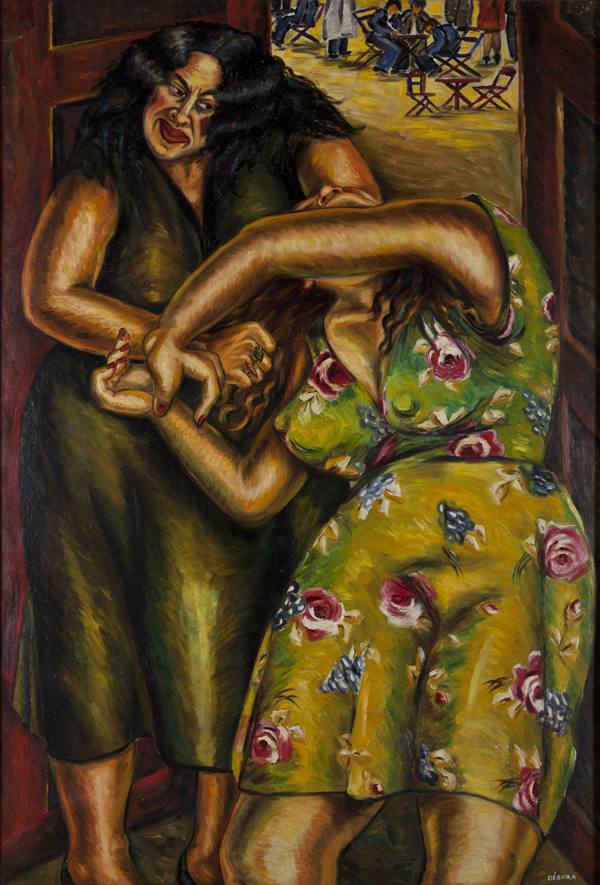 La lucha del destino
Museum hours are 11am to 5pm, Sunday, Wednesday, Friday, Saturday, Sunday, 11am - 9pm, Thursday. The show runs until January 20, 2013. Tickets are $9, general, $6, students (with ID) and seniors (65+). The Museum is located at 628 Alamitos Avenue, Long Beach, CA 90802. For more information call (562) 437-1689 or visit www.molaa.org.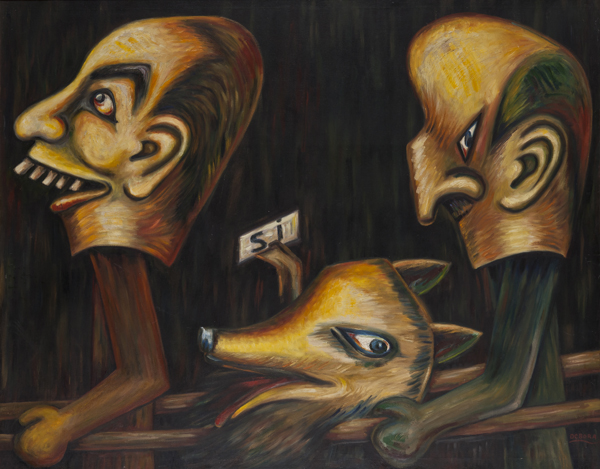 Plebiscito
Photos courtesy of Carlos Tobon
----
"Eurydice," Julianne Argyros Stage, South Coast Rep, Costa Mesa
Photos courtesy of Ben Horak/SCR.
With spectacular staging, keen performances, and at least an intriguing premise, Sarah Ruhl's "Eurydice," directed by Marc Masterson for South Coast Rep on the Julianne Argyros Stage, looks at the Greek myth love story of Eurydice's (Carmela Corbett's) doomed love for Orpheus (Alex Knox) from her point of view. It presents an enchanting universe that merges myth/reality and music/love with the living/the dead and grief/separation. All this results in a touching story of love and loss, at least of the love lost between Eurydice and Orpheus. It also rekindles the love between Eurydice and Her Father (Timothy Landfield), a character Ruhl adds to the story. In so doing, it raises more questions than it asks.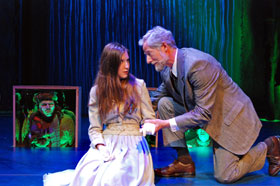 It's a twist on the Boy meets Girl story. Orpheus meets Eurydice. They fall in love (in the opening scene, rapturously, joyfully). He loses her (on her wedding night, A Nasty Interesting Man - Tim Cummings - gives her a note that Her Father, R.I.P., wrote from the Underworld. She rejoins Her Father when she takes an elevator down to the Underworld, viz, she dies). Orpheus tries to get her back (same elevator). Though she agrees to return to the world of the living, she does the one thing she was told not to do, and so she remains with Her Father.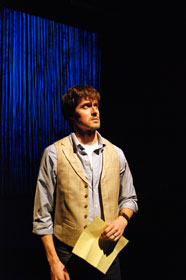 Ruhl cleverly substitutes a trio of Stones, one Little (Patrick Kerr), one Big (Michael Manuel), and one loud Loud (Bahni Turpin), for the Chorus. We see but the their heads, each in a box that resembles a prompter's box. They're neon green, showing the only sign of organic life in an otherwise bleak environment. With their pitter-patter shtick, they provide comic relief. They also distract us from prying too deep into the psychological ramifications of a daughter who, consciously or not, has to decide between her father and her husband. You can see why Ruhl added the father character. He complicates Eurydice's dilemma. Through no fault of her own (her death), she may lose the love of her life, but she still has her father. But it's not the same kind of love, is it?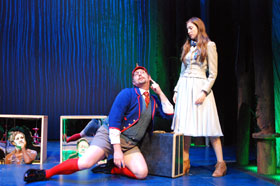 Is that how Ruhl frames Eurydice's point of view, as a decision between paternal and matrimonial love? Inadvertent though unavoidable, this dilemma makes the story not a little creepy, not a little confusing. You can call it Freudian or try to explain it with some other theory. You can say it introduces a theatrical complication into a He/She love story. But if you take the space he creates for her in the Underworld, a room of her own, that he outlines with string, you have to wonder if, in some sub, sub-, sub-text, he's really a puppeteer and his daughter's his doll. That's an intriguing possibility but it's not developed to its potential. Nothing is. We see why she loves Orpheus. He writes songs about her, asks her to hold a lyric in his head while he sorts out the other eleven. But no mention's made of why she loves her father. Are we to suppose it's the unconditional love of a daughter for her father? Or, it must be asked, is something else going on? At the fabled climax, as Orpheus shepherds her home, Eurydice calls out to him so he'll look back at her. That's the one thing The Lord of the Underworld (Cummings) told her not to do. Is this meant to be another way to describe Original Sin?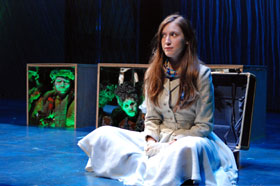 The performances do their best to carry the story. Eurydice and Knox's Orpheus make a fine pair. She's exuberant, he's musically absorbed. Through their movements, expressions, and tones of voice, they're clearly smitten with each other. She inspires him, his inspiration in turn inspires her, resulting in a lovely circular (and escalating) cause and effect of romance.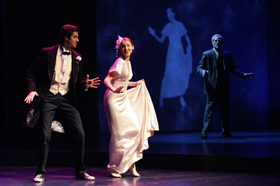 Though it looks fantastic, is well performed, and at least works from a fascinating premise, "Eurydice" raises questions that don't get resolved. This in turn raises even more questions. Eurydice remained dead to Orpheus and, alas, this production remained dead to me.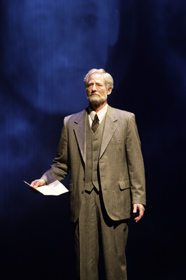 Performances are 7:45pm, Tuesday - Saturday, 2pm, Saturday and Sunday. The play runs until October 14. Tickets are $20 - $70. The Theatre is located at 655 Town Center Drive, Costa Mesa. For more information, call (714) 708-5555 or visit www.scr.org.