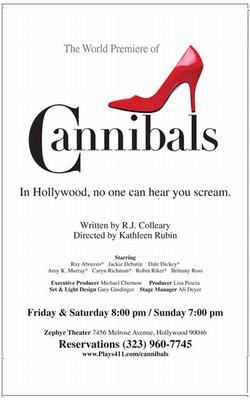 Given its world premiere at the Zephyr Theatre, R.J. Colleary's Cannibals admirably turns the agony of trying to make it as an actor into an ecstatic, funny-in-spite-of-the stakes story of four women on the verge of a nervous breakdown. Under the direction of Kathleen Rubin, the story clips along at a sprightly though bump-in-the-road pace, rising with hope and expectation, plunging with the reality that biological clocks are not the only time piece against which these that forty-something actresses must race. The performances was just-right: each actor nicely balanced aspiration and delusion against present circumstances.
Two assumptions guide the production. First, the women doesn't have an acting bug, they have an acting virus. Second, visions of stardom come in all body shapes, shoe sizes, and hair colors. The United State of Actresses, a support group consisting of Carole (Dale Dickey), Linda (Caryn Richman), Mo (Amy K. Murray), and Elizabeth (Mary Ann Hermansen), convenes in a modest home in the Valley, a venue that suggests the limbo between the idealism of youth and the reality of middle age. It's not that they don't get auditions, a few callbacks and even the occasional gig, it's just that they don't get traction; their successes are just enough to keep them holding onto their goal but their failures are enough to require the need of the support group.
They don't necessarily like each other, but that's irrelevant: they're in this together, united they stand, divided they fall -- though, at the moment, it's possible that they'll fall united as well. A guest speaker, Walter (Mark Porro), a director himself without a lot of momentum, decides to make a documentary of the group. Hopes rise but only for an LA minute, which is the time it takes to realize that ulterior motives abound. The original concept gets glammed up with Donna (Robin Riker), who masquerades as a once somewhat successful actress, and college student Kimmy (Brittany Ross), half their age and a mirror of what they were like 20 years prior. These women don't want to look in no stinking mirror.
The performances were as gilded as the characters' expectations were jaded. Murray's Mo was an amiable but weathered actress who figured that body sculpting was her ticket to success. Richman's Linda shined as an actress who had achieved a Gary Coleman-esque child actor success but whose prospects since then required her to plot an exit strategy with her husband. Outrageous, fragile, and dementedly determined, Dickey's Carole was the group's canary in the coalmine. Hermansen's Elizabeth had the faux-enthusiasm to keep pushing on, but in her eyes you could read that she saw the car stalled on the train tracks ahead. As the nothing-but-potential Kimmi, Ross was perky, sweet and pleasant, in short, she had yet to experience the vampiric grind of the real world. As the only one who had any real (read: relative) success, Riker's Donna was eloquently jaded; her scene setting asides to the audience reminded us of the Emily Dickinson, "Success is counted sweetest by those who ne'er succeed." And Porro's Walter, both lubricant and wrench in the cog of the dream machine, was sincere enough in his hopes and desires, until he had to get down to the legitimizing the enterprise.
The simplicity of the premise -- using live theatre to show what goes into making those performances a reality in the first place -- works well, viz, that actors walk a very fine line between hope and delusion; and that the thespian dreams of youth portend the darkened nightmares of middle age.
Performances are 8pm, Friday & Saturday, 7pm Sunday. The show runs until June 20. Tickets are $20. The Theatre is located at 7456 Melrose Avenue, Los Angeles. For more info call (323) 960-7745 or visit www.plays411.com/cannibals.