Musical theatre old timers have been circling the proverbial wagons for quite sometime now, grasping at revival after revival in hopes of retaining the fading glory of yesteryear song and dance shows. Over the course of the past couple seasons on and off Broadway, a rebellion of sorts has been afoot, and if anyone has been paying attention to the smoke signals, musical theatre conventions are slowly being thrown out the window.
The Public Theatre's latest musical, 'Bloody Bloody Andrew Jackson,' has a central message, and it is rather simple, f**k theatrical conventions. Thanks to the progressive nature of recent offerings including 'Spring Awakening,' 'Passing Strange' and now Green Day's 'American Idiot' -- perhaps the most straight forward rock musical to date -- Broadway has been breaking away from tradition with rock music infiltrating the stage and concert style staging springing up.
Let's face it, the age of the Merm -- that's reigning musical theatre queen Ethel Merman for those unaffected youths -- has been gone for quite some time now, but the final nail is nearly in the coffin, and Andrew Jackson is yet another step towards a new wave of the American musical.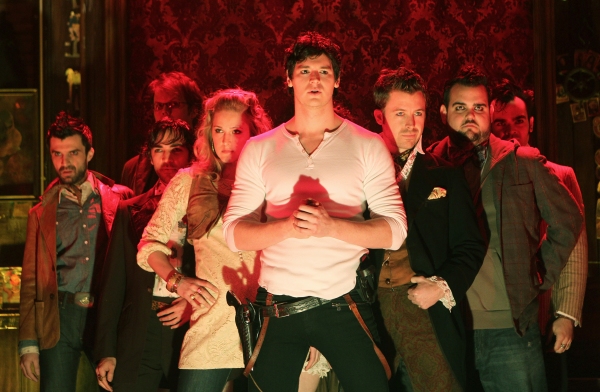 The intentions of 'Bloody Bloody' are pure, and as such allow for the primal scream of musical theatre's next generation to be heard loud and clear. Quit filling stages with the same old crap year after year, hoping that a bunch of nostalgic old farts will keep the industry afloat, because sooner or later, it is the key 18-35 demographic that will need to fill seats, and an over-the-hill Gypsy will not pass muster.
So just what is Andrew Jackson? Well, for starters, it isn't your grandmother's, or for that matter, mother's musical. It is a culmination of years of newsgathering from sources like 'The Daily Show with John Stewart' and 'Real Time with Bill Maher,' coupled with the wailing moans of Weezer and Dashboard Confessional (emo rock bands).
While the story of America's seventh President, Andrew Jackson, is vaguely taught in today's increasingly shoddy public school systems, this new musical sets out to retell his story through the eyes of teen angst, imagining the "last of the founding fathers" was a really pissed off guy who waged war on American Indians, the British, and just about anyone else who looked at him the wrong way, including George Washington and the rest of the good ol' boys running the country.
President Jackson, like many modern twenty-somethings, was a true outsider in politics, fighting to breach the gap between elitist lawmakers and the common man. This new musical's opening number, "Populism, Yea, Yea," is a catchy rock tune laying the groundwork for the journey ahead, full of schizophrenic choreography and Jackson's (Benjamin Walker) yearning need for change.
Over the course of the fast-paced production, cleverly tightened since its previous out-of-town production and concert staging, President Jackson's history is presented as a blend of fact and fiction, covering his childhood and ending during his showdown with the establishment as he struggles to appease his adoring and quite often oblivious public and avoid the complete chaos that often comes with consistently relying on public opinion polls.
Director-writer Alex Timbers and Michael Friedman (music and lyrics) craft a mash-up of sorts, throwing in a handful of music forms and plenty of wink and nod humor, delivered with a Stephen Colbert dry wit from the motley ensemble of actors.
'Bloody Bloody' brings to mind the hilarious antics of Harvard's Hasty Pudding Theatre, recollecting a premise thought up by a bunch of drunk fraternity guys looking for a couple of laughs, ala 'Animal House' with a little more singing and dancing. As such, its humor does begin to wear thin, and nearly three quarters of the way through falls victim to the exact art form it is ridiculing, with the title character losing all sense of wit and devolving into a depressive mope.
All is forgiven, however, as 'Bloody Bloody Andrew Jackson' is both vibrant and refreshing, giving a much needed facelift to musical theatre.