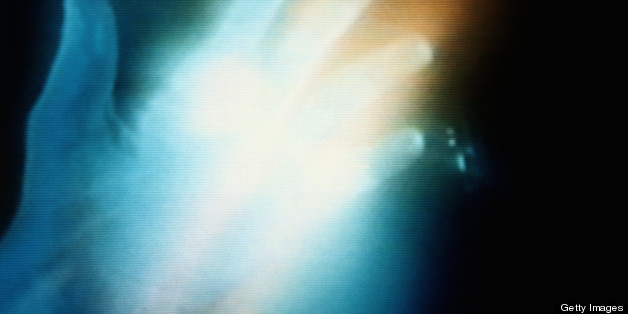 Liberace, Marilyn Monroe, Judy Garland and Barbara Walters are just a few of the stars I discussed the other day during my delightful interview with one of the brashest woman in show business, Joy Behar, known mostly for being the longest survivor on the gab-fest The View. On her very own Say Anything chat show which currently runs nightly on the elusive Current TV, Joy ushered me in to discuss anything the dead wanted to share along with giving her make-up artist a short but touching message from her deceased father.
Face it, after natural disasters, political upheavals and courtroom dramas, there is nothing like a dose of spiritual insights to put this mortal world into proper perspective. Claiming to be an "open-minded" skeptic, Joy ranted on about psychic ability; intuition and the dead in general and I couldn't help but mention my unfortunate run-in with her soon to be retired boss, Barbara Walters.
I reminded her that on my last "The View" appearance, Barbara had pulled me backstage and demanded an intuitive reading. I privately told her I felt that there was something wrong with her blood and that there could very well be an issue in the future. A year later she had a heart valve replaced acknowledging that she had known of her condition for some time. Joy shrugged; laughing it off -- not giving much credence to my insight but asked me if I saw anything psychically for her. Knowing that Joy loves a good retort, I responded: "I talk to dead people; not dead careers." She and the entire crew roared in laughter and then the fun began.
She brought up the subject of Liberace and wanted to know if he liked the new movie on HBO starring Michael Douglas as the flamboyant pianist. I told her that I thought he did not mind, since he loved being in the spotlight and also being "gay" these days is very in vogue. I felt he was pleased that they went to the trouble to get everything "just right' including actual pieces from his estate! I then shared with her an amazing experience I had many years back when I was giving a gentleman a reading.
During the reading, the spirit of a man came through and told me his name was "Lee." He went on to tell this man how unhappy he was with how his estate had been handled. The man nodded his head and understood exactly what the dead man was saying. "Lee is Liberace", he told me. "I was his manager and I thought he might come in today!" Joy then asked what other stars had come through the light to speak to me to me.
I recounted a session I did with Susan Strasberg, the daughter of the famous acting coach Lee Strasberg. I told her that a woman is coming through who is telling me her name is Norma and she's saying: "I wish they (her fans) would pay homage to themselves instead of to me." I found out after the session that Susan and Norma Jean aka Marilyn Monroe, were roommates and close friends their entire lives and that Susan was planning on writing a book on Marilyn's life. Joy interjected: "You know I had Christine Crawford here once and she said her mother had a lesbian affair with Marilyn. Do you think that is true?" she asked. I told her that I cannot just "ring up" Marilyn and ask her questions, but that I do have an interesting story that involves another iconic actress.
Several years ago, I was in upstate New York to teach at a spiritual center in Rhinebeck called The Omega Institute. As I was driving up, I decided to stop in the town of Hartsdale and go to the Ferncliff Cemetery where my grandmother is interred. I had not been there since I was 14 years old. It is such a gigantic building with thousands of niches, so I went to the office and asked for the location of my grandmother's niche. They handed me a piece of paper with the location scribbled on it. The woman behind the desk asked me if I would like to be escorted to find it. Thinking that finding the location would come back to me, I declined the request and began my ascent up a marble stair case into the dark, dank halls of the mausoleum.
It could have easily been a scene right out of a 1950's Abbott and Costello movie. Thirty minutes later, sweating and becoming exhausted, I was rethinking the offer of an escort when suddenly the spirit of a woman came walking up behind me on my right side. She was in her late thirties, wore a tight blue skirt and blue jacket top. Her hair was wavy brown and pulled toward the back. I thought I recognized her face when she began to speak with me. Her mouth wasn't directed toward my face, but rather my ear and she said: "Your grandmother is right around the corner from me!" I heard it as clear as a bell and knew immediately who it was. It was Judy Garland! It had to be! I was elated and shocked at the same time.
Several minutes later I finally came across a worker and asked him to direct me to the location scribbled on my paper. We continued walking down several hallways, making many turns and he finally stopped turned and said: "There it is on top." I looked up to see "Ethel Van Praagh" etched on the marble stone. I had stood in that exact spot about twenty-five years prior. On a hunch, I asked him if he could tell me if Judy Garland is also around here. He said: "Yes, she is right around the corner to the left." He nodded good-bye and turned around and walked away. I was completely stunned and amazed. I then enjoyed lovely memories with my grandmother in my head and sent her loving and joyful thoughts.
One of the downsides of my work is that, even though I am able to communicate with other people's spirits, I have a hard time objectively speaking to my own spirit family. This is true with most mediums. It's not easy to discern spirit communication from what we already know. After several minutes of standing near my grandmother's niche, I walked around the corner and there, plainly etched in the marble wall, was "Judy Garland." I was amazed. I strolled back toward the exit of the mausoleum with a bright smile. I had just enjoyed my own personal visit over the rainbow.