Research demonstrates that including women dramatically enhances biodiversity conservation outcomes and human well being. That is a buzz-wordy way to say that by forgetting women, we are wasting time and money and jeopardizing the long term existence of the world's natural resources. And yet the conservation community, as a whole, has largely overlooked the pivotal links between environmental stewardship, women, and poverty alleviation. This oversight has weakened conservation results.
Consider the following:
• Research in Nepal and Gujarat shows that when women are included in the process of protecting forests, conservation results are improved by 75%.
• Research covering 61 nations over a 15 year time period found that the presence of women's NGO's in addition to environmental NGO's is significantly correlated with decreased deforestation.
• Research in Sudan shows that among the most important factor to get key conservation technologies adopted is the education level of women and improved messaging to women.
Why are women so pivotal to biodiversity conservation?
Women rely on natural resources to provide things like food, water, energy, and health security for their families.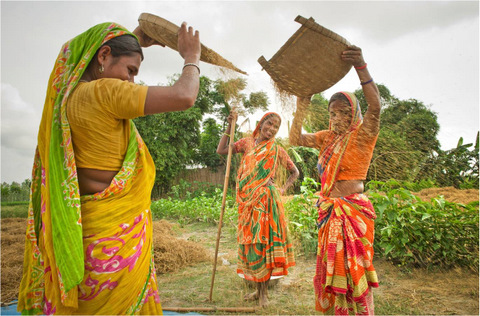 Photo by Ami Vitale www.rippleeffectimages.org
Because women frequently do not own land or resources they must rely on "common pool" or "open access" resources to meet their needs. These resources are resources that, in practice, anyone can use and are very often the same resources that the conservation community is trying to protect. In addition, women have little incentive to engage in conservation and sustainable practices on private property that they do not own but regularly use.
Women have environmental knowledge than is different than men.

Finally, when women are not included in conservation practices the end result can increase poverty; increased poverty decreases the impact of conservation efforts and erodes conservation successes over time.
Why are women excluded from conservation practices?
Many conservationists (myself included) are trained in the biological sciences. Other conservationists with policy and law backgrounds focus on environmental law. While the links between environmental law and the rights of women have become more pronounced in recent years, there is still a gap in the two fields of law. That is to say you are either an environmental lawyer or a human rights lawyer; rarely are you both. Finally, economists and corporate engagement experts do not focus on women because much of the work that women do in developing countries falls outside cash economies and most corporate leaders are men. It is not to say that male corporate leaders cannot systematically focus on and empower women, they just usually don't.
In other words, conservationists and conservation leaders aren't trained to think about women. This problem of omission is further exacerbated by the fact that foundations and other donors hire advisors and technical experts from the same pool of conservation professionals. Without more donors encouraging the inclusion of women, organizations rarely establish an implementation protocol or a set of metrics that are robust enough to identify the gender issues that ultimately undermine conservation efforts.
Further, there has historically been a disconnect between aid agencies working to include natural resource management in governance structures and the work conservation organizations have done to set up protected areas. Often these protected areas are or were set up without consideration for human needs; in some cases consciously in other cases because of oversight.
Finally, human rights efforts and conservation efforts have historically operated at odds with each other. However, it has become nearly impossible to discuss conservation without considering human rights. For example, nearly one in eight people do not have access to clean, reliable water. It is increasingly hard to make a biodiversity pitch in such a dire context. Alarmingly, the recognition that human rights, women's issues, and conservation of biodiversity are completely aligned in many places in the world has not yet influenced mainstream development and conservation activities.
To drive change the following is needed:
1. Engage women. In order to do this appropriately we must both invite and enable women to participate. In other words, it might mean talking to them while they are working as opposed to holding a workshop and hoping they show up. Participatory engagement must be done on their terms, not ours.
2. Start looking at conservation holistically and recognize that educating and otherwise empowering women is in fact a conservation investment; conversely the development community must recognize the pivotal role that natural resource management plays in poverty alleviation. Coordination between the two sectors is paramount.
3. Train existing and future practitioners and donors in appropriate methodologies for gender disaggregated work.
4. Move more money directly into the hands of women or into programs that benefit women including funds stemming from devices such as payment for ecosystem services and conservation agreements.
While the problem of exclusion will be difficult to amend, it is by no means insurmountable. And if we want to successfully protect our incredibly valuable and important natural resources, the inclusion of women is non-negotiable. In short, if we want to drive change, we must engage women.