While Anthem Blue Cross/Wellpoint executives were defending their outrageous premium increases this week, an internal company protocol surfaced in a Los Angeles trial that proved the insurer is as heartless as it is greedy.
The protocol says the insurance giant will only approve exceptions to its "in-state" liver transplants policies for patients who "push back."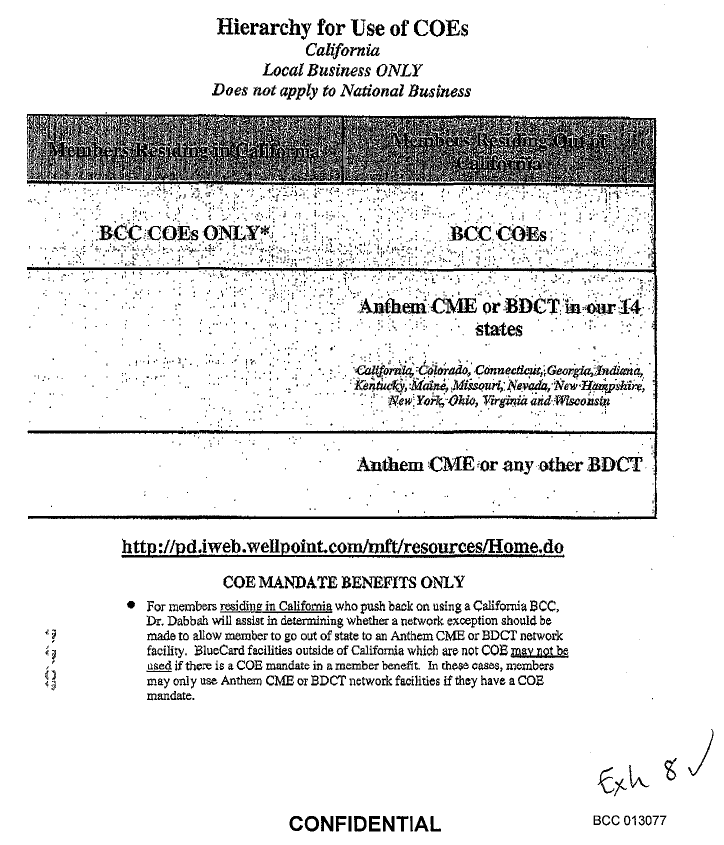 It's hard to be the squeaky wheel when you're in a hospital bed and need a liver transplant, but that's the type of insurance Anthem Blue Cross wants Californians to pay 39% more for.
Grocer Ephram Nehme sued the company because he paid $205,000 out of pocket for a liver transplant in Indiana that saved his life. Blue Cross said he wasn't sick enough to receive the transplant anywhere but at one of its California-contracted hospitals, where there's a long wait.
Anthem Blue Cross/Wellpoint executives were on the hot seat in Congress this week over their outrageous premium increases, but Congress also needs to focus on how insured patients aren't always covered, and give Americans more options and leverage under health care reform. If you can afford a Anthem Blue Cross insurance policy, you still may not be covered when you are sick and cannot "push back."
Nehme paid for his health insurance as an individual, so he is able to sue Blue Cross. 132 million Americans who receive health insurance through a private employer-paid policy cannot recover damages no matter what harm a denial causes due to a 1987 Supreme Court decision. Nehme also noted his Blue Cross policy premiums recently jumped 50% to $1,500 per month under Anthem's now notorious rate hikes.

My Consumer Watchdog colleague Jerry Flanagan was in court with Nehme and that's the only reason the public now knows about the "push back" memo. The judge in the case barred television cameras from the trial, despite many requests for permission.

Congress needs to push back against Anthem Blue Cross's 'push back' policy. House of Representatives Energy and Commerce Committee Chair Henry Waxman should call Anthem/Wellpoint executives back to answer questions about the memo. It's one of the best cases for a public option to the private insurers' greed. Patients on their death beds shouldn't have to be the squeaky wheel to get the treatment that can save their life.
According to the lawsuit, Blue Cross denied Californian Ephram Nehme's time-sensitive liver transplant at Indiana University hospital even though Nehme's doctor told him that the medically necessary liver transplant would probably not be available in time in California. The transplant was necessary to save Nehme's life.

According to the lawsuit documents, Blue Cross denied the procedure without speaking with any of Nehme's doctors or reviewing all of Nehme's medical files. A Blue Cross transplant nurse recommended that Blue Cross cover the Indiana transplant before the insurance company denied the claim.

Nehme, who was able to pay for the transplant himself and save his own life, said as the trial began: "I paid insurance all my life. When I got really sick they said no. ... I am going to make them change their practice."

Ephram Nehme is having his day court now, but let's hope his voice is heard in Washington DC as Democrats try to push back against insurers and gridlock to enact national health insurance reform.