The possibilities to photograph baby's first year are nearly endless. Here are just a few ideas.
By the Month: One of the simplest ways to document baby's first year and track his growth is by using stickers, such as Sticky Bellies, showing how hold your baby is. A large birthday poster that can be personalized can round out the year and then be used annually.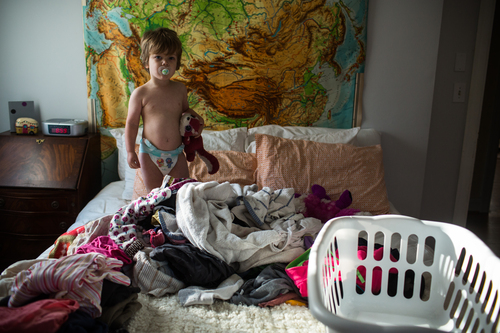 Photo: Molly Flanagan
By the Baby: Scrap any preconceived ideas of how your baby's first year will go and document life as it unfolds. Kirsten Lewis, a photographer who takes a photojournalistic approach to documenting families and instructor of Creative Live's Family Photography: Modern Storytelling, says:
Any Mom can agree that one of the most enjoyable parts of having a baby is getting to know them. Try spending time just exchanging glances, smiling and cooing. Have your camera near your face and as your little one begins to stretch, yawn, practice moving their eyebrows or smile a big "I've got gas" smile make some pictures. Because you are interacting with your baby while you are using your camera, the photos will be honest moments.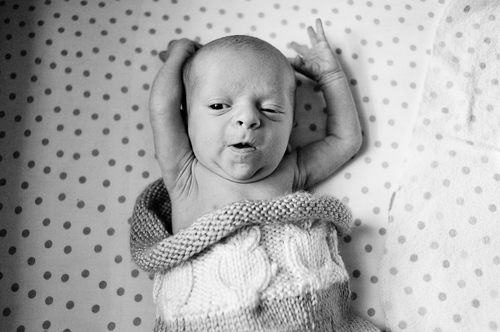 Photo: Kirsten Lewis
By the Numbers: Mom*Tog and author of the UnManual2 , Drew Bittel used balloons to document her daughter's growth, using one balloon in a photo when she was one month, two balloons for two months and so on. It's fun to see the number of balloons increase each month as the baby gets bigger!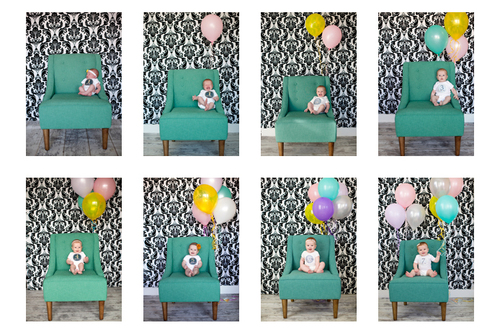 Photo: Drew Bittel
By the Person: Beryl Ayn Young, creator of online classes for Moms learning to use DSLRs and editing photos recommends capturing baby with important family members during visits and holidays. For a timeless feel, edit in black and white.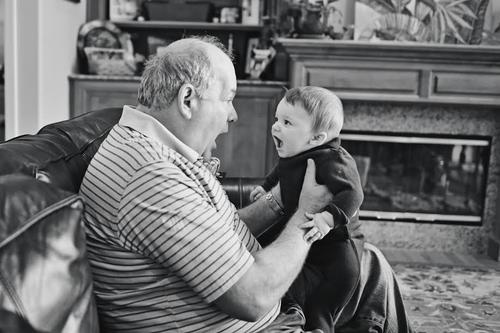 Photo: Beryl Ayn Young
By the Day: Mindi Stavish of Stavish Still Photography suggests taking one photo a day with your phone and posting it on Instagram using the same hashtag every day. This is a fun and easy way to document how much your baby changes during the first year since you always have your phone. Or, go old-school with an instant camera. This is a great way to create a daily record of baby's life in a fun way that is easy to create and display and save.
By the Milestone: A baby's first year can be measured in milestones, like baby's first smile and baby's first meal. Sticky Belly stickers can be placed on baby's clothing or anywhere in the frame for an easy way to document all of baby's firsts in an easy to see way!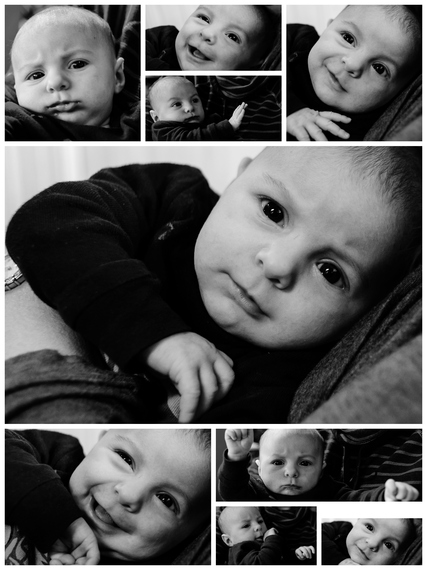 Be sure to capture baby's personality!
By the Book: Photos should find a place alongside the notes of milestones and cute moments in baby's life to create a book. Baby's First Year Photo Gallery is a great book that has guided prompts to document baby's first year, such as "It's in your nature to be" along with die-cut months photo cards that can be used to photograph baby each month to keep it simple.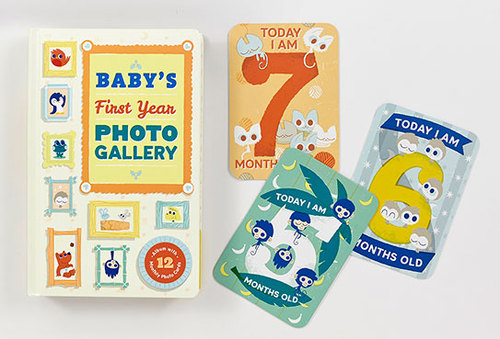 Look for a baby book that has guided prompts and combines photos with words for a compete record of baby's first year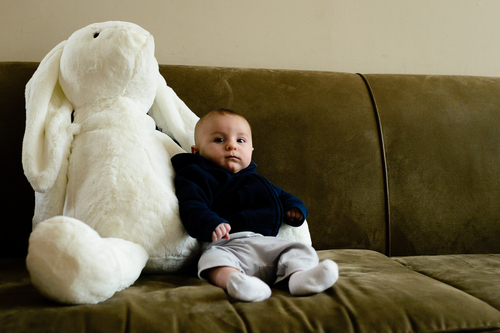 Use a jumbo animal, such as Riley Rabbit, for scale

By the Inch: It can be fascinating to look back and see how much baby has grown. Put baby in a 12 month onsie starting at one month old and watch them grow into it. Give your baby some personality with a patterned onsie from Kapital K with stars or another pattern. Or, place baby on a stroller-sized blanket with stripes, such as the Chevron stripes blanket from Mamas & Papas so it's easy to watch baby inch towards the bottom of the blanket stripe by stripe. Or, use a jumbo stuffed animal, such as Manhattan Toy's Riley the Rabbit, for scale.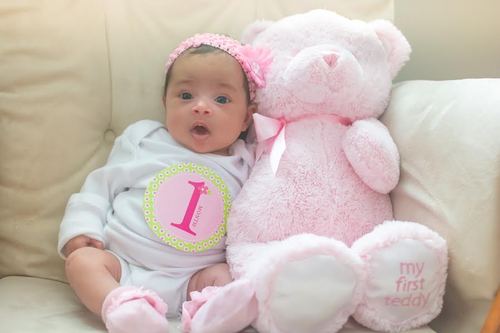 Photo: Colette Smith. Don't be afraid to combine ideas, such as a 12 month onsie, jumbo stuffed animal, and monthly stickers such as those from Sticky Bellies
Ask nothing of them -- 30 Day Challenge
One of the biggest struggles people seem to have with photographing their kids isn't the light or the gear, it is their kids running from the camera. Who can blame them? We are constantly in their face saying, Look at me! Look here! Smile! Say cheese!
If you have a child that doesn't like the camera, then let's retrain them. For the next 30 days, you can not ask them to look at the camera, pose or do anything. If you are going to take a photo of them and they ask you to put the camera away, then you must listen. Teach your children they have a voice and you will listen to it.
By Themselves: Courtney Slazinik from Click it up A Notch recommends not asking your child to look at the camera, pose or do anything. "If they are playing with a toy, then go ahead and take the photo but don't bother them. Some of my favorite images are those of my children focused on what they are doing they don't notice I'm there."
Go for a onise that has personality for baby to grow into like this one for your star from Kapital K
By you!: Many Moms will find it worth the investment to hire a professional photographer to capture what life was like during a day of baby's first year. If a photographer isn't possible, investing in a couple of pieces of equipment will make it possible for Mom to get in the photo. A lightweight tripod such as Manfrotto's Befree is easy to keep anywhere around the house or on the go and is simple to set-up. Use it with the inexpensive Hot Shoe Bubble level to make sure your camera stays straight both on the tripod and for times you may want to rest your camera on a table or even the floor for a shot with baby!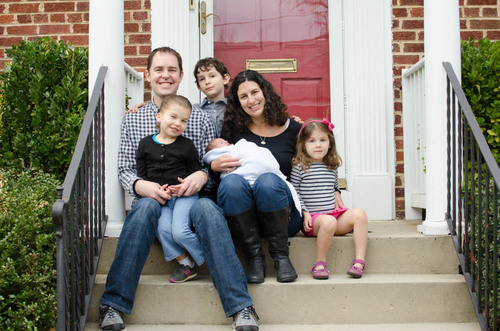 Photo: Stavish Stills Photography Find a way to get in the photo with your baby weather you hire a photographer or use a tripod
By the Detail: Babies grow so fast. Be sure to capture the small details that change quickly like his hands in fists, wrinkly feet, tiny eyelashes and the chubby rolls on his thighs. Molly Flanagan, instructor of Visual Storytelling for the Define School, reminds new parents that the detail of life with a baby are also important because "[t]he dropped sippy cup, the finger print smeared glass door, and the mountain of unfolded laundry are each a part of your story. If you edit your life to make prettier pictures, you are documenting a false reality."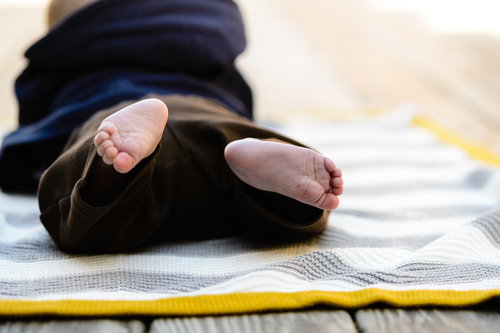 Capture the little details of your baby! Use a blanket with stripes, such as the Chevron pattern from Mamas & Papas to clearly show how your baby is growing stripe-by-stripe. Get creative with your perspective.

There are small steps you can take to help make your photos of baby really stand out. Many photographers would agree that light is the most important component of a great photo (aside for your adorable child of course!) Know where to find good light in your house is essential. A simple tool like a reflector will also be invaluable for being able to take well-lit photos in many types of situations, including with a window or the sun behind your baby. Look for a reflector that is large enough to reflect light on a large area and one that has flat sides that can lean against furniture or a tree. The Lasolite 6' x4' Panelist Collapsible Reflector is a good choice for a sturdy reflector that folds up small enough to be stored wherever you will use it most.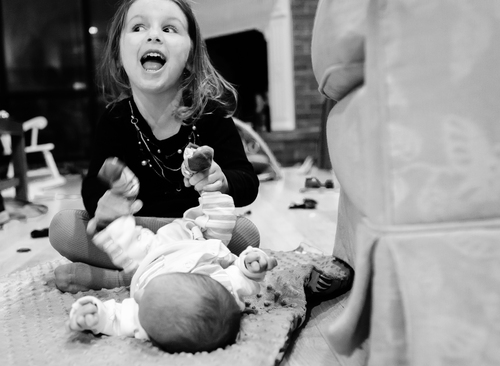 Life with a baby can be crazy and messy - don't be afraid of showing that in your photos of baby's first year!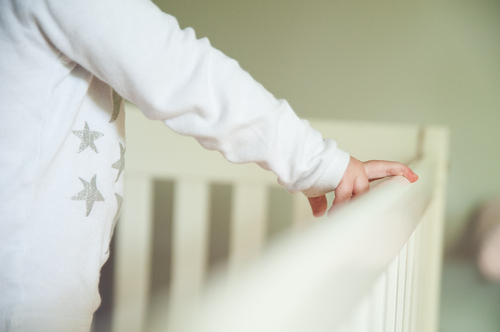 Photo: Courtney Slazinik

Also, be sure to have your camera with you wherever you go. The best way to capture your first year with a baby is to always have your camera ready to capture the firsts, the tears, sneezes, smiles and smudges is to have your camera ready to go when the right moment strikes. The JuJeBe Be Prepared has ample room for a DSLR plus some padding and plenty of pockets to keep your gear away from wipes and sippy cups.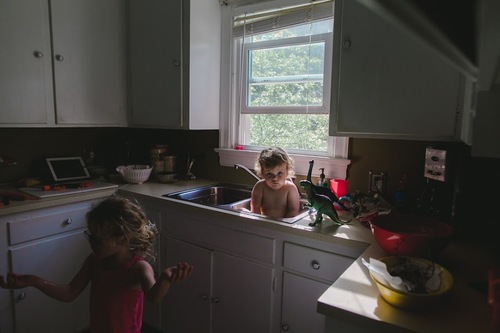 Photo: Molly Flanagan
Go and make some memories!
Author's note: All photos used with permission