Not even two weeks ago, I brought the newest edition to our family home. I've been spending lots of time enjoying his new-baby scent, rubbing the soft fuzz on his head, and giving him lots of kisses. We're settling into a routine of sleeping, feeding, and changing diapers. But, with each passing day he is starting to be awake for longer and longer stretches of time. When his eyes are open he looks around then he looks at me as if to say "Now what, Mom?" Even though he is my fourth I still struggle to know what to do with him during these periods of quiet of alertness, which are going to grow longer and more frequent.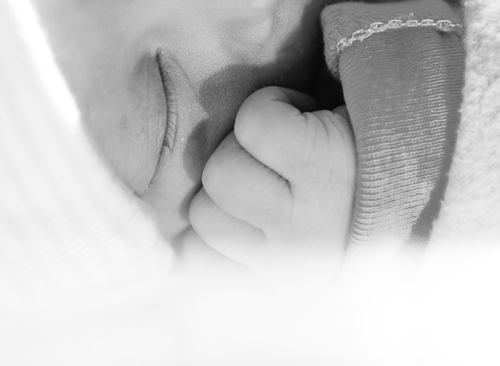 It's possible to "play" with someone so tiny!
I know very little about this new little person, what he likes and dislikes when it comes to play. He seems to enjoy my off-key singing but I can only go through my limited repertoire of baby songs so many times before I get so bored I might cry myself.
With the holidays looming, many moms and dads might also find themselves more time with their babies than usual and find that their regular go-to activities get old quickly. It may also be difficult to find ways to include baby in holiday activities with the rest of the family.
As a mom, there are some things I found that help me interact better with my babies and ways in which I plan on doing things a bit differently with my littlest one, over the holidays and beyond.
Some things that can help keep you and your baby happy and sane are: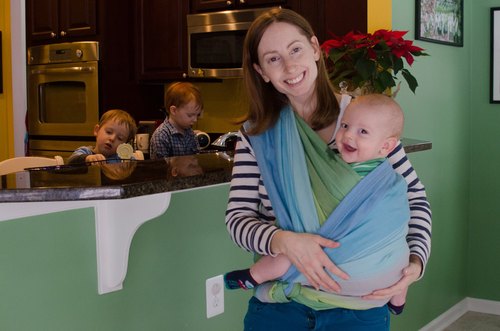 Getting baby on your level by wearing him is great way to stay close and be able to easily talk to your little one. Photo: Mindi Stavish, Stavish Stills Photography

• Getting baby on your level: My first babies spent a lot of time on the floor in bouncers or on playmats with often ignored toys dangling above them. One great option for keeping babies on your level is a baby carrier that can be used from birth, such as the Catbird Mei Tai, which keeps baby near your chest from birth on up allowing all kinds of interaction while going about your daily routine and giving baby nearly the same view of the world you have. Since your back probably won't allow you to carry your baby all the time a solution like the Stokke Steps system keeps babies up high from birth. A bouncer can be attached directly to a highchair to keep babies on your level even before they can sit, allowing caregivers to interact with their babies when doing just about anything around the house. For example, take the highchair and bouncer into the kitchen while making dinner to play a quick game of peek-a-boo. It's also a great solution to keep baby a part of Christmas or New Year's Eve dinner.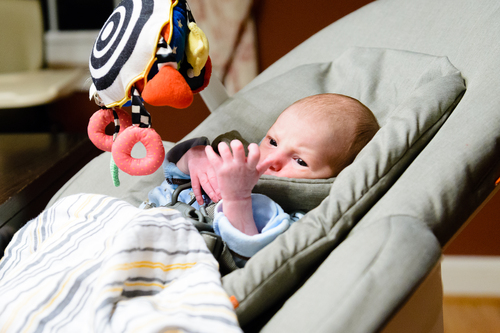 The Stokke Steps with the bouncer attached allows even newborns to be on your level at mealtimes and around the house, facilitating interaction and fun all day.

• Getting a Grown Up on the floor: As nice as it is to bring babies up to you, the reality is that babies spend a lot of time on the floor and love it when grown ups get down and enter their world. A fun playmat, such as the Bright Starts Sensory Safari which has lots of activities, is a good way to make floortime fun for babies and their caregivers. Playing on the floor with a simple Oball can also be fun on the floor. Its many holes make it easy for baby to grab whether you are dangling the ball in front of baby or rolling it to him. Parents and siblings can get on the floor with baby to show him all of their new holiday gifts!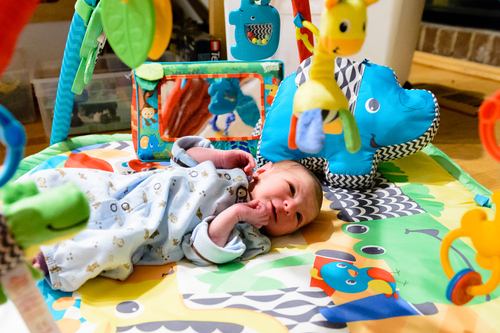 A playmat, such as the Sensory Safari from Bright Starts, can provide lots of stimulation for baby and mom when you get on the floor with your baby and play with him.

• Toys that facilitate interaction: Playing peek-a-boo all day long can get boring. Using toys to help you find ways to play with your baby can help keep you both from getting bored. Planning for holiday gifts you can both enjoy will help. The Brilliant Bear Magnetic Stack Up is nice because it can help teach color and sizes and the magnetic rings seem to magically stick together unlike traditional stackers that require more precision to get it just right. It's also a great option for babies just learning how to reach and grab. A great toy that will grow with baby as well is Lakeshore Learning's Color Discovery Box. Four boxes in bright colors are filled with toys that allow you to teach baby new words, colors, and categories at the same time. Take out the red apple, blue crayon, green ball, or yellow duck and play. Show your baby all four animals in the kit at the same time or all items of the same color to help her make associations.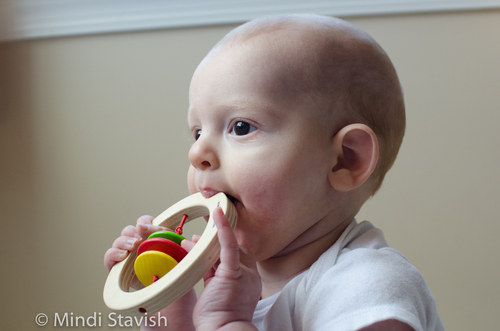 Photo: Mindi Stavish, Stavish Stills Photography

• Books that teach: Books that encourage grownups to act silly are always good! Rainbow Zoo Friends is a solid wooden book with colorful, bold pictures of animals that can be used to teach children colors, animal names, and animal sounds that are perfect for making baby laugh. Books with bold illustrations are also a good bet for making sure even the youngest babies stay engaged. Books like Alphablock by Christopher Franceschelli and Hippopposites by Janik Coat are good bets. Of course, books always make great holiday gifts and baby will continue to enjoy them as he grows.

With a little planning you can keep even the smallest babies happy and occupied during the holidays and throughout they year. If you pay close attention your baby will start giving you clues about what he loves and you may find it easier to integrate baby into family life sooner.