The Japanese story of Momotaro the "Peach Boy" is relatively unknown in the United States, but it is a story that has stood the test of time. An early version of Momotaro has been dated to 1753 and it remains one of Japan's most beloved folktales. So cherished is the tale of Momotaro that Japan built a shrine to the character and holds a festival in his honor every year.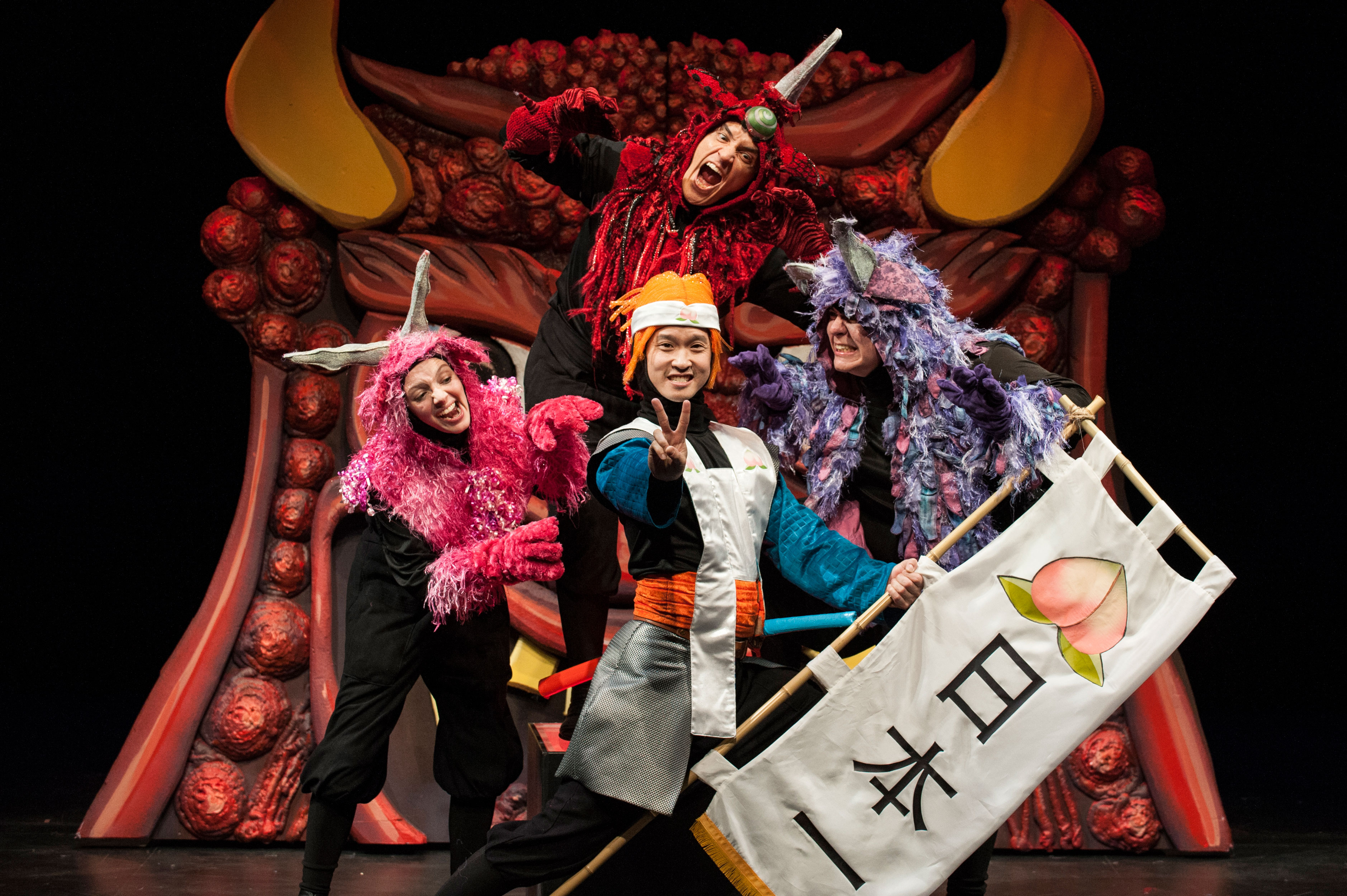 Anime Momotaro - Momotaro and Ogres L-R: Tia Shearer as Nakamon, Rafael Untalan as Daimon, Jacob Yeh as Momotaro, Phillip Reid as Monmon. Anime Momotaro at Imagination Stage now through March 10. Photo credit: Margot Schulman.
Imagination Stage brings the traditional story of Momotaro into the 21st century with its production of Anime Momotaro. Anime Momotaro is anything but traditional and presents the legendary tale in the modern Japanese storytelling style of anime, a style that will be familiar to fans of Pokemon, Yu-Gi-Oh!, and Spirited Away. The production is action-packed with vibrant costumes and sound effects similar to those heard in cartoons and video games.
Although Imagination Stage updates the tale of Momotaro to appeal to younger audiences, the production remains true to the classic story with only minor variations. A couple who has longed for a child to help with their farming and washing has their wish granted when a giant peach opens to reveal a baby boy. The couple names the boy Momotaro, which means "Peach Boy." Momotaro grows up to be the strongest boy in Japan and is able to communicate with animals. Thanks to his strength, and with some help from a bird, a monkey, and a dog, the brave Momotaro is able to help defeat the giant ogres who have been plaguing his village and stealing his parents' food. Momotaro travels to the fearsome Ogre Island and fights the head of the ogres, Daimon. At the end of the confrontation, both suffer injuries and are no closer to resolving their differences. Momotaro realizes the error of his ways and asks for another chance. The entire fight scene is the acted out in reverse. With his second chance, Momotaro is able to successfully resolve the dispute with the ogres through kindness and creativity in problem-solving. He is able to convince the ogres to stop stealing from the villagers and instead partake in sharing food. This lesson about solving disputes without resorting to violence is one of many in the play, including that even the smallest creatures can be brave, words can hurt, and the importance of being yourself and not following the crowd.
Anime Momotaro - Momotaro and Mom L-R: Tia Shearer as Old Woman and Jacob Yeh as Momotaro. Anime Momotaro at Imagination Stage now through March 10. Photo credit: Margot Schulman.
My five-year-old son and I were both blown away by the performance. My son did not want to leave his seat during intermission for fear of missing even a second of the play when it resumed. The actors were all wonderful, but Rafael Untalan was pitch-perfect as Daimon the lead Ogre. Phillip Reid as Monmon does a wonderful job of playing the Giant Ogre who cannot deny his love of singing, dancing, and flowers. Reid as Monmon provides opportunities for audience participation by asking children to sing and clap along with him at several points during the performance.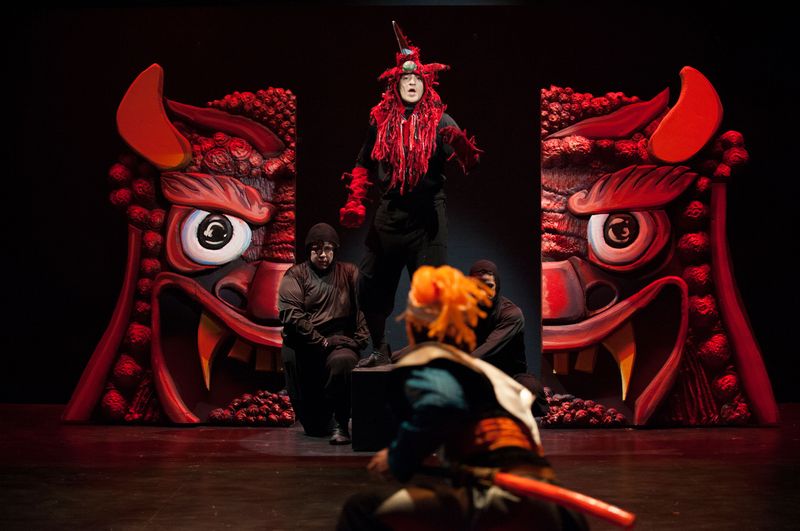 Anime Momotaro - Ogre Island Back: Phillip Reid as Koken, Rafael Untalan as Daimon, and Ryan Sellers as Koken. Front: Jacob Yeh as Momotaro. Anime Momotaro at Imagination Stage now through March 10. Photo credit: Margot Schulman.
As a word of caution, several children in the audience at the performance I attended were startled at some of the loud noises in the show, but not enough to be frightened. Additionally, the promotional materials for Anime Momotaro show a depiction of the traditional tale, not the anime-inspired version. My son was expecting the characters to look very different based upon the pictures I had shown him before the play. You may want to warn your children that there will be loud noises and that the characters in the play will not look like those in the photo on Imagination Stage's website or the cover of the program.
Since Imagination Stage is purely focused on children, the entire theater is family-friendly. Boosters are available for smaller children to ensure they can see everything that happening on stage. Since children may occasionally need to talk, cry, or burn off a little energy during a show there is a sound-proof clear box within the theater where you can bring children who are having trouble sitting still without needing to miss a minute of the show. There is also an interactive "bubble wall" that allows children to jump to pop floating bubbles. The wall could keep kids busy for hours and certainly will keep yours occupied if you need to wait a few minutes for Anime Momotaro to begin. Imagination Stage also has a small café in the lobby. If you think your children might need a few minutes to warm up to a new environment before the show begins you can plan to arrive early to grab a snack before the show. There is penalty of metered parting on the street and Imagination Stage is adjacent to a parking lot that is free on weekends.
Anime Momotaro runs through March 10th. Tickets start at just $12.00 and can be purchased here , at the box office, or by calling 301-280-1660. Imagination Stage's website has an interactive seating chart that allows you to see what your view of the stage will be like before purchase. Anime Momotaro is approximately 90 minutes long including an intermission.
One wonderful feature of Imagination Stage is that they believe all children should be able to enjoy their shows. To ensure good theatre is accessible to children of varying needs there will be a sensory-friendly performance February 17th at 11:00 am.
Anime Momotaro is unlike any show you have ever seen before. Don't miss your chance to see this classic Japanese folktale told in a thoroughly modern style. It is a unique experience that should not be missed!
Photos courtesy of Imagination Stage