Summer overflows with photographic opportunities from scenic vacations, to hours spent poolside, to impromptu play dates in the sun with sprinklers and popsicles. It's easy to remember to have your camera at the ready always to catch your children making summer memories. But, once the temperatures begin to cool, fall can seem like a wasteland of times worth documenting once the first day school is over and your camera might start collecting dust.
But, even though the days are now shorter and more time with our children is being spent on the daily routines of the rush out the door in the morning and the afterschool cycle of snack, homework, dinner, and bedtime in the evenings memories are still being made. What is ordinary now will not be one day and, as all parents know "one day" tends to come unexpectedly and without warning. One day your little one will no longer be in a highchair, your son will no longer insists on light-up sneakers, and your daughter will stop her habit of twirling several times daily. Capturing details like these, even if they seem mundane now, are the memories you are most likely to cherish as you flip through the photos of your kids with fake smiles saying "cheese." Plus, with fall in the air it's not too soon to start gathering potential photos for your holiday cards.
To get you out of your rut, it can help to see things in a new way no matter what kind of camera you have. Seasoned Momtographers Davina Fear and Brooke Snow both offer courses designed to help you see your daily life with new eyes. Davina Fear created her "Familyness Photo Workshop" so that everyone can live like a Kennedy -- at least to the extent the Kennedys had the details of their everyday life photographed for posterity. Laura Turnbough, one of Davina's students, loved the course for giving her the perspective to capture her children "in their own environment, boogers and all." Davina focuses on making photo shoots fun for kids and runs her interactive online Famlilyness course about every six weeks. If you want to know more about what Familyness is all about be sure to check out Davina's brand-new free ebook, the Art of Familyness Photography Tips .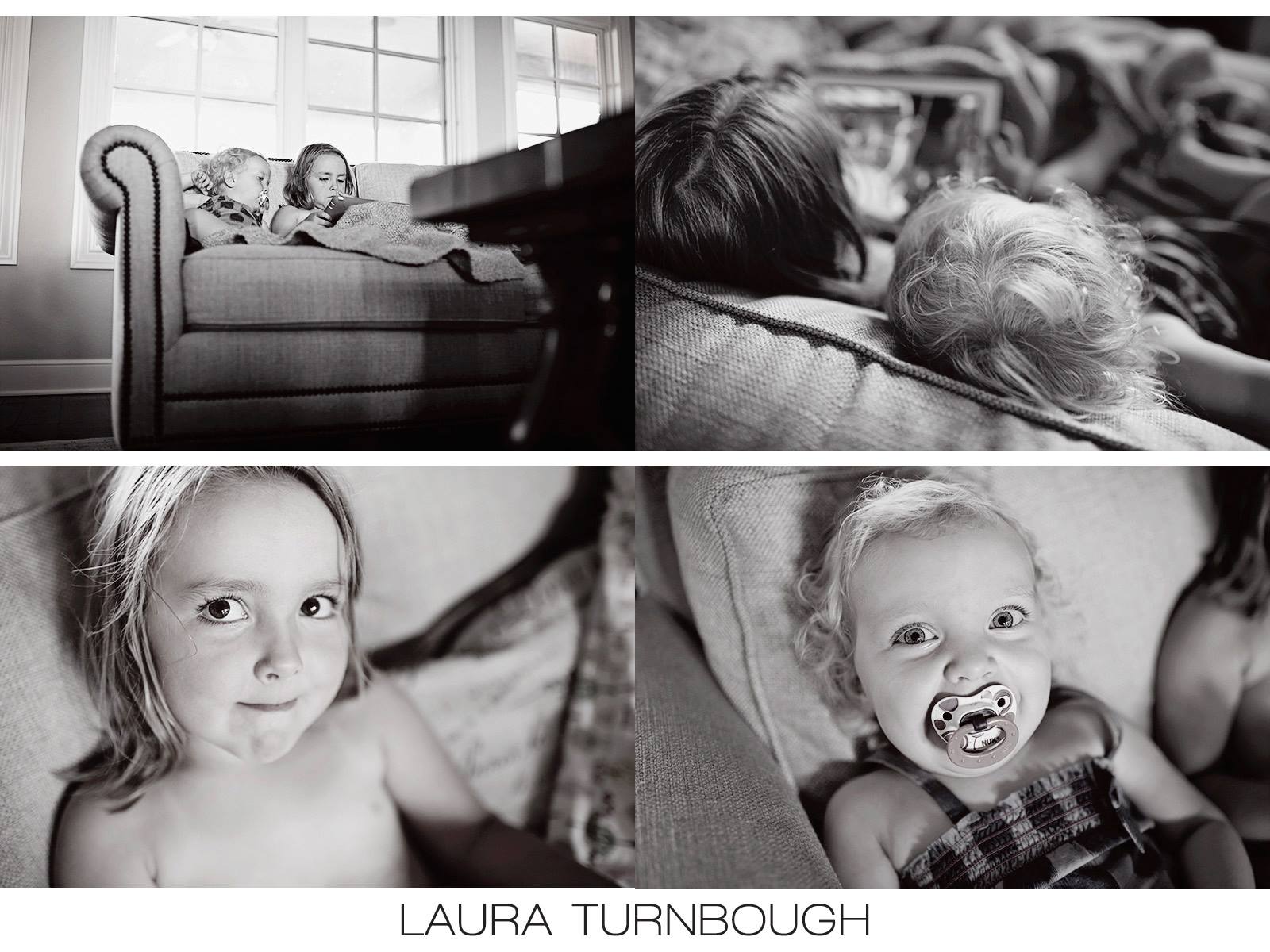 "After" photos from a Familyness Photo Workshop student
Brooke Snow's Lifestyle: Telling the Story course focuses on helping you tell the story of your family in a controlled way, such as thinking deliberately about how to capture the breakfast routine that is mundane now but will one day not include a child who insists on Cherrios every.single.day. You might miss those Cheerios when they're gone. Brooke uses lessons from literary techniques and classic photographers to break down the best way to tell a visual story through showing - not telling - and capturing the decisive moment of true emotion. Brooke's Lifestyle course is available as self-study anytime. Brooke also offers a completely free Photo Perspectives course that, even when taken alone, can help get you more creative photos. Both Davina and Brooke's classes are designed for Momtographers, but contain tons of useful advice for Momtogs looking to branch out into photography businesses.
If you can't fit a class in, or would like even more ideas, famed Momtogerpher Me Ra Koh, seen everywhere from Disney to Oprah, has published a series of books designed to help you figure out how to get the best photographs possible whether you use a point-and-shoot camera or have invested in a DSLR. Me Ra's Your Baby in Pictures has been a go-to babyshower gift since it was published for the tips it offers in capturing the story of your baby's first year in language simple enough for even sleep-deprived new parents to understand. Her follow-up book, Your Child in Pictures, covers ages one through ten and provides some Mom-to-Mom advice on those moments you don't want to forget, from the scraped knees of a new walker to your child interacting with her favorite toys throughout childhood, interspersed with expert advice on the best settings to use on any type of camera to get the money shot. Of particular interest to parents of children with special needs is an entire section on photographing children with special needs. This is something that is lacking in so many Momtographer resources and I am pleased to see Me Ra address the issue so well. For Moms wanting to get a little more in-depth knowledge, Me Ra also has two videos available for instant download.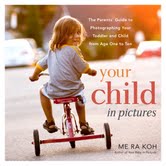 Many veteran Momtographers, including Davania, Brooke, and Me Ra, stress the importance of capturing genuine emotion in children to obtain the most memorable shots. Although not designed for the Momtographer, the Beloved Field Guide for Families offers many suggestions for interacting and playing with your children in ways that will allow you to capture all those expressions that make your child who she is. Nearly all can be used just as well indoors as out. An online video training is available to help you better understand how to utilize the Beloved technique, but it's not necessary to understand how to use the technique for your own family.
Another technique to capture genuine emotion from your kids is to add a DaisyGrip to your DSLR. The beauty of the DaisyGrip is that it holds just about anything. I ordered mine with a couple of puppets that fit over the grip and my kids are just in love with the personalities I invented for the pig and giant monster that now alternate taking turns atop my camera. My DaisyGrip has also held favorite toys like a Thomas the Tank Engine train and PollyPocket doll. When desperate times call for desperate measures, the grip can safely hold your phone tuned to your favorite YouTube video to at least get the kids to look at the camera. As someone who once snuck into an unoccupied hotel conference room with her family of five in order to turn on a TV so a family friend photographer could snap a quick family photo where everyone was looking at the camera (thanks Kevin Allen!) I will not judge anyone who uses videos to get "the shot."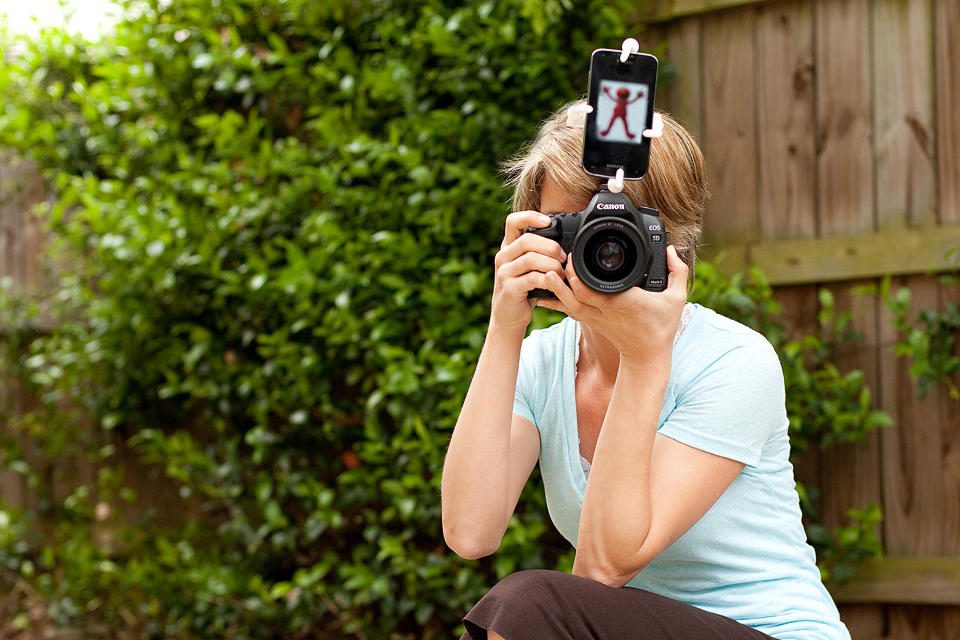 The DaisyGrip in action
For DSLR-using Moms, you can get out of your rut and add a wow factor to your photos with a Lensbaby. Nothing works quite as well to motivate me to get out the camera as a new lens. I have long admired the Lensbaby images I've seen for the dreamy quality they lend to photos which can't be replicated any other way. I made the plunge for the Lensbaby Composer with Sweet 35 and was not disappointed. Lensbaby performs well in the low-light of fall and indoors shots and can produce some really unique images for holiday cards. It did take a little trial error to figure out how to best use the lens, but the resulting images are well worth it -- and several are already holiday card candidates to make my family's card really stand out this year.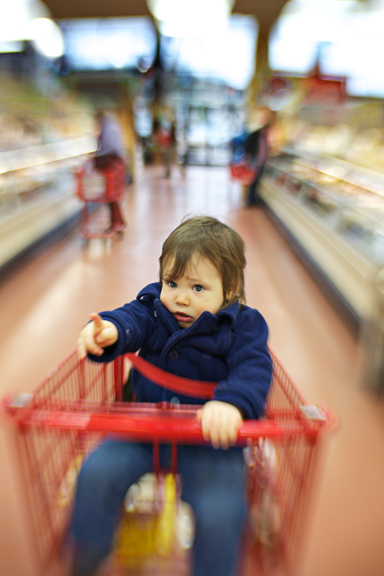 Lensbaby photo taken by Tyson Robichaud
A couple of other things all Momtographers need are a fabulous bag and a tripod to get in the picture yourself. This is especially vital when planning out holiday card photos. Yes, your friends and family want to see what the kids have been up to -- but they also want to see you! A Davis & Sanford MagnumXG tripod is an excellent choice for a tripod that can be adjusted quickly when the kids change position, is sturdy enough to withstand some abuse from the little ones, and won't break the bank. Me Ra Koh also recommends the Joby Gorilla Pod as a great choice for Momtographers chasing little ones on the go. I've tried it and love that it's portable enough to fit in a camera or diaper bag and can allow me to get in the picture in under a minute of set-up. Pair your tripod with an under-$20 remote, self-timer, or your camera on interval timing and you have a great family portrait without the added expense of hiring a photographer.
Point-and-shoot and iPhone camera using Moms have no excuse to be left out of the picture either. Ultra-light and budget-conscious Joby Gorilla Pods are available for point-and-shoot and iPhones and there are even magnetic and mini versions for those who like to travel as light as possible. Joby has a free app to add a self-timer to your phone camera. For reasons why you should hop in there and not worry about what you look like, be sure to read The Mom Stays in the Picture if you haven't already.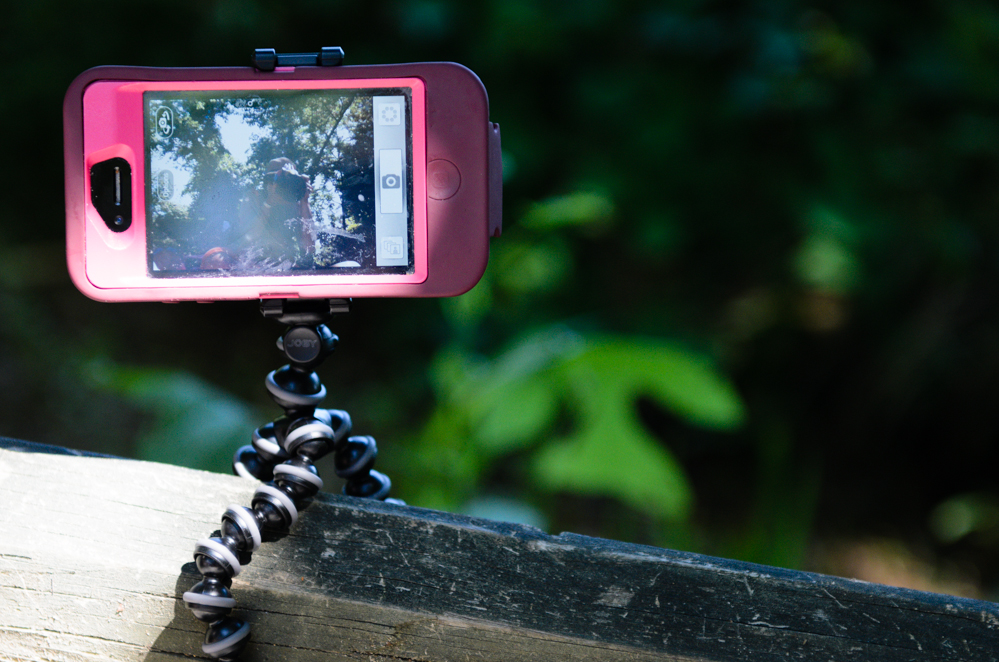 Joby Gorillapod for iPhone
And, because no Mom wants to be caught at the playground with a frumpy camera bag as an accessory a nice camera bag is an essential part of making sure you get great fall photos by making sure you want to have your camera with you. My Cabirolet by Shutterbag has been my constant companion since I got it a few months ago. Shutterbag is one of the few camera bags available that is made out of real leather and its quality shows. I've even been asked where I got it from my Marc Jacobs loving friends, who were surprised to learn it is actually a camera bag. You won't be able to capture the memories you are out there making every day if you don't have your camera with you so make it fun to bring along.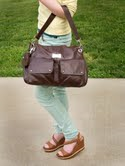 Shutterbag
No particular skill is required to use any of these tips to get better fall photos that you will cherish. But, knowing how to use your camera inside and out and some basic editing skills, using free or paid programs, will make your photos that much better. You may find a local photographer who specializes in children and offers live sessions, such as Leslie Chang from Binkies + Noseprints Photography in the D.C. area, or you can look for online classes, such as the ones I have taken from Beryl Ayn Young. You can also learn tons from the top Momtorgaphy blogs that offer a trove of advice and tips for free at your fingertips.
Get out an shoot! Memories are being made now. Don't regret thinking they were too small or mundane to capture.