I learned the hard way that preparation is key when taking small children swimming.
I was so excited to take my first child to the pool for the first time. It was an indoor pool at local YMCA, which held several swim classes for children weekly. But, my daughter seemed distraught at being in a new and foreign environment. I had done nothing to prepare her for this completely new experience and when I heard another mother talk about how the water there was always too cold to be comfortable for her son I realized that my daughter might be cold as well.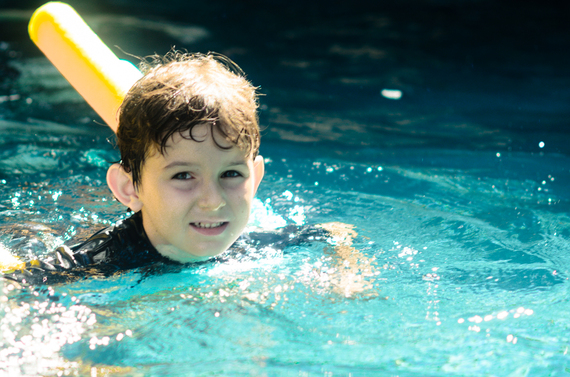 With swim season in full-swing these tips from the Swim Teachers' Association and Konfidence Swimwear that help even very young children become comfortable in the pool.
1. To help your little one get used to the water and build confidence, start by having a fun time in the bath at home together. Sing songs, gently splash water, and keep your little one moving in the water while giving him lots of praise.
2. When playing in the bath be sure to incorporate a bath toy. Take the same toy to the swimming pool for familiarization and comfort.
3. Once your little one shows that he enjoys playing in the bath consider enrolling in a swim class appropriate for your child's age or going to a pool for free swim. Check out the pool facilities of your chosen venue. The swimming pool you choose should ideally be heated to over 86 degrees and have clean changing facilities.
4. Choose the right swimwear to ensure your baby is comfortable, happy, secure and warm in the water. There a few key items that your baby will need to go swimming. A Neoprene Baby Swimsuit is the best choice to ensure your child does not get cold. Even in heated pools, babies can get cold very quickly. Many leading baby swim instructors recommend Konfidence's Babywarma Wetsuit. As a bonus it also opens flat to allow quick and easy diaper changes. A swim diaper is mandatory at most pools as well.
5. Once you have prepared your little one at home in the bath, chosen your preferred swimming pool and have all the right swimwear, it's time to go to the swimming pool! To ensure you are fully prepared:
• Try a dry run where you only spend a short amount of time at the pool, even 15 minutes may be enough for your first time in the pool
• For your first couple of visits to the pool go during off peak times when there will be fewer people in the pool.
• Once in the pool play the same games you played at home in the tub and play with the same toy
• Pack your bag the night before with everything you need so your child will not see you stressed or rushing to get to the pool.
• Wear your swimsuit underneath your clothes -- this will save you the hassle of changing when you get to the pool.
6. Finally, enjoy the bonding experience with your baby!