Although some kids may balk at the idea, holiday gifts need not involve toys and games that clutter your home and linger in landfills years after your children have lost interest in them. There are many ways in which gift giving during the holidays can be used to enrich your children's lives and bring them happiness throughout the year. Many of these gift ideas allow you to support local businesses and support your local economy -- and none require getting off the sofa. Although I discuss some gift ideas specific to the D.C. area, with a little research you can come up with equivalent places for the special children in your life who live in other parts of the country.
If you decide to give one of the gifts mentioned below but are worried about not having a box under the tree (or by the menorah) for your child to open, you can print a photo of the gift to wrap and then explain what the "real" gift is to your child. Another option is to wrap a small trinket related to the gift, such as a finger puppet to represent tickets to a puppet show or a few crayons to represent the gift of an art class, so that your child has something to play with immediately.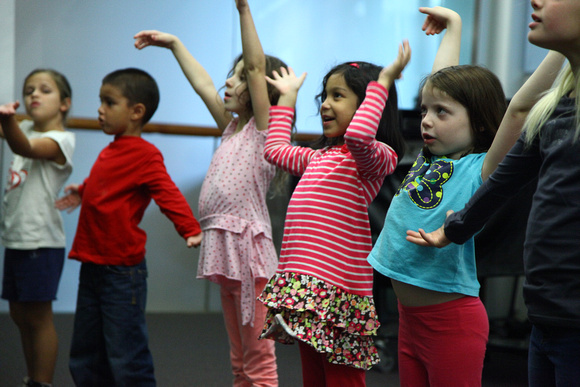 Musical Theatre Class at Imagination Stage k-1. Photo by C. Stanley Photography
Off to a Magical Land: We are fortunate to live in an area rich in children's theater that can take kids (and their grown-ups) to far off places for an hour or two. Imagination Stage in Bethesda and Adventure Theater in Glen Echo are two theaters that consistently offer top-notch performances for toddlers through tweens. Imagination Stage also offers occasional interactive performances for the preschool set. The Puppet Co. and Tiny Tots, both located in Glen Echo, offer puppet shows for children ages 0-4 year round. The Smithsonian's Discovery Theater located on the National Mall also hosts several performances for children throughout the year. Even the Kennedy Center regularly hosts shows for young drama enthusiasts. All theaters post upcoming shows early and have tickets available for advance purchase. Imagination Stage offers various subscription packages with discounted tickets if you want to treat a lucky little one to multiple performances. Tickets for one child and one parent can provide valued time alone with a child, while tickets for the entire family can create a fun and special day for everyone.
Movement, Art, Music, and More: Yoga, art, and music classes are wonderful gifts to give to children and will keep them busy through the winter months. If you want to plan ahead, you could also give your child the gift of a class or two to take over the summer. For some classes you drop-off your child, which will give you the gift of some free time. For other classes, you stay and take the class with your child, which will give the additional gift of some one-on-one time with a special adult. Lil Omm Yoga in Washington, D.C. specializes in classes for families and children and offers classes for newborns through teens. Circle Yoga, also in Washington D.C., offers a Budding Yogis Program for children of all ages and their families. The Sitar Arts Center in Washington, D.C. also offers classes for infants through teens and classes are available in a variety of areas including early childhood music, dance, drama and creative writing. Imagination Stage in Bethesda offers dance, writing, film making and drama classes and camps for children ages one through 18 with themes ranging from Knights, Princesses and Dragons to Hip-Hop. The District's Department of Parks and Recreation offers classes ranging from art, to digital photography, to gymnastics for children of all ages at their recreation centers throughout the city. These classes are open to everyone, but non-District residents pay a slightly higher fee. Classes for children abound and there are most likely some in your neighborhood. As your friends and neighbors for recommendations and you just may spark a new passion in your child.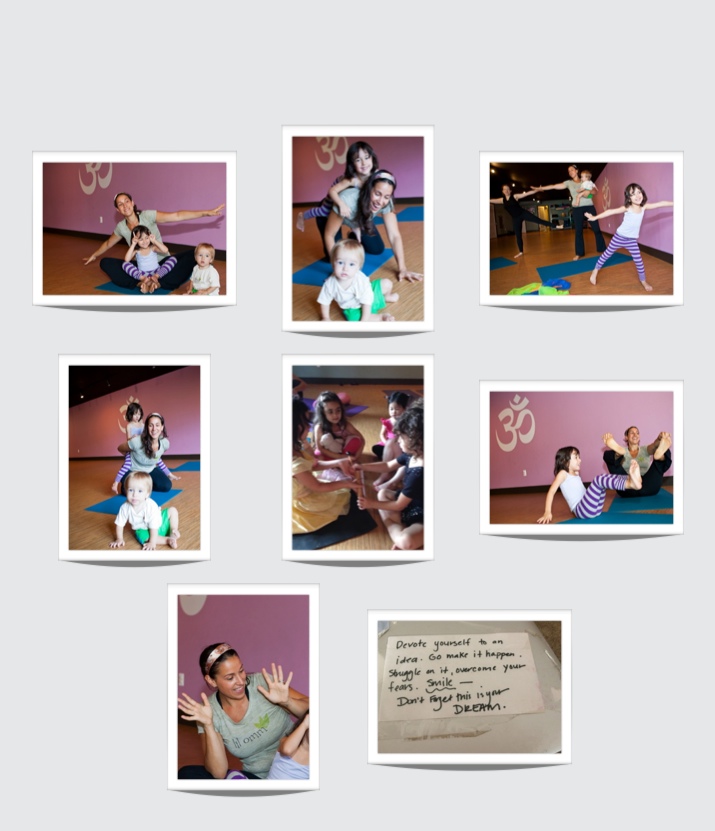 Lil Omm Yoga Rebecca Drobois photography
Museum Exploration: Even though free museums abound in our area, some require paid admission. Even those museums that are free rely on funds raised through memberships to allow them to provide high-quality exhibits and cover operational expenses. The cost of some memberships may be off-putting at first, but memberships often provide benefits and discounts that help offset, or even exceed, the cost of membership. Additionally, a family membership can serve as a gift for all of the children in a family. A family membership to the National Zoo will get you free parking, free animal crackers and a monthly magazine with a children's section. A membership to the National Aquarium gets you admission to not just the aquarium in Baltimore but also the aquarium on the National Mall, including access to their twice-monthly "Tots and Tales" program and other special programming for children throughout the year. The Smithsonian museums offer something for every child and Smithsonian Membership, starting at just $19, will get you a monthly magazine that lists events, special exhibits and discounts on paid exhibitions such as Imax tickets and admission to the live butterfly exhibit. A Smithsonian membership might provide the benefits you need to get your kids to the National Mall more often. Museum-specific memberships are also available. A membership to the Air and Space Museum is a good choice for young flight enthusiast's while a membership to the Natural History Museum would make a special gift for dinosaur fanatics and archeologists-in-training.
Ideas for Fun: If you find yourself wondering what to with your kids each weekend or they complain that you always do the same things, an annual membership to Our Kids is the gift that will keep on giving. For $26 a year, you and your children will gain access to the Our Kids website, which lists hundreds of activities for infants through teens each week. You will also get a weekly email highlighting the best activities of the week and access to many giveaways throughout the year. I often sit down with my five-year-old son and read off a list of activities we can do that day from the Our Kids website and let him choose what sounds most appealing -- he loves this small gift of power over our day. Older children can use the gift of an Our Kids subscription to take some responsibility for planning family outings.
Monthly Magazines: A subscription to a magazine for children will send a new gift to your front door every month. Every child loves getting mail and a new issue of a favorite magazine each month will bring regular smiles to your home. Highlights for Children, National Geographic Kids, and Sports Illustrated Junior are just some of the magazines published for children. If your child has a particular interest you can find a magazine geared towards them. Older guitar fans might enjoy a subscription to Guitar Player and ballerinas might love a subsection to Dance Magazine. There are even magazines focused on Thomas the Train and Disney Princesses for the preschool set.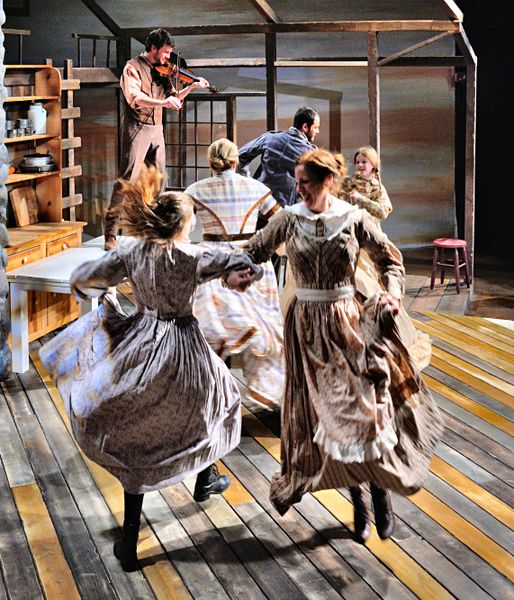 The Square Dance at the little house, Adventure Theatre's A Little House Christmas.
Photo by Bruce Douglas