I once read that children spell love T-I-M-E. With schedules getting more hectic by the minute, the gift of time is one your child will cherish. So, rather than adding too much to the toy pile this year, I'm looking towards ways in which I can provide my children with new experiences that I can share with them. Hopefully these gifts will stay with them long after the tree has been taken down.
1) The Gift of Power. All children love the gift of time and one-on-one time with a parent and a coupon for some one-on-one time would make a wonderful gift, especially if your child is put in charge of where to go. With schedules slowing down during the holidays it's the perfect time to go on a date with your child. Allowing your child to choose what you do will make the experience all the more exciting for your little one. The gift does not need to be long -- "an hour of power" can be long enough to provide your child with a wonderful experience, even if it's a trip to the playground or for a cookie at your local bakery.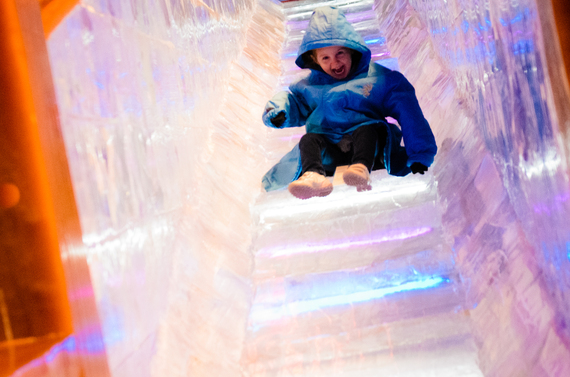 Enjoying the ice slide at ICE!
2) Enjoy a Holiday on ICE! Chances are your children have never experienced anything quite like ICE! The slides made out of ice would be appeal enough for most children but don't miss the enormous hand-carved ice sculptures depicting the entire story of 'Twas the Night Before Christmas, an room dedicated to the Big Apple complete with an ice taxi you can climb in, and an ethereal room with a nativity scene. Make a day of it and explore ICE's home at the Gaylord Convention Center at National Harbor with a train ride, gingerbread house building, nightly snowfalls and a visit with Santa.
3) See a show. We are fortunate to have many theaters in the D.C. area that cater towards children and this time of year is great for seeing holiday magic come alive on stage. Imagination Stage is featuring Lyle the Crocodile, a hilarious musical adaptation of the popular books that is a great opportunity for kids to see their favorite crocodile come to life in a mesmerizing show. Adventure Theater is the place to see The Twelve Days of Christmas, in which the Christmas Partridge has to convince everyone from the two turtle doves to the 12 drummers drumming to sing the famous song all while trying to rescue the five golden rings from the Christmas Hoarder. Younger children and ballerinas of all ages would enjoy puppet-versions of the Nutcracker performed either by the Puppet Co. Playhouse or Tiny Tots, both in Glen Echo, Md.
4) Tea Time. Storytime Tea with Mrs. B at the Morrison House Grille in Alexandria is an opportunity to spend a special afternoon with your child. It's great for mothers and daughters or a family outing as my son and daughter enjoyed it equally. Children are encouraged to dress-up in their finest and Mrs. B spends time at each table talking about manners in small doses and giving children some ideas to spark conversation, such as "ask your Mom and Dad about the scariest thing they have ever done" and "ask your parents how they fell in love." Mrs. B also takes the children to a separate room twice for crafts and dress-up.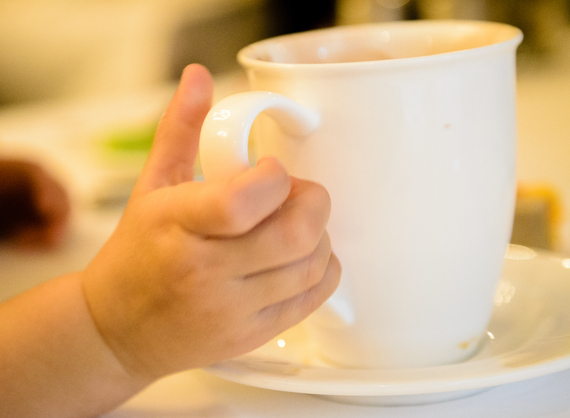 Enjoying tea with Mrs. B
5) Get some culture. D.C. is full of world-class museums. Many of them are free, which makes it easy to overlook exploring paid museums, even if they have a lot to offer kids. A trip to a little-visited museum would be a great way to allow your children to experience something new. Better yet, a membership helps provided needed support to private museums and ensures multiple visits. Some favorites in the area are the Building Museum in D.C., home to the popular Building Zone and monthly story times; Port Discovery in Baltimore with a three-story indoor climbing structure; and the National Aquarium, which boasts sharks galore.
6) Zoolights is sure to spark wonder in your child when the familiar zoo is transformed into a winter wonderland with thousands of lights at every turn. Admission is free, but you can add on a ride on the carousel, train, or slide and a cup of hot chocolate to make the experience even more fun.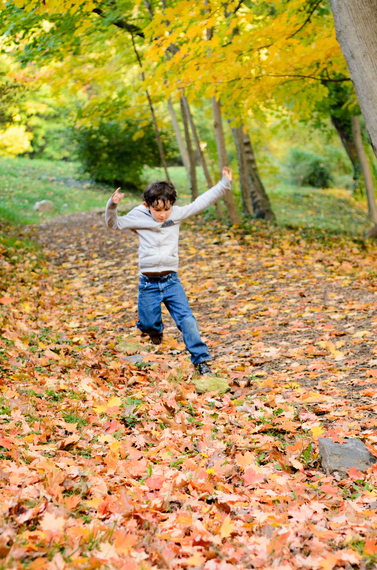 Enjoying a fall activity found through an Our Kids membership
7) Unlimited Choices. Our Kids is the gold standard in finding activities throughout the D.C. area so you are sure to find something your child (and you) will enjoy. Its comprehensive database lists hundreds of activities weekly, has seasonal guides including for holiday lights and other holiday events, and reviews for just about every kid-friendly event so you can figure out before you go if it's worth your time. Members get access to giveaways that are likely to more than off-set the fifty cents a week in membership costs. The Our Kids website has been recently redesigned to allow you to search for an experience your child will like by city, age, price, etc. It's an easy way to ensure you can always find something fun for your child and children love being given choices for activities.