A museum dedicated to architecture, engineering and design may not seem like an obvious place to take young children, but the National Building Museum currently has two large rooms dedicated to play for children two and up. Located four blocks from the national mall, the National Building Museum often serves as an indoor playground for my family when we are unable to play outdoors. In addition to the permanent "Building Zone" geared towards children two through five, the National Building Museum recently unveiled Play, Work, Build, a new exhibit for children of all ages. The exhibit contains four different hands-on activities.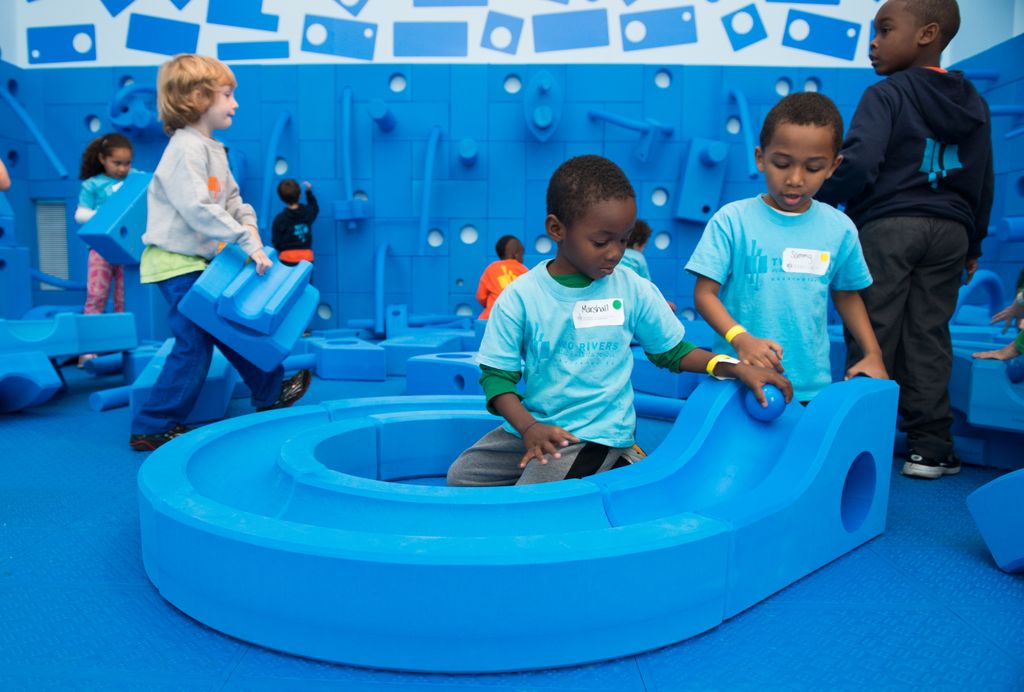 Students from the Two Rivers Public Charter School play with Imagination Playground blocks in the National Building Museum's exhibition PLAY WORK BUILD. Credit: Photo by Kevin Allen.
After viewing displays of early building toys, children are invited to sit a bench to play with toys similar to Tinker Toys and Lincoln logs. My five-year-old son had so much fun playing with these that I had to coax him into moving onto the next activity, a table filled with hundreds of small blue foam blocks. Free play with the blocks is encouraged, but if you need some ideas to help get you started, there is a will with examples of structures that previous visitors have built. After some playtime with the smaller blocks, we moved on to the highlight of the exhibit, a large area filled with huge blocks, tubes and connector tracks built out of the same material as the smaller blocks. My two-year-old had a great time stacking the blocks and playing with the tubes dangling from holes in the wall. My five-year-old had a great time building a marble-run out of connector tracks. Although he needed help with building, my son was able to find the blocks we needed in the right size and shape. Several blue balls are available for children to roll along or down the tracks and our entire family had fun using the giant marble-run and making alterations as we played. The final activity in the exhibit is an interactive projection screen that displays images of the blue blocks in the form of your body, then knocks the blocks down. Both my two-year-old and five-year-old enjoyed contorting their bodies into different forms and watching what happened on the screen.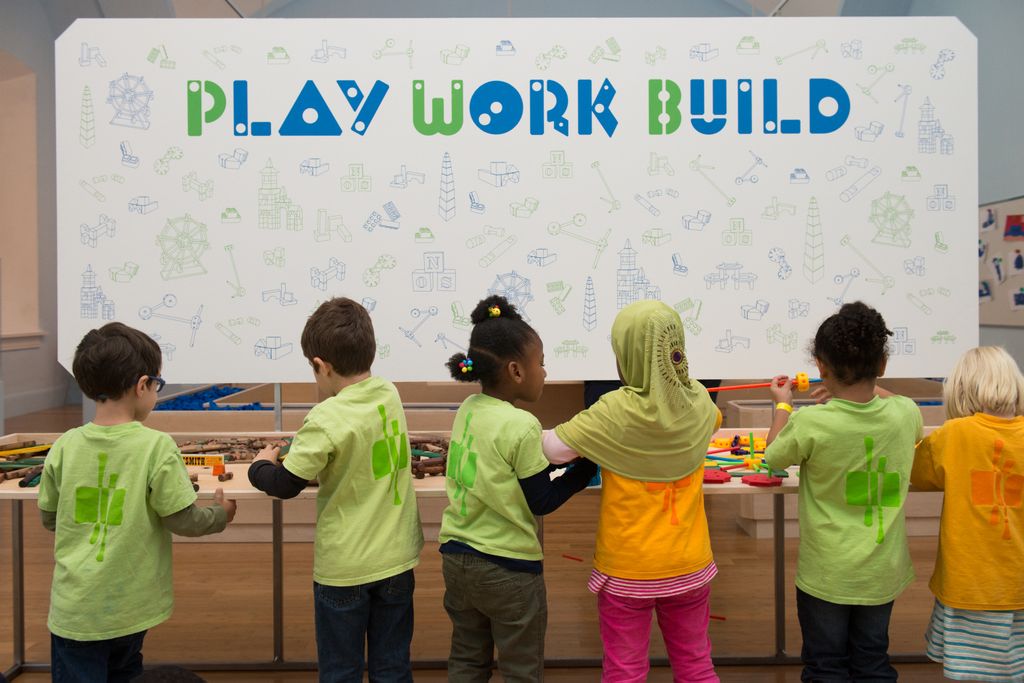 Students from the Two Rivers Public Charter School play with classic toys Lincoln Logs and TinkerToys in the National Building Museum's exhibition PLAY WORK BUILD. Credit: Photo by Kevin Allen.
If you go, be aware that the National Building Museum is private and you must purchase tickets to enter. Admission is $8 for adults and $5 for children three to 17, students and seniors. Admission to Play, Work, Build is included in the general admission price. Tickets can be purchased in advance or at the welcome desk in the Great Hall. Lines to purchase tickets on weekends can be long. Tickets to Play, Work, Build are not timed, but if the exhibit is at capacity, you will need to wait to enter. Museum hours are 10:00 a.m. to 5:00 p.m. Monday through Saturday and 11:00 a.m. - 5:00 p.m. on Sundays. The Great Hall of the National Building Museum opens before the museum on weekdays. If you want to be assured admission to Play, Work, Build when the museum opens you can arrive early. The Great Hall is a vast open space where children can play. There is a café in the Great Hall where you can enjoy breakfast and coffee while waiting for the museum to open. There is metered parking available surrounding the museum, but it can be difficult to find an open spot at times. The National Building Museum is located directly across from the Judiciary Square metro. Play, Work, Build is scheduled to run for two years, through November 2014. If you plan on making multiple visits, a family membership is a good value.