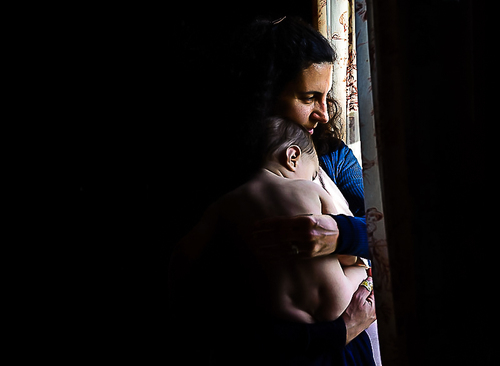 Photo: Jamie Davis Smith
There is a new specialty of photography that is emerging and it is beautiful: motherhood photography. Traditionally, mothers are the ones behind the camera. They lovingly document their children's lives from first steps, to airplane rides in Daddy's arms, to the complete 12 years (or more) of first days of school. Yet, except for her baby's birth, Mom may not appear in many photos with her children.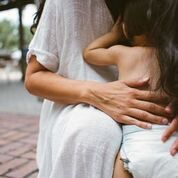 Photo: Mae Burke
Some photographers, who are mothers themselves, are creating a movement to right this wrong and encourage all mothers everywhere to get into more photos with their children whether they hire a professional photographer or take their own photos.
Mae Burke is a motherhood photographer in Texas who sees her role as a photographer to capture the joy, peace, and fulfillment of motherhood that is often lost in the chaotic exhaustion of daily life through simple and emotive portraits." Mae's portraits beautifully capture the connection mothers have with their children of all ages and stages.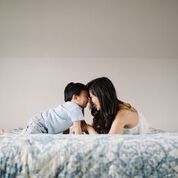 Photo: Mae Burke
Mae has some advice for photographers who may want to develop a clientele for Motherhood photography:
1) Start Where You Are
Are you already photographing families? What about maternity, newborn, or children sessions? From maternity sessions to senior sessions, and even extended family sessions, you can start telling mothers' stories through photos right where you are. It is particularly easy to do this with maternity and birth clients, but making the transition with other clients is easy as well - instead of having all of the focus on just the child, include Mom in as many photos as possible. Focus on including Mom's narrative while you are shooting her child - try to view her child, husband, and home through her eyes. It is easy to do this with babies and young children but try this approach for all clients. For instance, if you are a senior photographer, before the session, make sure the mother of the young man or woman knows that you want her in "at least one" frame with her all-grown-up baby. Start photographing candid moments between the pair and you will have captured a monumental turning point for this woman that she will be forever grateful for. Seeing the love that this mother has for this senior will drastically change the way you photograph him or her throughout the rest of the session.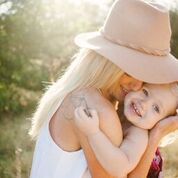 Photo: Mae Burke
2) Create a Safe Environment
If you want to start telling mothers' stories, you need to become a "safe" place for the mothers in your area. Try to develop a reputation of being a supportive, gracious, and enthusiastic photographer/human so that women will feel comfortable trusting you with the most intimate details of their lives and getting them to feel natural in front of the camera. Getting involved in a local church, school, or recreation program can put your name and face out there in the community as someone who is dedicated. If you make an effort to genuinely connect with the other people present at events, you've opened the door to whole new pool of potential clients and friends.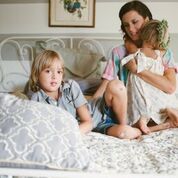 Photo: Mae Burke
3) Tell Your Story
If you are a mother yourself, think of walking up to someone in the grocery store who has a toddler screaming in her cart and a baby bump accidently knocking over cereal boxes in a flustered haze and saying "Hi, I just wanted to let you know that you look beautiful today. If you ever need a photographer, here is my number. You're doing a great job." While this may be a great way to meet other mothers, it's the stuff of nightmares for most photographers. Don't worry: there is something you can do right at home - tell your own story.
Personal work is the most engaging content motherhood photographers can post to social media. While mothers want to know that they are individuals, one of a kind, they also want to know that there is someone out there in the world that can relate to the day in and day out labor of motherhood. While Mae is a homeschooling mom of three kids under seven, with a Mary Poppin's-esque never ending bag of tales to tell, you have your own stories as well. Not a mother yourself - you still have stories! Go visit your mama! Or your grandma, you probably don't visit as much as you should -- or your niece, or even spend time with your neighbor's kids. The point is to start showcasing the stories of which you are most intimately aware. Motherhood portraiture is capturing the essence of motherhood through photographs. Everyone has a mom, and each of those women is different. We will never hear her story told the same way twice. Look at My Name is Mama for inspiration.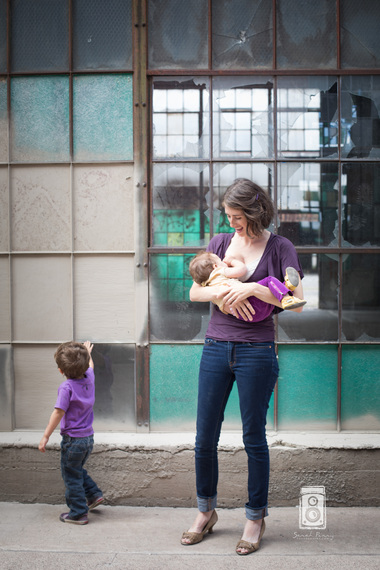 Photo: Sarah Denunzio Photography
Some motherhood photographers specialize in one aspect of motherhood, such as breastfeeding, while others capture the range of motherhood experiences from documentary-style maternity sessions through sending a senior off to college or even an adult mother spending time with her mother.
For photographers interested in learning more about Motherhood photography, Mae has an online breakout session offered through Clickin Moms, "Moments in Motherhood: Telling Mothers' Stories through Portraits", to help them learn how to make beautiful images of motherhood. Another option is CreativeLive's on-demand lifetime access to "Bumps to Babies: Photographing Motherhood" with Sue Bryce and Kelly Brown, covering maternity shoots through family sessions with toddlers.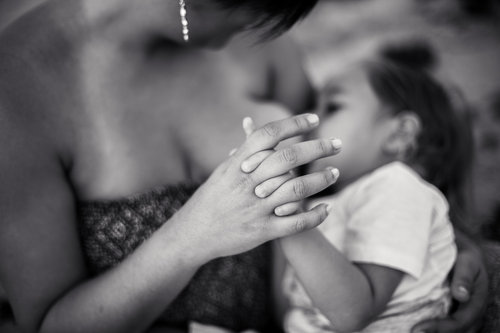 Photo: Paulina Splechta Motherhood Photography
Motherhood photography is a special way to offer new and existing clients a way of preserving their motherhood moments and telling their own stories as mothers.