Snow and a flu epidemic means that soup season has officially arrived. But, finding the time to make the food that will comfort you through freezing temperatures and runny noses can be a challenge.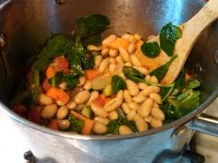 Tanya Snyder is a working D.C. mother who is part of a group that has found a way to fill its refrigerators with soup all year long by turning the traditional cookie exchange on its head. Rather than exchanging sugary treats just once a year, Tanya and other members of her Soup Collective put their time and energy in the kitchen into cooking nutritious soups. As part of D.C.'s Soup Collective, Tanya has found a way to get different varieties of healthy soups for herself and her family each week with minimal effort on her part. She even gets to see good friends in the process.
The concept is simple. There are no fees and Soup Collective members choose a time to cook that is convenient for them, typically only once every six weeks. Each week, three Soup Collective members volunteer to prepare a different variety of soup to share with the entire collective, which currently includes 24 members. The cooks for the week let the other members know what they will be making ahead of time via a shared Google Doc, and the others use the same form to let the cooks know whether they will be picking-up soup that week or not. The soup cooks then prepare 48 ounces of soup (four bowls) for every member participating that week. Each cook usually winds up making between 6 to 8 quarts of soup at a time. Soup Collective then shows up at a designated house each Sunday night with their own containers to pick-up their soup to take home and enjoy.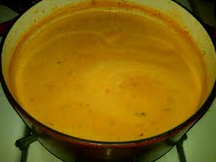 Although rules for soup preparation have varied based upon the dietary preferences of its members, currently at least two soups each week are vegetarian and one soup can contain meat. The collective is open to changing its rules to fit other dietary needs, such as having non-dairy or gluten-free soup options if members request them. Recent soups include such delicious offerings as curried carrot ginger soup, West African peanut stew, gumbo, and tortellini soup.
Other variations of D.C.'s Soup Collective exist throughout the country in the form of soup exchanges. The approach to soup-swapping varies based upon what works best for those cooking up the soups. Some soup exchange participants arrive with soup frozen in gallon zip lock bags to allow for easier transport and storage. Others find it easier more convenient to use a standard container for all soups to be packaged in, then have exchange members return empty containers to be used again with everyone leaving with the same number of containers they brought. Larger soup exchanges may ask several members to prepare six quarts of soup at a time then hold a lottery to determine who gets first choice of which soup to take home. Other soup exchange participants turn soup-swapping into a casual party and taste all the soups made for swapping along with bread and wine before leaving with their haul. Some soup exchanges encourage sharing recipes so that soup exchange members can make soups they love whenever a craving strikes.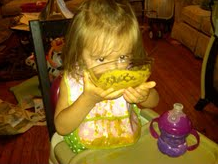 Even small children can enjoy soup!
The possibilities for a soup exchange are endless. For those who like the idea of seeing friends at a book club but don't have time to read the books, a monthly soup exchange can provide the perfect excuse to get together with friends. If you are interested in the idea of sharing the work of preparing healthy food but don't have the time to join any new groups, a soup exchange can easily be integrated into a playgroup, knitting circle, or other gathering already occurring.
If you are interested in setting up your own soup exchange you do it in five easy steps:
1) Determine how many people you would like in your soup exchange.
-Typical soup exchanges have between 8 and 24 members, but rules can be adjusted to accommodate fewer or additional members.
2) Figure out the logistics.
-Will you meet weekly, bi-weekly, or monthly?
-Will you rotate where soup is picked-up or designate set a home?
-How will soup be transported? Will participants take home frozen bags or soup, leave with pre-filled containers, or use own containers?
-Will pick-up double as a party or get-together or should participants expect to get their soup and leave?
3) Decide how cooking will work.
-Will everyone cook for each exchange or will you set a number of cooks for exchanges? For weekly exchanges, it makes sense to have rotating cooks, for monthly exchanges everyone might be expected to make a soup.
-If cooking duties will rotate, will members be assigned weeks or will they sign-up for cooking weeks? The number of participants and frequency of exchanges will determine how often each participant is expected to cook.
-How much soup should the cooks make? A good guideline is between 10-12 ounces of each soup per person or 6-8 quarts of each soup.
4) Set the soup rules.
-Can soup cooks make any soup they like or will dietary considerations, such as vegetarians, gluten-free, or lactose intolerant members be taken into consideration?
5) Decide how your soup exchange will communicate.
-Will you simply send out reminders and see who shows up each week or will you ask soup exchange members to let others know ahead of time what kind of soup they are making and whether they will be picking-up soup at each exchange?
-Will you set up a shared document to facilitate communication, use an e-vite, or ask for a volunteer to keep track of soup types and attendees?
-Will soup exchange cooks share recipes?
With so many so pressed for time, a soup exchange is a fantastic way to fill your freezer with a week's full of a healthy start to dinner. A hearty soup can even be the star of your meal when paired with a small salad or quality bread. During the summer, varieties of cold soup such as gazpacho and borscht can be added to the mix to make your soup exchange work year-round.
To help you get started, D.C.-area health counselor and founder of Mai Health Now, LLC, Mai Trinh Joubert suggests these easy soup recipes:
Mai's Throw in the Veg Garden Soup
Add crusty buttered bread on the side and you have a light lunch or dinner that is filling and comforting. If you have kids, they will love the array of colors and they can help you make the shop by adding the veggies to the pot. Whether this soup is for your family or for group, this bowl of piping hot yumminess is a crowd pleaser!
2 Tbs olive oil
1 yellow onion chopped up
3 cloves minced garlic
1 tsp dried rosemary or 1 ¼ tsp FRESH rosemary
½ tsp dried basil
1 tsp of 21 seasoning
1 can diced tomatoes
1 large sweet potato cut in cubes
2 cups frozen or fresh broccoli cut in bite size pieces
1 can black beans
3 diced carrots
½ lb of cabbage
¾ cp of Parmesan for serving.
¼ cp of fresh basil optional.
Dash of salt and pepper to taste
Half a bag of noodles of your choice (whole wheat or egg noodles) optional
1. Heat oil in large pot. Sautee onions, garlic, rosemary, broccoli, carrots, dried basil, 21 seasoning, salt and pepper for seven minutes.
2. Add diced sweet potato and cook for three minutes, add diced tomatoes for one minute, add cabbage and one can of black beans. Sautee for two minutes.
3. Add seven cups of water and bring to boil.
4. Add noodles the last 12 minutes.
5. Reduce heat and cook until veggies are all tender (about 20 minutes). Serve with sprinkled Parmesan and torn fresh basil.
Mai Lucky Leprechaun Pea Soup
This crowd favorite is a great way to add more leafy greens to your diet. There is nothing more comforting on a cold winter's day than a spinach-enhanced pea soup recipe. In the same spirit as a green smoothie, we're adding greens for more nutritious punch to this already wholesome bowl of goodness. The fresh tarragon brings out the sweet flavor of the peas and makes this pea soup recipe different from the rest. If you want to add more pizzazz, serve with cheesy bread sticks on the side and a salad for a light meal. This is sure to wow your friends and family!
3 cups of frozen sweet peas
½ TBS of fresh chopped tarragon
1 small onion diced
1 clove garlic minced
1 cp vegetable broth
Salt and pepper to taste
Dash of nutmeg
1 cup spinach (optional)
1 TBS olive oil
Sour cream for serving (optional)
Heat olive oil in pot and stir in diced onions, garlic, tarragon and spinach. Add dash of nutmeg. Sautee for 2 minutes, add frozen peas and vegetable broth, add salt and paper to taste. Bring to a simmer (but do not boil). When peas are soft and pot is hot, pour into a blender and blend to serve. Add a dollop of sour cream if desired.
Get cooking!
Photos provided courtesy of Mai Trinh Joubert.