Wondering what to do to keep the little ones busy over spring break? There are plenty of activities to keep everyone entertained. Here are five suggestions.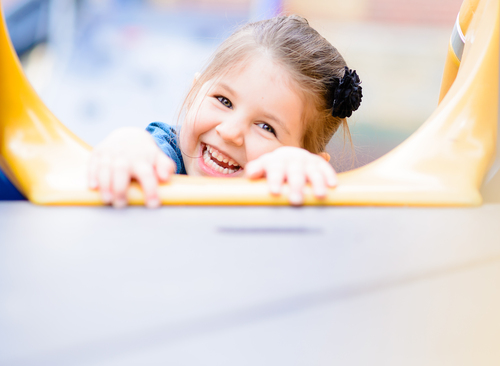 Enjoying a new playground. Photo: Jamie Davis Smith
1. Try a new playground! The DC area is full of playgrounds large and small tucked into neighborhoods and along busy streets. The extensive parent-written playground guide at Our-Kids.com, complete with pictures, will help you find some new places to play spring break away that range from the travel-worthy to unknown but in your neighborhood.
2. See the Greatest Shown on Earth! The Ringling Brothers Circus will be on the last leg of its DC-area tour now through April 20th at the Patriot Center in Fairfax, VA. This year's circus, "Built to Amaze," is one of the most dynamic shows yet with bike-riding trapeze artists and a human cannon ball. Going to the circus is a childhood rite of passage and will be sure to make your child's spring break unforgettable.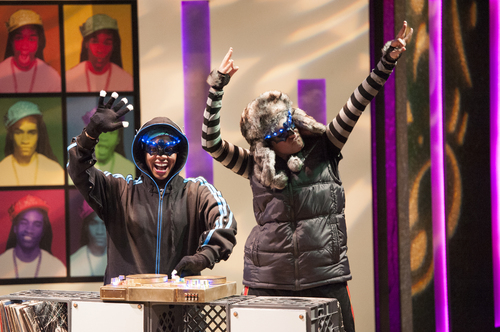 Cinderella The Remix at Imagination Stage
3. See a play! The DC area is rich in children's theater. Two of the best theaters are putting their own twists on classic stories this season. Adventure Theater in Glen Echo, Maryland is featuring their interpretation of The Jungle Book in a wonderfully acted play about the "man cub" raised in the wild who ultimately has to decide where he belongs and where his loyalties lie. Imagination Stage is showing "Cinderella: The Remix." Don't expect any princesses or glass slippers here, but be prepared to be completely astounded and thrilled by an unexpected twist on this fairytale that has our heroine and supporting characters spinning hip hop beats and teaching powerful lessons in Girl Power, doing what you love, following your dreams, upholding high standards and never being afraid to be yourself.
4. Catch the Great Zucchini! The undisputed king of children's entertainment in the DC area will be performing at five incredible public shows this week. It can be hard to catch the Great Zucchini if you do not happen to be invited to one of the birthday parties he books months in advance, so be sure not to miss one of these shows if you want to give your child 45-minutes of non-stop laughter and weeks' worth of jokes and tricks to try at home. On Monday, catch him at the Longbrach Library in Silver Spring at 11:00; Tuesday he will be at the Cedar Lake Preschool in Bethesda at 10:30 followed by a Pints for Pups fundraiser at the Dogfish Head Alehouse in Fairfax at 1:30; Thursday he will be at Jammin Java at 10:30 in Vienna; and on Saturday he will be at PB&Jack in Fairfax.
5. Take a stroll! There is no better time of year to take leisurely stroll somewhere beautiful. Hillwood Estate and Gardens in a hidden gem in DC with lots of areas for kids to enjoy from a Japanese garden with a small bridge kids never seem to tire crossing to a large hill great for rolling down to large, open spaces great for a picnic or game of tag. Strolling the grounds could take all day. Claude Moore Colonial Farm is a hidden gem in McLean great for spending time outdoors with kids. As a "living museum" with real farm animals, period actors, fields and streams, kids will not be easily bored.