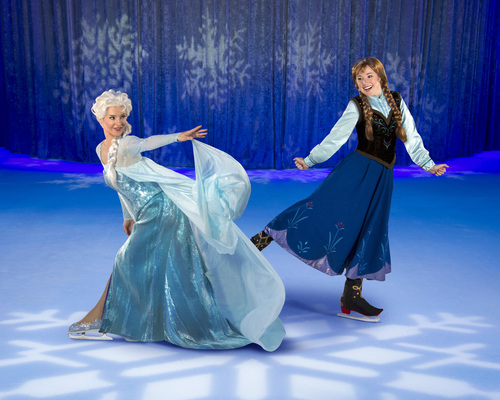 Even though she had a job she loved that would soon be taking her to tour Europe, Taylor Firth could not say no when a casting director approached her about skating the role of Anna of Arendelle.
Taylor's road to portraying one of the most beloved Princesses of all-time (perhaps second only to Elsa) began when she started taking figure skating lessons at just six years old with her three sisters. Taylor competed on national and international figure skating teams for twelve years, including competing twice in the U.S. Nationals which determines who goes to the Olympics. Although Taylor's original dream of skating in the Olympics was not fulfilled, after the competitions a new dream was born - to skate with Disney on Ice.
Taylor applied for a job with Disney on Ice just as you or I might apply for an office job - by sending in a resume and then obsessively checking email for any response. As luck would have it, at just the time she sent in her resume Disney on Ice was casting for a new show, Toy Story 3, and she landed the role of Jessie. That role was followed by a one in Rockin' Ever After playing her first Princess, the brave Merida.
Taylor was excited to travel to Europe skating as Princess Merida when she got a call about playing Anna in a story ideal for the ice - Frozen. Production for Disney on Ice Presents Frozen started almost as soon as the movie was released. Even though it was planned in a relatively short amount of time, Taylor thinks Frozen is one of the best Disney on Ice productions because of all of the creative minds who worked on making the show a reality and the cast and crew worked so hard to make the show absolutely perfect.
Once she accepted the role of Anna Taylor's preparation for the show was grueling. There were six weeks of intense rehearsals involving many hours both on and off the ice. In addition to learning Anna's skating routines Taylor also had to learn the intricacies of Anna's character. One of the more challenging parts of becoming Anna was learning to throw left-handed. Taylor found out during rehearsals that, like Anna in the movie, she would need to throw snowballs at the giant snowman created by Elsa to chase her from the Ice Palace with her left hand. This is just one of the many intricacies Taylor had to learn in order to bring Anna to life and ensure that audiences see the same Anna they love from the movie on ice.
Now that the show is up and running Taylor is exhilarated. Demand for performances has been high with new shows being added all the time. It's hard work since Anna is in nearly every scene of the two-hour show and a heavy travel schedule will keep Taylor away from home for Thanksgiving and Christmas. But, Taylor thinks it's all worth it for many reasons. She loves hearing the audience sing along to all of the songs, sometimes more loudly than the soundtrack, and she loves seeing all of the kids who show up dressed as Frozen characters with huge smiles on their faces. Taylor also loves being the first one to bring Anna to life on ice.
Anna is one of Taylor's favorite princesses since she is not the original, perfect Disney Princess but just a normal person and a great role model. Through Anna, Taylor can show girls that you can be yourself and still accomplish your dreams. There's nothing better than that!