Most parents would like to simply install a car seat and forget about it. However, as the recent death of an infant in Louisiana demonstrates, not all parents are aware of how to use car seats safely. When it comes to car seat safety parents have a lot to think about, from whether children should be front or rear facing, when to switch a child from a infant seat to a regular car seat and a regular car seat to a booster, when the LATCH system should be used, and how to safely use car seats with bulky winter wear. On top of that, car seat usage recommendations change frequently as more research is conducted into how to keep kids safe on the road.
According to the Centers for Disease Control, injuries related to car accidents are the number one cause of death of children in the United States. Considering that the risk of serious injury and death can be reduced by about half with proper car seat usage all parents should take the time to ensure they are up-to-date on current safety regulations and that they are using their car seats properly. Some regulations regarding the proper use of the LATCH system changed just this year. While it is not necessary to replace car seats with each new change, new technology such as the Clicktight system makes it easier to comply.
As a mom, I have found it essential to keep up on changes as many have occurred over the past eight years since I've had children and I've learned the importance of checking for currently guidelines every time one my children is ready to use a new car seat, whether it's bringing my newborn home in an infant seat or starting my older children in boosters. Although tons of gear is never necessary for car seat safety, I've also learned to look for new improvements that can help make car seat use easier, whether it's new car seat technology such as the Clicktight system, using a lightweight stroller frame such as the Baby Trend Universal Snap n' Go for quick trips with a baby, or a complete travel system such as the Baby Jogger City Select with a car seat attachment in place of a second seat to make travel easy with a sibling sitting in the stroller. Given concerns about using winter coats with car seats, car seat covers such as the 7 A.M. Enfant Car-Seat Cocoon can keep baby toasty without the need for a coat.

Sarah Tilton, member of the National Child Passenger Safety Board, Chairperson of the Manufactures
Alliance for Child Passenger Safety, and Britax Child Passenger Safety Advocacy Manager offered some tips to make proper car seat usage and instillation easier for all parents.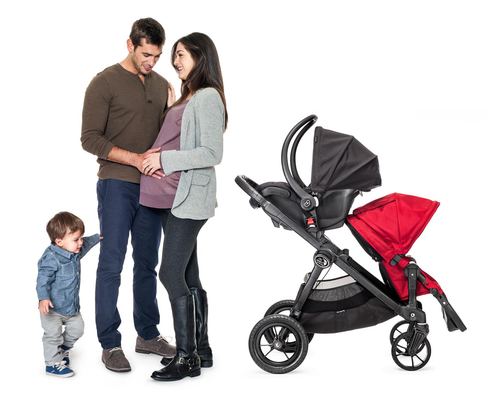 Knowing when to use an infant seat and when to move to another type of car seat is essential. Strollers that allow parents to attach a car seat to the stroller, such as the City Select, make it convenient to use rear-facing infant seats for the recommended two years.
Ms. Tilton offers some advice about which all parents should be aware:
Use of Infant Seats:
• Keep your child rear-facing as long as possible. It's the best way to keep him or her safe in the vehicle. Your child should remain in a rear-facing car seat (rear-facing only infant seat or convertible seat) until he or she reaches the top height or weight limit allowed by the car seat's manufacturer.
• The American Academy of Pediatrics recommends that all infants and toddlers should ride in a rear-facing car seat until they are 2 years of age or until they reach the highest weight or height allowed by their car seat manufacturer.
Use of the LATCH System:
• LATCH has weight limits. When the combined weight of your child and car seat is 60 pounds or more for rear-facing car seats and 65 pounds or more for forward-facing car seats, you must install the car seat using the vehicle seat belt instead of the lower anchor (LATCH) system.
• Installation technology like ClickTight Installation Technology to allow correct installation of the car seat each and every time. ClickTight makes safe car seat installation as simple as buckling a seat belt so now everyone can install with real confidence in just a few easy steps. Examples are Britax convertibles, such as the Boulevard, and Harness-2-Boosters car seats, such as the Frontier.
Use of Car Seats that Have Been in an Accident:
• Britax recommends that the use of a child seat be discontinued if it has been in a moderate to severe crash.
• We further advise that it is not necessary to replace a child seat after a minor crash, as is the position of the National Highway Traffic Safety Administration (NHTSA). A minor crash is one that meets ALL of following criteria:
• The vehicle was able to be driven away from the crash site; AND
• The vehicle door nearest the child restraint was undamaged; AND
• There were no injuries to any of the vehicle occupants; AND
• The airbags (if present) did not deploy; AND
• There is no visible damage to the child seat.
Reusing a Car Seat for a Sibling:
Car seats can be used for a sibling as long as:
• You purchased it originally, so you know it has never been in a motor vehicle crash, all the parts are present, all labels are affixed to car seat and the car seat is not involved in a recall.
• The car seat has not reached its expiration date. Check the manufacture date label on car seat, view the user guide that came with car seat and/or call the Customer Service department of the specific car seat manufacturer.
• You should never use a secondhand car seat you've purchased (i.e., at a second hand store, yard sale) if you do not know the complete history of the car seat.
Using a Booster:
• Factors to consider when determining if your child is ready for a booster seat include:
o Your child reaches the maximum height or weight allowed for their forward-facing seat with a harness.
o Your child's shoulders are above the top harness slots in their forward-facing seat.
o Your child's ears have reached the top of their forward-facing seat.
o Your child meets the age and size requirements of the booster seat.
o Your child meets the requirements of your state laws regarding booster seat use.
o Your child's maturity level -- if your child is a wiggle worm or sleeps frequently in the vehicle, he may not be ready for a booster seat.
Using a Car Seat During Winter: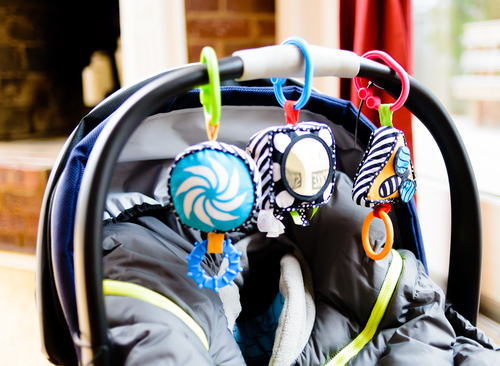 Using a car seat cover, such those from 7 A.M. Enfant help keep baby warm without bulky winter coats that should be avoided in car seats
• During the cold winter months, it seems natural to bundle up your children in thick layers and bulky outerwear. However, when heavy clothing and coats are worn by children in car seats, they can prevent a car seat harness from being properly tightened. Even without coats, approximately 60% of caregivers do not tighten the harness tight enough around a child. When your child is wearing a heavy coat, the car seat harness may seem snug on your child, but the bulky thickness will compress in the event of a crash, creating slack in the harness, and the harness may not be able to properly restrain your child in the car seat.
• More information can be found here.
Recommended Sites For Further Information:
• Safe Kids USA: Information about child safety and car seat checking station locations
• National Highway Traffic Safety Administration: Information about car seat safety, product recalls, laws and regulations
• Insurance Institute for Highway Safety: Child passenger safety research, reports and statistics
• The Children's Hospital of Philadelphia: Information about car seat safety, tips for how to choose and install a car seat, product recall information, car seat checking station locations, and educational resources for Child Passenger Safety Technicians
• American Academy of Pediatrics: Information about children's health and safety