In many parts of the country it's turned cold and dreary. Photo taking opportunities may have become limited to shooting indoors or shooting in the snow. But, since there are still lots of memories being made there's no excuse to pack up your camera for the winter. From using window light to learning how to work with snow to get the best results winter can be a great opportunity to learn a few new tricks and captures some beautiful images. Some of the country's top photography teachers and bloggers share their tips below. All have facebook pages and websites where you can go to learn more.
Courtney Slazinik from the ultra-popular blog Click it Up a Notch has just released an ebook, The Unexpected Everyday, which goes beyond just offering tips on using your camera by providing 30 different photo challenges you can use to put your new knowledge into practice, even when it's too cold to go outside.
Tips:
Winter can be a discouraging time for photographers if you aren't used to using the natural light you have available in your home. Whether you have a wall of windows or one small window in your house, you can take advantage of the light it provides and captures some amazing photos. I challenge you to walk around your house at different times of day to figure out which room has the best light at that time of time. I know the front of my house is great in the morning and my daughter's room is wonderful around 4:00 p.m. Knowing where to find the light in your house is half the battle. For this image, I know the light in this room is best in the morning. Thankfully, it's our playroom and the kids love playing in here. I opened all the windows, bumped up my ISO and documented the moment.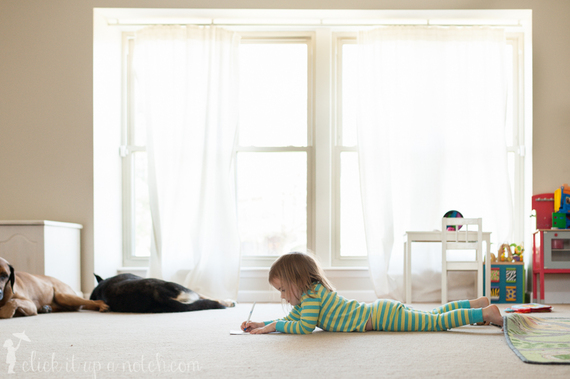 Photo: Courtney Slazinik
Keep in mind that every photo does not need to be full of light. Use the shorter days to play with dramatic light. Find a small amount of light. Turn off all other lights in the room. Place your subject directly in the light. Be sure to have the light hitting their eyes so you capture catchlights and prevent their eyes from looking hollow. In this image, I slightly opened the black out curtains in her room and let the light fall only on her. The light and the shadows play so well for this type of photo and light. Dramatic light images also make great black and white images. Pick up your camera and experiment.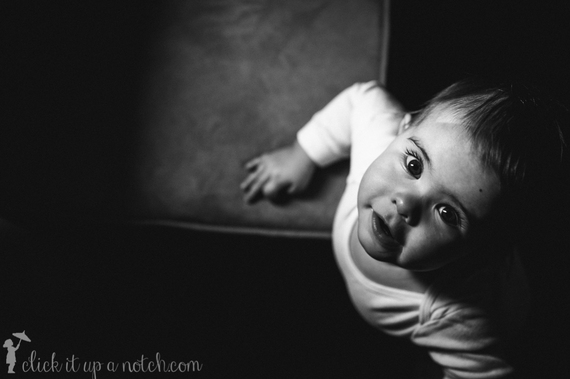 Photo: Courtney Slazinik
Laura Siebert - Laura is a natural light photographer who is well versed in using window light to create truly striking images. For more experienced photographers, Laura will be adding a third book to her successful collection in January that will cover indoor natural light, indoor posing, and indoor post processing.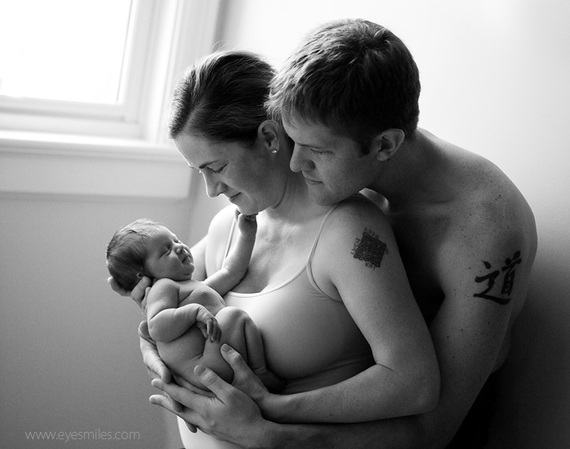 Photo: Laura Siebert
Tip: Try shooting into the light. You probably have noticed that window light creates beautiful, timeless photos. Large windows can create brilliant catchlights in your subject's eyes when you are shooting from the same side as the light. But did you know that you can also shoot INTO the light? This kind of lighting is especially dramatic and beautiful for interaction photos, such as mom or dad rocking a baby in a rocking chair. Instead of standing between the window and the people, try standing on the other side and shooting towards the window.
Beryl Ayn Young is the creator of Momtographie Online as well as other online classes especially designed for Photo Moms. She has a completely free class starting in January which is all about getting great photos with your kids in any situation.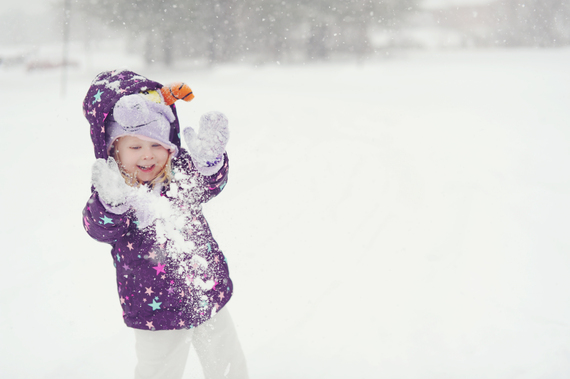 Photo: Beryl Ayn Young
Tip: Have a snowball fight! (Play more to work less for your pictures)
Anything you can do to make playing in the snow even MORE fun than it already is will be well received by your child and ultimately photo worthy. You are allowed to direct your play time together in order to get the shots you're after. Ask your child to make a snowball and throw it at you, lay down and create a snow angel, build a snow fort, or catch a snowflake on their tongue. They crazier the idea the better for getting them to smile, laugh, and forget the camera is even there. Work out your settings and find the right location and light before making your play requests and then be sure your camera is at the ready to capture it all!
Nick Kelsh is a dad with a camera who has written several books, including How to Photograph Your Life, and offers classes to novices through experts on everything from how to use your camera in manual, to editing in Lightroom, to using simple lighting techniques to create stunning portraits. He has a great sense of humor and describes snow as "a photographers dream come true."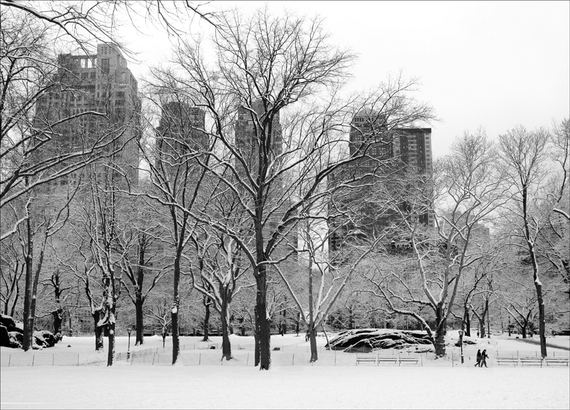 Photo: Nick Kelsh
Tips:
Snow is counterintuitive. You need to OVEREXPOSE for snow. (How is that possible? It's so bright!) Light meters want to make everything medium bright and you want the snow in your pictures to be beautiful white. If you're an automatic exposure, you need to brighten up the exposure using your exposure compensation button. You probably want to increase the exposure -- that's a plus on the scale -- about 1/1/2 or two f-stops. (Don't worry, you are not alone -- this makes no sense to many).
Snow is gorgeous in black and white. There's often little to be gained by snow pictures in color.
People shoveling snow can be great photos. Dad running the snowblower is always going to be a family classic.
Make hay when the snow falls. When you wake up one morning and look out the window and the snow is perfect it's time to take pictures. Don't take a shower, don't brush your teeth--you cannot hesitate. The situation is going to rapidly change. Wind will quickly destroy the look of a beautiful tree covered with snow. Footprints are quickly going to ruin that pristine layer of white. It all changes very quickly. Photographers need to be the first people out of their doors when the snow falls.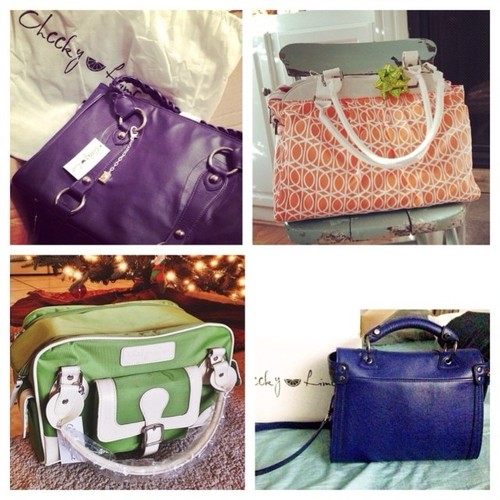 Cheeky Lime
Hopefully this expert advice will get you excited to dust of your camera and capture some fun indoor or snowy-adventure photos. Some simple gear can also be useful. The first step to getting great photos is having your camera with you and a cute camera bag is key. I love my chevron Cheeky Lime camera bag for the winter. Its non-leather surface is ideal for taking out in conditions where it might be subject to a little snow and it's large enough to double as a bag for mittens or hats. If you are expecting more extreme conditions Lowepro has a large variety of waterproof camera bags as well. I like the Lowepro NovaSport because it comes in a cute shade of orange and can carry just about anything I might need. If you want to take photos when it's actively snowing, a LensCoat can work wonders in protecting your gear in a way that makes your camera still easy to operate. Mittens with pop-out fingers (including the thumb) can help keep your hands warm and prevent them from shaking outdoors. For photos in low-light situations a tripod can help you get the shot you want. The Joby Gorillapod is an amazingly diverse tripod that can bend any which way to help you get the shot you need. For a little help getting your colors to look perfect straight out of the camera, which can be a challenge indoors and in the snow, try an easy-to-use ExpoDisc 2.0 for to help you achieve proper white balance.
Whatever you do this winter, inside or out, be sure to document it with your camera!