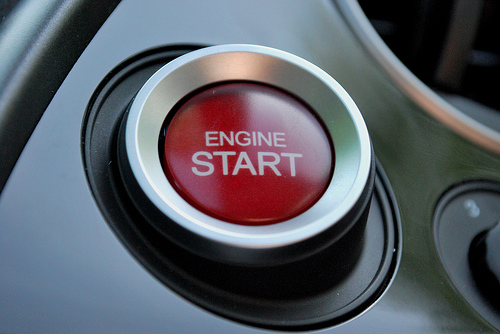 When it comes to health and fitness, we all have to start somewhere. Hopefully you've already started, but if you haven't it can be a real battle getting into the habit of exercising and even harder taking the first step.
I've never regretted a workout. I love the way I feel afterwards and even if the rest of my day sucked, I can always say, "Well, at least I did something for myself today." For many though, getting your workout on can be a daunting prospect or an epic chore.
Below are some easy to follow steps to help you get your potentially oversized butt off the couch and into the gym:
Ask yourself why you haven't started yet -- The chances are you probably don't have a good reason. Working out and taking care of your body is a win, win situation. No excuses, let's go.
What's your issue? -- Maybe your energy levels are low, you may be too fat or too scrawny or too weak. Whatever your issue is, admit it and admit that exercising can help fix it.
Promise yourself you'll workout tomorrow -- Maybe you're not ready to throw yourself into a daily workout routine but at least set a goal today to workout tomorrow. Repeat as needed... forever!
Plan your workout -- If you plan it, you're less likely to skip it. Having a plan avoids wasting time wandering from machine to machine until you prematurely decide to leave. Complete your planned workout and you'll also feel like you've achieved something.
Start with something you love -- If you hate running, then don't start by going for a run. Jump on your bike, go for a hike or dust off your dumbbells. If you enjoy it, you're more likely to go back for more.
Don't be intimidated -- You may have piled on the pounds or lost some strength but it's time to get over yourself. Your body can't go to the gym unless you take it there and your fellow gym-goers are too busy with their own workouts to worry about whether you've been skipping yours.
Buy some new kit -- Some hot new sneakers or some cool new workout clothes could be all it takes to give you the confidence to get going. After all, looking good is a huge part of feeling good.
The conclusion is simple: Get up now and start. Go on, right now.
-- Jamie Galloway
Image credit: Flickr, pobre.ch
For more by Jamie Galloway, click here.
For more on fitness and exercise, click here.