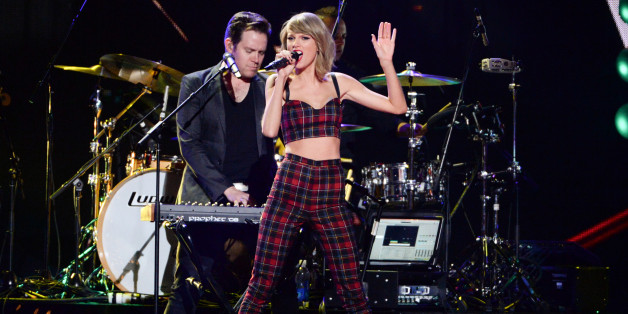 Taylor Swift has had quite the year. With short hair and a new apartment in New York, Swift started 2014 ready to take the music industry by storm. Despite the overwhelming success of her previous country albums, with 1989 she decided to ditch her cowboy boots for crop tops. Still, Swift's fifth album managed to retain her signature striking lyrics. But the shift in genre was only one of many fearless decisions she made in 2014. Here are 13 highlights from her insane year.
1. She performed "All Too Well" at the Grammys.
Although Swift may have been tempted to perform a better known hit, she decided to perform a tear-jerking rendition of a song that wasn't even a single. Why? Her fans requested it, of course.
2. She became more social media savvy.
In 2014, Taylor Swift finally discovered how she could communicate directly with her fans via the Internet. From encouraging Instagram comments to reblogging fans' Tumblr posts, she has made quite a few fans very happy.
3. Olivia Benson Swift became the latest addition to her family.
For the title of cutest celebrity pet, Olivia sure is a strong contender. The Scottish Fold can be seen throughout Swift's Instagram posts.
4. As Rosemary, she received five magical minutes of screen time in The Giver.
Acting alongside Hollywood big names such as Jeff Bridges and Meryl Streep is no easy task. However, Swift, as a piano playing keeper of memories, did not disappoint.
5. Her social circle expanded.
As the year progressed, Swift surrounded herself with more and more successful women. She was often seen walking down the streets of New York with Lorde, supermodel Karlie Kloss and Girls creator Lena Dunham among others. Even Beyonce made an appearance at her 25th birthday party.
6. She expressed concerns about the future of the music industry.
In a Wall Street Journal op-ed, Swift explained how she fears artists are undervaluing their albums. Months later, she pulled all of her songs from Spotify.
7. She finally confirmed that she identifies as a feminist.
It's no secret that Taylor Swift is one of the most ridiculed names in music for writing about her love life (which most songwriters do). But this year, she decided to respond to these criticisms. In interviews, she labeled these comments as sexist and referred to herself as a feminist.
8. 89 fans attended each "Secret Session" Swift hosted at her various homes.
Not many artists would trust their fans to listen to an album before its release and not leak it. Swift not only invited hundreds of fans to listen to 1989, but also accepted them into her home where they played with her cats and took pictures with her Grammys.
9. The "Blank Space" music video surpassed every expectation.
Swift acted as an exaggerated version of how she is portrayed in the media. From stabbing a cake with a knife to dumping her boyfriend's cell phone in a pool, her performance did not disappoint. She even created an app based on the music video.
10. She publicized her support for marriage equality with lyrics in "Welcome to New York."
With "Welcome to New York," Swift joined the slew of artists discussing gay rights. Swift sings, "And you can want who you want/ Boys and boys and girls and girls."
11. Although she was a performer, she blended in with the models at the Victoria's Secret Fashion Show.
Taylor Swift's second time performing at the Victoria's Secret Fashion Show was a major success. She sang her heart out to "Blank Space" and "Style."
12. She gave fans early Christmas presents because apparently she wasn't generous enough already.
Taylor Swift decided to do something extra special for fans this holiday season. After she sent fans Santa emojis on Tumblr, they received personalized gifts from her complete with handwritten notes.
13. For her birthday, she asked the media for a very special request.
As my 25th birthday present from the media, I'd like for you to stop accusing all my friends of dating me. #thirsty

— Taylor Swift (@taylorswift13) December 8, 2014
Contrary to popular belief, Taylor Swift does not date every guy she is spotted with.