Cameras clicked and whirred as Yeb Sano, the soft-spoken lead negotiator from the Philippines stood before the world's media at the UN Climate Talks in Warsaw this afternoon.
A week ago, Yeb sparked a global movement with an emotional speech at the opening of this year's climate negotiations. Addressing his fellow delegates from around the world, Sano teared up as he told of how his brother was still gathering corpses from the wreckage of Haiyan. He called on world leaders to "end the madness" and to put real commitments on the table here in Warsaw. And he made his own commitment: to voluntarily fast until significant progress was made or the talks ended.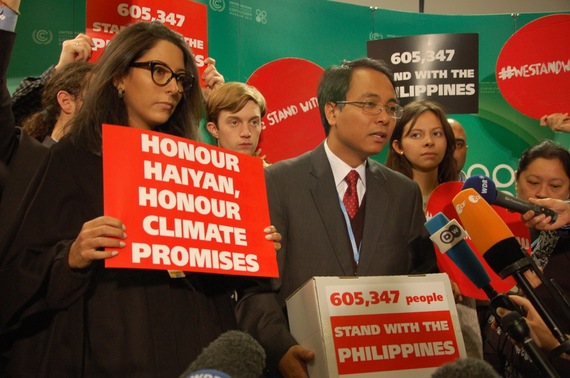 Within hours, a transcript of Yeb's speech posted on Responding to Climate Change had been shared across the internet tens of thousands of times. By that afternoon, the first global petitions were circulating across the internet, asking people to "stand with the Philippines," donate to relief efforts on the ground, and call for climate action at the negotiations. Sano even started his own petition on Avaaz.org's website -- a call to action that has now collected over 600,000 signatures.
The action wasn't just online. Hundreds of everyday people, led by the youth here at the climate talks, have joined Yeb's voluntary fast. Eight days later, some of them still haven't had a bite of food.
Today, we brought those voices directly into the negotiating halls in Warsaw. Standing next to Yeb, 350.org's Hoda Baraka spoke on behalf of civil society to thank him for his leadership.
"We're here to join Yeb Sano in delivering the voices of hundreds of thousands of people from around the world who are standing with the Philippines to demand action here in Warsaw," said Hoda. "Thank you, Yeb, for your leadership at a time when we urgently need leaders. We Stand With You."
Surrounded by microphones, cameras, and activists supporting his cause, Yeb thanked the global community for their support and reiterated his powerful call to action.
"We stand here knowing that hundreds of thousands maybe even millions around the world are standing with us in this difficult time for our country, but also in this difficult time for the planet, for the climate," he said.
"We are deeply moved and deeply touched by this expression of solidarity from hundreds of thousands of people and we are here to deliver their voices into this process, into this national stadium here in Warsaw. We hope that they can create the kind of impact that people around the world -- billions and billions -- are desiring.
This is a call, once and for all, to take ambitious steps to address climate change, which is now affecting lives and livelihoods. We are very glad and heartened to see this kind of solidarity being expressed by civil society, especially by many young people here. I cannot thank them enough for what they have done in supporting the call for action in the climate negotiations. We stand with them as well as they stand with us."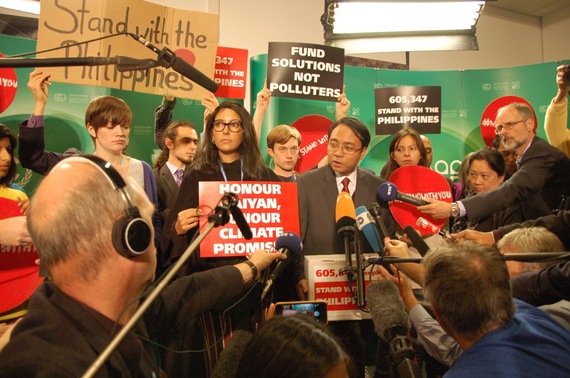 Yeb is bringing the voices of people around the world directly into the climate negotiations. He's standing up for us. Now, it's time that we stand with him -- and everyone fighting for climate justice.
Starting this Thursday evening, we're organizing #WeStandWithYou vigils around the world to show our solidarity with the Philippines and all of those impacted by climate disasters. Together, we can both shine a light not only on this tragedy, but on the fossil fuel industry that is at the source of the problem.
I hope you'll join us.