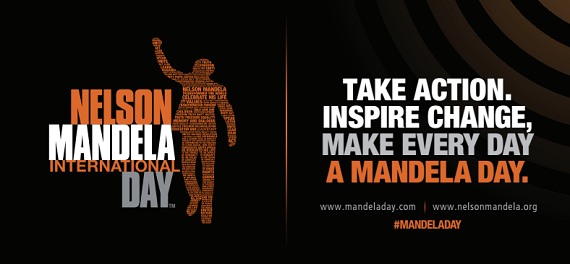 I am the official storyteller for TEDxAuckland. This means I have the great privilege of getting to know people with the most amazing stories. This year I'm revelling in the true tales told to me by Rory Steyn, Nelson Mandela's chief bodyguard during his presidential years, and a much anticipated speaker stepping up to the New Zealand stage next month.
Getting to know Rory, tracing his own journey of transformation from racist white cop to Nelson Mandela's number 1 protector, is a profound reminder that our lives are measured not only in years, but in the lives we touch around us.
Every year on the 18th of July - the day Nelson Mandela was born - the United Nations joins a call by the Nelson Mandela Foundation, and asks people around the world to devote 67 minutes of their time to helping others, as a way to mark Nelson Mandela International Day. It could be as simple as volunteering for a local charity in your community, or tending to those that are sick and homeless.
For 67 years the late Mr. Nelson Mandela devoted his life to the service of humanity - as a human rights lawyer, a prisoner of conscience, an international peacemaker, and the first democratically elected president of a free South Africa, my homeland.
There were so many simple acts of kindness that portrayed the measure of this great man, simple acts that very often did not make it into the public eye. There were the countless times he asked his bodyguards to stop the car so that he could get out and greet tourists, and the unscheduled visits to people in hospitals. And then there was the time he flew across country to visit an 11 year old girl dying of a terminal disease - it was literally her last wish to meet the President.
Rory Steyn tells me that being on the road with Madiba, as Nelson Mandela was affectionately known, was a lot like moving around with a global pop star. Everywhere this humble man went he was mobbed by huge crowds eager to shake hands. This proved challenging for the bodyguards, because Madiba genuinely liked meeting people, and would often willingly walk straight into potentially dangerous situations.
Unfailingly polite, even when angry, Madiba was a peculiar mix of a Victorian gentleman and African royalty. He regarded everyone as equal, and certainly never saw himself as above anybody just because of his station in life. And he was always worrying about others.
There were numerous instances when Madiba stopped talking in the middle of addressing a huge crowd to rescue a child in danger of being trampled. Madiba's own protection unit quickly learnt to respect the President's wishes, and were committed to preserving who and what he stood for. His bodyguards became protectors of the people, and they weren't just acting on instructions; they had internalised the philosophy.
During his presidential years Madiba was very lucky to find true love in the amazing Graca Machel. And his other great love has always been children. The money Madiba received from the Nobel Foundation when he was awarded the Nobel Peace Prize he gladly redirected to various children's charities. Madiba was not at all materialistic, and money was really just there for a purpose. And then one sleepless night, after talking with a dozen homeless street children in Cape Town, he decided to give one third of his presidential salary towards a fund to deal specifically with children: The Nelson Mandela Children's Fund.
And every year in honor of his birthday, Madiba would host a massive national children's party for those that were especially poor or sick. Once a year, instead of attending to the rigours of office, he would spend the day brightening up the lives of a few thousand children.
And then at Christmas time he would host a fine feast for thousands of kids in his hometown of Qunu. This event brought particular happiness to the little ones in the nearby rural areas of Umtata. Being an unexposed, unadvertised event, some children walked barefoot for two days to attend the only event of the year when they would receive sweets and presents.
I grew up a child of the rainbow nation, a white African oblivious during my early childhood to the struggles of my black African brothers and sisters that were suffering through Apartheid. It would be many years later that I really got it - when my eyes were suddenly wide open and I actually did something about it. And then the struggle for justice - for people, animals and our environment - became the beautiful struggle of my life.
I discovered the true meaning of humanity in the battlefield of my own scars, and that is when I became a global citizen.
Because I know what it's like to lead a rockstar lifestyle, only to wake up the next day destitute. Because we all live and die in the roll of a dice, and no life is worth more than another. Too many times people living in poverty have shared their only piece of bread with me, and to discover that sort of compassion brings with it immeasurable joy. And then you can never go back to the person you once were.
There is this African saying, Ubuntu - I am because we are. It roughly translates to 'human kindness' and the belief in a 'universal bond of sharing that connects all humanity'. And I believe this extends also to animals, illustrated so beautifully in Boyd Varty's TED Talk.
For Mandela Day on the 18th of July, if you're up to something, please drop a comment and share it with us. Go well! Hamba kashle!
Jamie Joseph is a writer and an activist. She will be returning to her African homeland in October to join the war on poaching. Follow her journey @ savingthewild.com - every voice counts.