I am currently on assignment at The Rhino Orphanage in Limpopo, South Africa. View part 1 of 'The Rhino Orphans' series at savingthewild.com.
Hillary was just a 20-year-old, sparkly blue-eyed Goldilocks when she arrived at The Rhino Orphanage in August 2012, a construction site of bricks and rubble somewhere in the province of Limpopo, South Africa. Hailing from Florida, her and her family had visited Africa two years earlier, and after inhaling the pulsating life force of a safari, she was determined to return to the bush, this time as a volunteer at a wild care center.
The girl that had grown up next to Disney had no idea what she was getting into.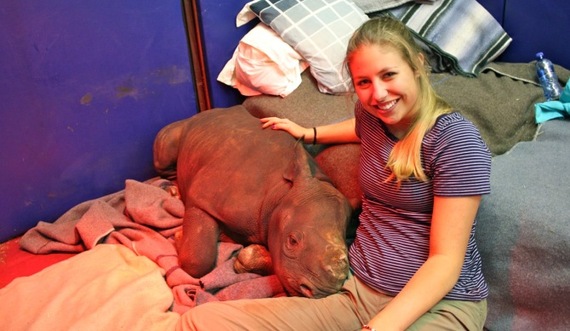 Photo credit: Stinky and Hillary / savingthewild.com
The Rhino Orphanage was founded by Arrie van Deventer as an emergency response to the poaching crisis. A rhino is slaughtered every 9 hours in order to satisfy the insatiable demand for rhino horn, a symbol of status in China, Vietnam and other parts of Asia, and this vile illegal trade is driving our iconic species to extinction - and leaving a lot of baby rhinos motherless. And so they wander the wilderness, dehydrated and starving for milk, or in some cases, refuse to leave their butchered mother's side, wailing in anguish
On Hillary's very first day, Arrie told her not to unpack and sent her off to Pretoria two hours away to care for a baby rhino that had just been rescued. The calf was just a few weeks old, suffering from a rectal prolapse, and they weren't sure if he was going to make it, but he needed 24 hour attention - and they needed more help.
"I got in the car with two big, burly men I'd never met before, I had never traveled alone, and it was all quite intimidating," she tells me while we dip bananas into a tub of Nutella.
They dropped Hillary off at the animal hospital and she was taken to a room where a scared, little, grey piglet-looking thing was curled up in some blankets.
"It was love at first sight. I can't explain it," she continues. "I just instantly loved him so much."
Hillary was promptly trained up on how to care for the rhino calf, and for the next month she looked after him, fed him bottles of milk every couple hours, and slept with him on a rotation of 24 hour shifts.

Four weeks later she returned to The Rhino Orphanage with the baby rhino affectionately known as Stinky, but the building construction was not quite complete. They put Stinky and Hillary into an enclosure next to the snake enclosure, about 500 meters away from where the orphanage was being built. When she tells me this I chuckle, and ask her how she felt about having a snake pit as neighbors.
"I actually have a phobia of snakes," she replies, her big blue eyes widening. "I kept thinking I would see this carpet python crawling through the rafters. I was terrified."
"Did you tell anyone?"
"Oh no, oh no, I wouldn't tell anyone," she snaps back defiantly.
I pack out laughing at this sweet, innocent American girl that really had crossed over to the wild side. Her other neighbors were lions, about 200 meters away, but there was a moat that separated them.
A few weeks later, the world's first dedicated rhino orphanage opened, and Hillary was asked to do a speech at the launch attended by a few hundred invited guests. She spoke about how rhinos are emotional beings, just like humans. They feel pain and fear, and they feel sadness and grief. But like humans, they are resilient, and they can overcome tragedy and go on to live happy lives.
The day after the launch Hillary returned to America to complete her studies, and by then Stinky was well on his way to recovery.
A year later she was back at the orphanage volunteering on her summer break, and Stinky was a one-year-old, healthy rhino weighing in at around 1,000 kilograms. There was lots of fun and games, and a few bruised toes! I ask Hillary if there were any special moments that stood out for her during their first summer together.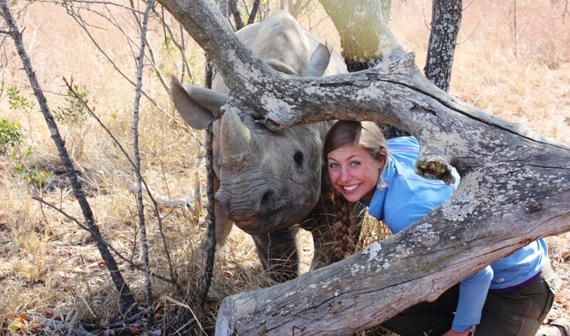 Photo credit: Stinky and Hillary / savingthewild.com
"I remember the first time I was walking Stinky in the bush, away from the village, and he was about 10 yards ahead of me when something gave him a fright. He turned around and ran back to me, huffing and puffing until I reassured him everything was fine. And I felt it, in that moment, that he really trusted me and looked to me for comfort."
Hillary has since looked after many orphans, and is currently volunteering for her third summer and planning on staying indefinitely. She says the hardest part of the job is when a calf comes in, seeing them so terrified and traumatized, and trying to earn their trust. She says seeing an innocent creature that has been put through so much pain is absolutely heartbreaking.
"But then as the weeks go by they start to trust again, and they make friends, not just with us, but the other orphans too. And then all these personalities start to emerge, and it's just really so rewarding watching them grow up. And some days I'll be lying in the bush with them, listening to their breathing, and I just know, they're happy. And that makes it all worthwhile."
After the orphans turn one, the care givers start to gradually limit human contact until the age of three when they're old enough to be set free, back into the wild. But with the poaching crisis at its worst levels ever, freedom comes with a price tag. The black market price of rhino horn is around US$100 000 per kilogram, madness when you consider rhino horn is made up of keratin, the stuff in your fingernails.
It was Hillary's birthday yesterday and I asked her what she wished for when she blew out her candles.
"I wished the poaching would stop and all the rhinos would be safe again. That would be the best birthday wish ever, if only it could come true."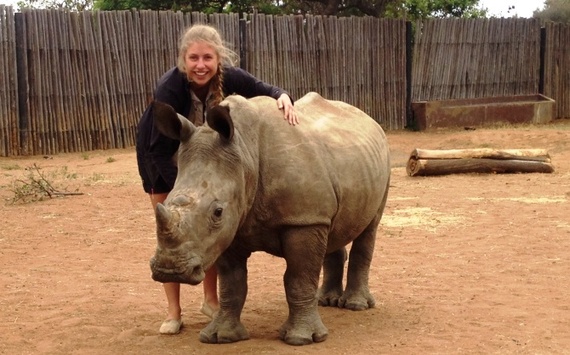 Photo credit: Hillary gets a birthday cuddle from Lesedi / savingthewild.com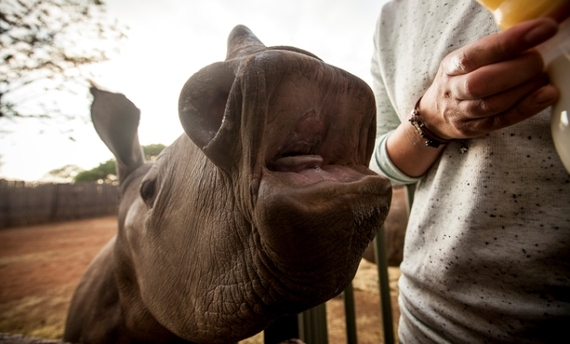 Photo credit: Nyani loves her milk / Ryan Roux for savingthewild.com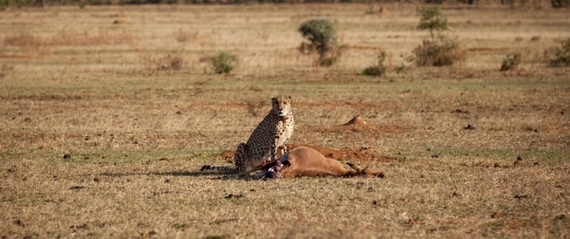 Photo credit: Ryan Roux / savingthewild.com