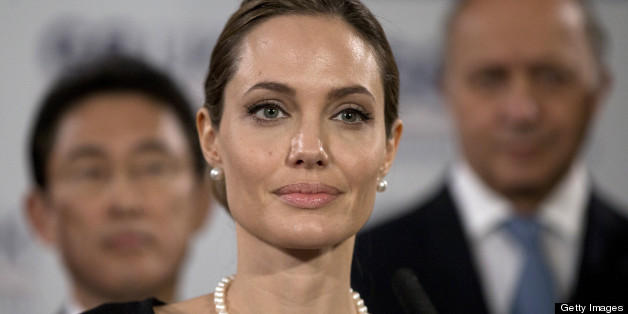 Ms. Jolie is a heroine to many. Me included. There are very few public figures who do it all, put their money where their mouth is, suit up and show up and, as Eleanor Roosevelt said, "do the thing you think you cannot do." She is brave and bold and challenging. She challenges the world with her thoughts and actions and deeds. She tells stories that have meaning. She walks the walk, talks the talk and does so with jaw dropping beauty and admirable and seemingly effortless style.
She is, as we say, a good egg with what she says is a "faulty gene."
Today's revelation, done with eloquence and dignity and grace, is remarkable both in its message and its import to the world of women. Pro-action.
What also struck me this morning was her ability -- in this TMZ'd world where every illness, struggle, step and misstep a public person makes is deemed newsworthy and fodder for the tabloid machine -- to do this in private. Surrounded by people she had to trust with this most delicate and sensitive of issues, she did it in the safety net of family and doctors and nurses and technicians who stuck with their original command: first, do no harm.
They respected Ms. Jolie with her privacy and in doing so allowed her to share, if and when she wanted to, her journey with the public. The separation between church and state, public and private allows the millions of women who will follow her lead to listen and watch her now that she has recovered and not stare at a grainy image of perhaps a very frail and post operative Jolie, in the private sanctuary of her medical team.
I add this to the long list of admirable qualities she possesses and I only hope, if I have to navigate any illness or issue, that I will try to emulate Ms. Jolie as my guide and follow in her very strong and brave steps and her quiet dignity.