It's been a rough week for the anti-gay group National Organization for Marriage (NOM) -- actually, a really rough two days, to be specific. Let's review.
In an AP interview on Thursday, NOM chairman John Eastman blasted families with adopted children, specifically the family of Chief Justice John Roberts, who has two adopted children:
You're looking at what is the best course societywide to get you the optimal result in the widest variety of cases. That often is not open to people in individual cases. Certainly adoption in families headed, like Chief Roberts' family is, by a heterosexual couple, is by far the second-best option.
Next, NOM released a video promoting a hate march they've planned for March 26, the same day as the United for Marriage rally outside the Supreme Court. As with any anti-gay propaganda they release, the video was full of lies that have been debunked dozens of times -- and were debunked again by our friend Jeremy Hooper at GoodAsYou.org.
Then last night NOM proudly announced the talent they'd acquired for their big gay-hate fest. Two musical groups were announced: a "sacred steel ensemble" called the Lee Boys, and an adorable, Celtic-fiddle-playing boy band called Ultramontane.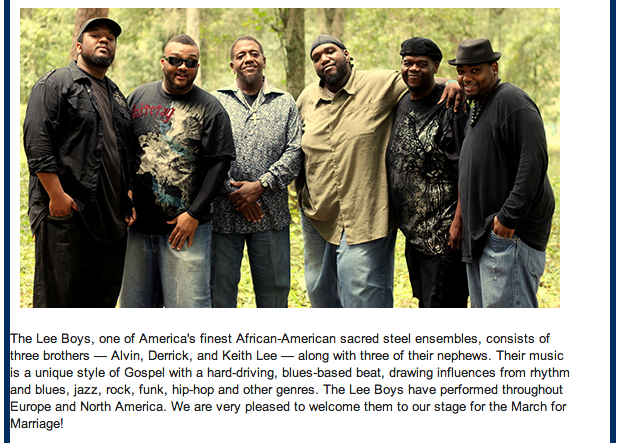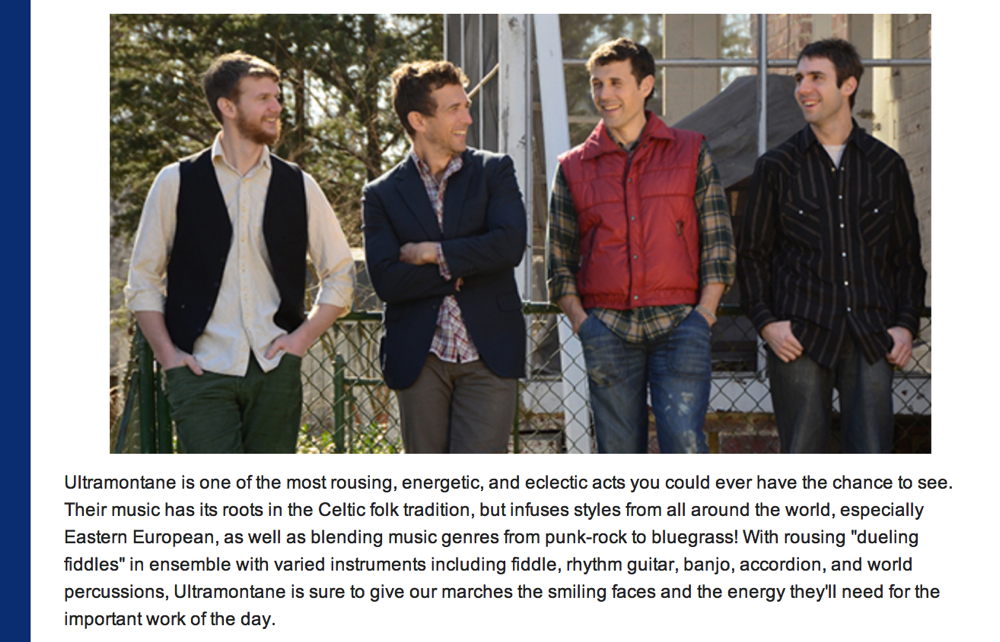 This morning Jeremy Hooper started reaching out to the musical acts involved. In the first few hours of the day, he discovered that Katie Herzig, the writer of the song used in NOM's hate march video, is actually a big fan of marriage equality, and that NOM had stolen her song without permission. Katie is now demanding that it be taken down.
Moreover, it seems that the Lee Boys weren't aware that NOM is an anti-gay group, and immediately upon finding out, they pulled out of the rally. One band member told Jeremy that he believes that "music is about love."
So what was up with those attractive young men and their fiddles? Jeremy had done enough great work, so I took this one on myself. After googling Ultramontane for hours, I discovered that this band clearly didn't exist. Then Jeremy swooped in again and found the photo that NOM had used on the website of a band known as Scythian.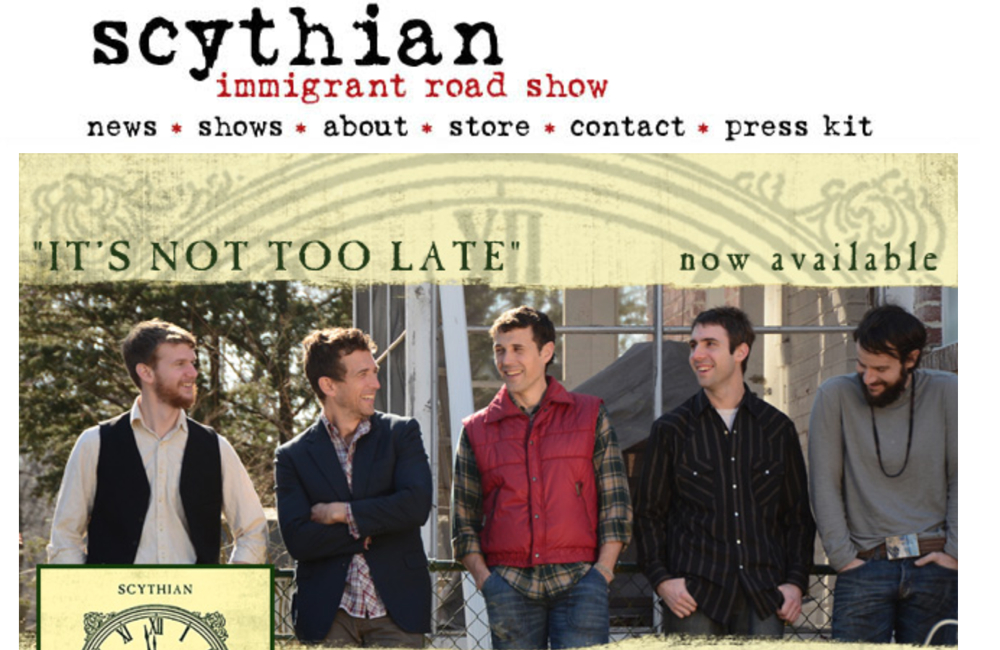 From left to right: Ben-David Warner, Alexander Fedoryka, Danylo Fedoryka, Andrew Toy and Josef Crosby
So why would they change their name and cut that poor, sweet boy with the beard out of their little fiddle club? The band had plenty of recent concert dates, and upcoming ones too. Had they split up?
Given further research, it seems that they have not split up, and actually only three of these guys will be playing for the anti-gay march, not the four pictured in NOM's crop of the photo. Alexander Fedoryka, Danylo Fedoryka and Ben-David Warner apparently have no problem aligning themselves with the hate group, while Andrew Toy and Josef Crosby apparently don't want any part of the bigoted goings-on.
The band's representation, Skyline Music LLC, released the following statement: "Like this country, the members of Scythian are divided on the definition of marriage, but, remaining great friends, they have the utmost respect for each other's' freedoms of speech and assembly."
No one can argue that when disagreeing, we shouldn't do so respectfully, but I can't help but wonder how Andrew and Josef feel about the other members of the band using their photos to help promote this hate march.
The band has since removed the photo from their website, and I'm assuming that's so that they won't be associated with the new anti-gay band Ultramontane, but one must wonder if the anti-gay NOM will be the Yoko Ono of Scythian. Apparently NOM isn't happy just breaking up gay and lesbian families.
As of Monday morning, Scythian's Facebook page and Twitter account have both been deleted. Following their post about the event on Facebook, more than 500 commenters took part in the conversation, and many of their comments were homophobic in nature. Additionally, drummer Andrew Toy, one of the two members not taking part in the anti-gay rally, took to his own Facebook page to respond to one commenter, writing, "I have always been and will always be an LGBT ally and supporter of marriage equality!"