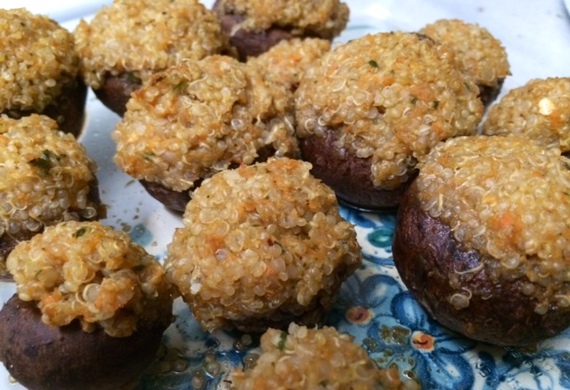 The perfect gluten-free alternative to the classic snack!
You'll need:
1 quart sized container of mushrooms (baby portobello or white)
1 cup quinoa
1/2 medium sized red onion
2 medium sized carrots
4 cloves of garlic
1 small bunch of parsley
Salt (pink himalayan or sea salt)
Black pepper
Coconut oil
Bring 2 cups of salted water and the quinoa to a boil. Reduce to a simmer for about 15 minutes or until tender.
Wash the mushrooms and remove and save the stems.
Roughly chop the mushroom stems, garlic, onion, carrots, and parsley. Toss the chopped veggies into a food processor and let it fly until everything is very finely minced.
Coat the bottom of a medium-large pan with coconut oil and get it hot over a medium flame. Add your veggie mixture to the pan.
Here's the fun part:
For traditional stuffed mushrooms just add salt and pepper, but you can season these any way you like.
Italian: Basil, oregano, and chopped sun-dried tomatoes
Asian: Ginger and coconut aminos/wheat-free tamari
Mexican: Cumin, cilantro, chipotle powder/cayenne
Indian: Turmeric, ginger, cayenne
Sauté the seasoned veggies for a few minutes and then add the cooked quinoa to the pan. Mix thoroughly and taste the mixture to see if it needs more seasoning. It will probably need a bit more salt. Sauté together for a few minutes.
Time to stuff. Spoon the mixture into each mushroom cap. Place the mushrooms in a baking pan (I prefer glass) and cover with aluminum foil. Bake in a 350 degree oven for about 30 minutes. Voila!
--
Jamie Rautenberg is a holistic life coach & Licensed Clinical Social Worker. After a lifetime of medical misdiagnoses, she discovered that she was living with late-stage neurological Lyme Disease in March 2013. While receiving intense daily IV infusions, Jamie reframed her healing experience by creating TheDailyInfusion.com, a wellness blog where people can learn how to reclaim their lives through chronic illness & pain. Her passion is to empower others wherever they may be along their path through virtual private coaching sessions.