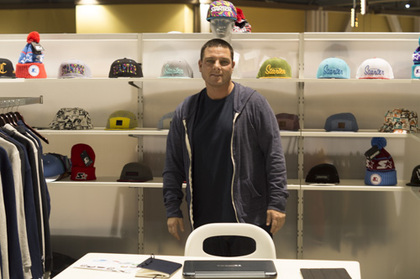 Streetwear: The Niche with Flair
The New Year has just arrived, and with it brings the glitz and glamour of the much-anticipated Agenda Show. The answer to the big question we all have on our minds: What's going on in streetwear now?
With the apparel industry ever changing, I noticed at the tradeshow a big trend toward incorporating contemporary mainstream fashion, such as looks that resemble classic working class wardrobes from the 40s and 50s -- with a 21st century twist. For example: button down shirts, and tight chinos. These button down shirts are boxy shaped in the chest but skinnier in the lower stomach region. Another trending style that I noticed was the extra long t-shirt. These shirts are mostly blank and are typically seen in black or white. Shirts like these are typically seen on the premium streetwear consumer.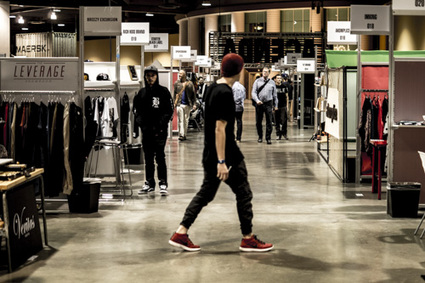 White t-shirts are timeless, but jogger pants and abstract patterned socks are on the rise. Wherever I look, and I look a lot, people are rocking jogger pants! A few brands that come to mind when I think about different styles of jogger pants are Publish, Zanerobe, LATHC and Allston Outfitter. My personal experience with jogger pants is pretty new, but I think they look awesome. Joggers are quite comfortable and easy to wear. The best part about these pants is that they can be rocked with any type of shoe!
Displays by Skate brand Rebel 8, Basecamp innovations by Flexfit, The Berrics and Resqwater were stationed at different parts of the show, adding more diversity to the show. The Berrics is a part of the show where most of the skate brand booths are placed. The Rebel 8 display, which was a cop car with a skateboard stuck in the windshield, was part of the Berrics section. Resqwater is an anti hangover drink company, who handed out samples of their product.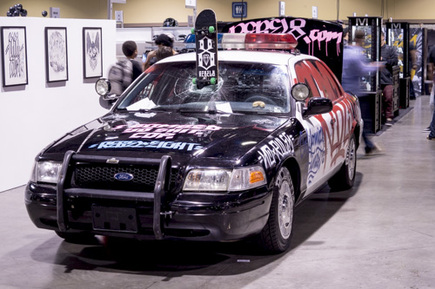 Adding to the ongoing excitement, artists were on site in collaboration with several brands. Benji Escobar was busy at work creating original works at flexfit. Van Styles featured his brand V/sual in conjunction with a photography installation that featured fellow street photographer Travis Jensen.
Six hundred brands, great and small, were in attendance giving buyers reasons to why they deserved to be on their radars. Big brands such as The Hundreds, Staple, Diamond, RVCA were very busy with buyer traffic, along with smaller fashion innovators Teenage and Tsovet, all of whom helped draw in the largest attendance Agenda has seen to date, a whopping 600 brands.
Teenage is an up and coming brand owned by the Andersons, Raechel and Blake. Blake is best known for his roll as himself on the show Workaholics. Their t-shirts sport many bold designs including abstract skulls, tied die, galaxies and aliens. I noticed that skull prints are a continuing motif within the streetwear niche.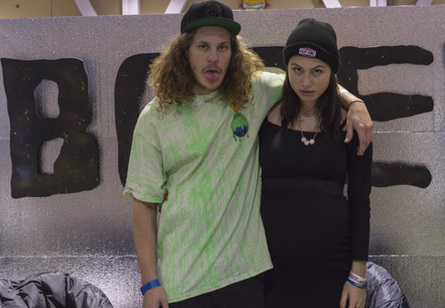 Tvoset, a watch company based in Newport Beach, C.A., enjoyed heavy traffic in the Woods section of the floor. Their watches are handcrafted, and look like classic 50s watches with tanned leather bands and circular faces.
I saw tons of sunglass and action sport goggle styles, including great framework by Shwood (wood frames), Vonzipper (ski and snowboard goggles), Spy Eyewear (sheik polarized in tortoise looks) and SUNPOCKET (hot, foldable shades).
While walking the floor, I noticed a wide range of brands that caught my eye. Companies like Moss, Quintin Co, Fitted, Beloved, 40oz and Starter Black Label. Moss features an assortment of tribal prints and patterns on their sweatshirts, shirts and hats. Fitted hails from Honolulu, where street and beach lifestyle merge. Beloved sweatshirts are crazy and full of expression. Their prints for both sweatshirts and t-shirts range from galaxies, animals, cookies, blood splatter and colored pencils. 40oz N.Y.C. is primarily a hat company that also dabbles in the tops and bottoms market. They make peoples heads turn with their fashionable hats, which sport different logos in an old English font style. Starter Black Label is a clothing brand that is known for their snapback hats and awesome satin jackets. Their jackets and hats are known for featuring different sport team logos on them.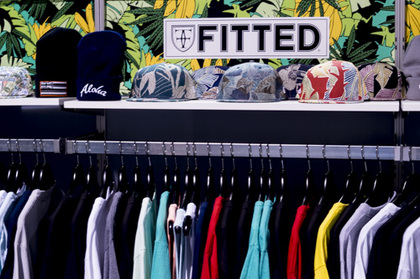 On Thursday, I caught up with Aaron Levant, Agenda Show creator, for an impromptu on-floor interview: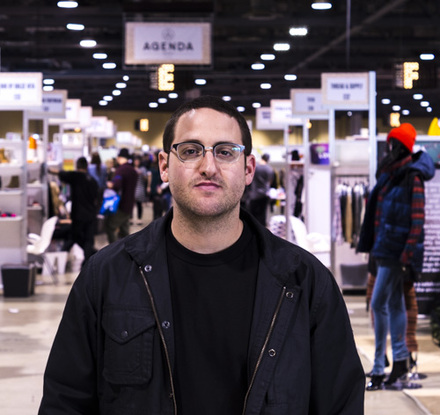 JR: Tell me Aaron, what is new with the show? Being that it is day two, everyone is beginning to wind down?
AL: Rapping up the second day of Long Beach, everything is new. Were constantly trying to evolve the show. What I'm most excited about tonight is the emerge conference tonight.
JR: What about the Agenda Emerge event are you most excited about?
AL: Nas and Prod are going to be interviewing each other on stage kind of magazine style. They are two influential people. We've got Keith Hufnagel, founder of HUF, Tom Campion the founder of Zumies and Greg Selkoe, founder of Karmaloop. So you've got some retail heavyweights speaking who are in the apparel business and the sneaker business, but they are also famous for other things in their own right.
JR: What about the show? What really shined?
AL: I think what really shined was the Woods section. That's our contemporary zone within the show. It's our third rendition of the Woods. It started off as one row, but has expanded to two full rows.
JR: What is the story behind the Woods?
AL: We just wanted to create an area for more contemporary brands with a little more of a premium price point more of a lifestyle brand. They are not necessarily skate, surf or street but they still can resonate with Agenda audience.
JR: Anything else you would like to add?
AL: I heard Katy Perry was here and Chief Keef made an appearance, but I didn't get to see them. We don't ask celebrities to show up, they just end up being here because they love the clothes and culture. It's pretty flattering and interesting to me to see all the people that come out for the show!
Although this was only my forth Agenda Show, I continued to be excited by the increasing growth of streetwear fashion, and my ever growing knowledge of the industry. I look forward to spring with a greater insight on spotting new trends.